Neurotransmitter precursor 5-HTP supports brain chemistry associated with a happy, relaxed mood.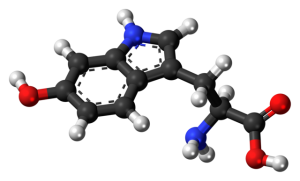 5-HTP is an amino acid metabolite. Although 5-HTP does not have any direct nootropic mental performance benefits, it does appear to support emotional balance, healthy mood, and restful sleep by:
Increasing serotonin levels. Serotonin dysfunction is believed to play a major role in the development of depression, anxiety, tension and migraine headaches, and other mental disorders.
Overview
5-Hydroxytryptophan, or 5-HTP for short, is a naturally-occurring amino acid metabolite that is best known for helping produce serotonin (5-HT) – a neurotransmitter that plays a central role in the regulation of mood and social behavior. Healthy brain serotonin levels are associated with happiness and well-being, and its deficiency is believed to play a part in the development of depression and other emotional issues.
5-HTP has been shown to decline in the brain as we grow older, which may be tied to lower serotonin levels in aging brains.1 In addition, brain autopsies have revealed that lower levels of serotonin appear to have strong links to the onset and progression of depression — a connection that led researchers to identify serotonin precursor 5-HTP as a possible therapy for depressive disorders.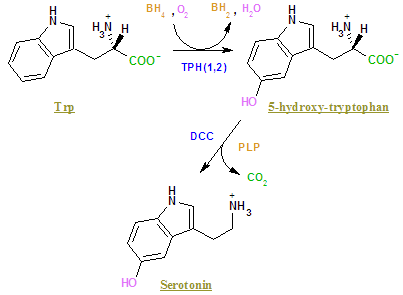 In the human body, 5-HTP is produced from tryptophan – an essential amino acid that we obtain from dietary sources such as eggs, cheese, salmon, nuts, and soy. However, eating high-tryptophan foods will not necessarily increase 5-HTP by a large amount, because of competition with other amino acids entering the brain. Unlike tryptophan, 5-HTP can easily cross the blood-brain barrier and increase serotonin production.
5-HTP's key role in serotonin has been backed by scientific research since at least the 1970s. One early (and somewhat weak) pilot study foreshadowed how this serotonin effect may be helpful for mood, with researchers suggesting that 5-HTP supplementation was associated with a 35% increase in mood rating, compared with a 6% decrease in mood rating in the placebo group.2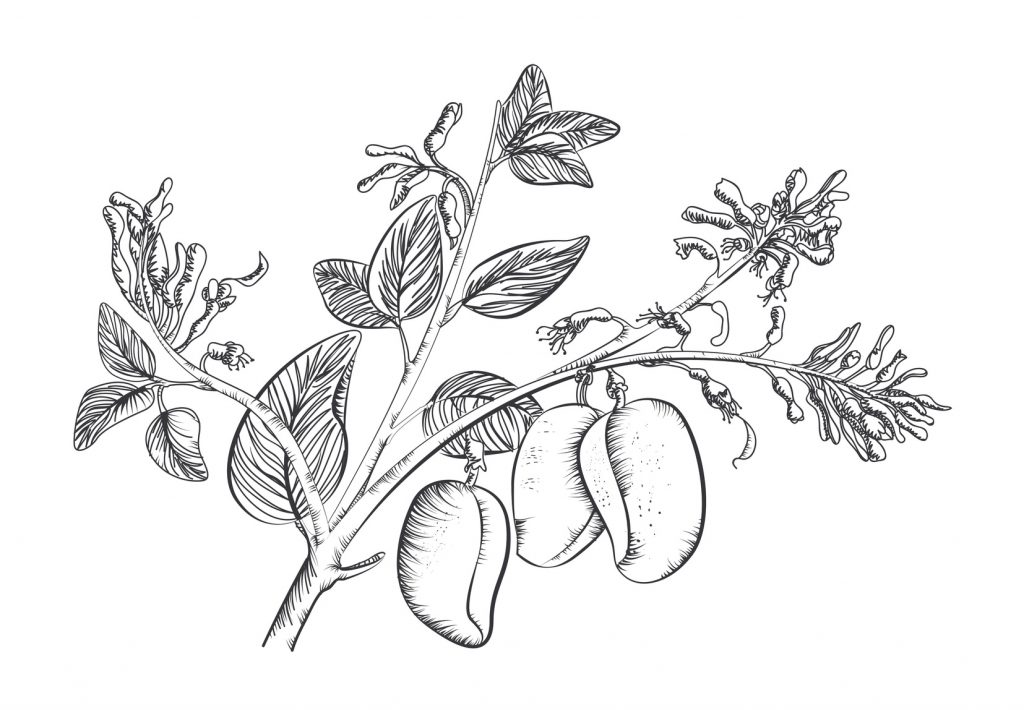 1970s 5-HTP research breakthroughs were not mirrored by a spike in 5-HTP supplementation, likely because at the time 5-HTP supplements were prohibitively expensive.
Today, 5-HTP is far more accessible and affordable. Modern 5HTP nutritional supplements are made from the seeds of an African shrub called Griffonia simplicfolia. These 5-HTP supplements are efficient and bioavailable, with researchers suggesting up to 70% of 5-HTP consumed in supplement form reaches the bloodstream.
How 5-HTP Might Help the Brain
Serotonin Support
The main biological activity of 5-HTP is its role as the precursor for the production of serotonin. When 5-HTP is taken orally, about 70% of it enters the bloodstream, and can then cross the blood-brain barrier, boosting serotonin synthesis in the brain and throughout the nervous system.3 5-HTP may also help with sleep, relaxation, and healthy cognitive function.
Potential Dopamine & Norepinephrine Support
In addition, 5-HTP might also work by increasing concentrations of dopamine and norepinephrine, two important brain chemicals that function as neurotransmitters. However, this mechanism remains hypothetical and requires further research to confirm.4
Stacking Suggestion
: In order for 5-HTP to be converted into serotonin, the enzyme L-Amino Acid Decarboxylase (AADC) must be present.
Vitamin B6
is a cofactor for AADC, which has also been shown to play a role in regulating 5-HTP levels. For this reason, we think it makes sense to take 5-HTP along with nootropic Vitamin B6, especially as B6's active
P-5-P
form.
5-HTP Benefits & Uses
5-HTP's notable serotonin support appears to benefit mood and emotional balance. This explains why 5-HTP has been found to help with a large variety of issues that are linked to brain serotonin deficiency and dysfunction. In particular, studies suggest 5-HTP may help with depression, anxiety and panic disorders, stress-related binge eating, fibromyalgia, aggression, irritability, and tension & migraine headaches.
Serotonin itself is a precursor to yet another important compound – melatonin, the hormone which helps maintain a proper wake and sleep cycle. This means that supplementing 5-HTP will boost both serotonin and melatonin, and may explain why a number of studies done in the 1970s found 5-HTP to help with insomnia and improve overall sleep quality.567
As a supplement for children, 5-HTP might also be effective for attention-deficit/hyperactivity disorder (ADHD) and night terrors, although current research in the area is scarce.8 9
A "Mental" Weight Management Aid?
Serotonin is most commonly associated with brain health and emotional states, but in reality 95% of the body's serotonin exists in the gastrointestinal tract. Emerging research has suggested that 5-HTP's presence in the gut may be associated with feelings of "fullness" and appetite satisfaction, potentially offering a new angle of support for healthy weight management.
The Peak-X Problem
In a few extremely rare cases in the 1980s and 1990s, some people have gotten sick with eosinophilia-myalgia syndrome—a disorder which causes muscle pain, weakness, skin rashes, and other symptoms—after taking 5-HTP supplements. However, this appears to be the result of a contaminant called "Peak X" finding its way into some 5-HTP supplements, and no cases have been reported since then.10
Research
Animal Research
Animal research of 5-HTP is relatively limited given its safety in humans. Nonetheless, specific findings indicate that 5-HTP may:
Reduce anxiety in rats, supporting "its potential usefulness for the treatment of anxiety in humans"11
Influence the sleep-wake cycle in rats, possibly resulting in better quality sleep12
Human Research
Although current research on 5-HTP is scarce, a large number of studies were performed between 1970 and 1990. These show good evidence that 5-HTP is beneficial for assisting with mood and anxiety issues.
5-HTP appears to alleviate symptoms of anxiety disorders
Forty-five patients with anxiety disorders were given either placebo, clomipramine, or 5-HTP for 8 weeks. The treatments were started at a 25 mg daily dose, and increase up to a maximum 150 mg after 14 days. Although 5-HTP was weaker than clomipramine—a common antidepressant—it still led to a significant reduction of anxiety disorder symptoms.
The researchers concluded that "both NA and 5-HT brain pathways are implicated the mechanisms of action responsible for the alleviation of anxiety"13
5-HTP 200 mg appears to improve both unipolar and bipolar depression
Fourteen people with depression and six with bipolar disorder were divided into two equal groups, A and B. Group A received 5-HTP (200 mg) daily for one year, and then placebo for the second year; in Group B, the order was reversed. The study found that during the 5-HTP year, both groups had considerably fewer depression relapses. The researchers also scored depression on a 0-3 point scale, and found that mean depression was much higher for both groups during the placebo year.
The researchers concluded that "5-HTP was found in the present study to reduce the relapse rate in recurrent vital depressions with both a unipolar and a bipolar course"14
5-HTP 300 mg may be a potential therapy for chronic tension headaches
This study recruited 78 people suffering from chronic tension headaches, the most common type of headache. Forty-three of the participants were given 5-HTP (300 mg daily), while the rest were given placebo for 8 weeks. The study found that the 5-HTP group used fewer pain killers during the treatment period, which indicates that their headaches were less severe. The 5-HTP group also had fewer days with headaches in the 2 weeks after treatment.
The researchers concluded that "5-HTP may be a moderately effective  medication in the  treatment  of  chronic  tension-type headaches, without  the sedation that is a side effect of the more widely used tricyclic  antidepressants"15
5-HTP 200 mg appears to reduce panic and anxiety in panic disorder patients
This study tested whether 5-HTP supplementation can help with panic attacks. Twenty-four healthy and 24 panic disorder participants were given either 5-HTP (200 mg) or placebo. An hour and a half later, the researchers tested them with a panic-inducing challenge. The study found that symptoms of panic, anxiety, as well as the number of panic attacks during the challenge was reduced in panic disorder patients given 5-HTP. No effect was found in healthy subjects.
The researchers concluded that "l-5-Hydroxytryptophan acts to inhibit panic, which supports a modulatory role of serotonin in panic disorder"16
Dosage Notes
Retail 5HTP supplements are typically presented with a dosage range of 50 mg to 100 mg
Positive research on 5-HTP for mood appears to use larger dosages, more in the range of 200 mg – 300 mg
Side Effects
5-HTP is generally well-tolerated. Rare side effects associated with 5-HTP may include nausea and other gastrointestinal symptoms such as heartburn and diarrhea. The likelihood and severity of these symptoms can be lessened by starting with a smaller dose.
Available Forms of 5-HTP
5-HTP is typically extracted from the seeds of the African plant Griffonia simplicifolia and sold in tablets, capsules, and flavored lozenges.
Supplements in Review Recommendation
5-HTP appears to supply solid nutritional support for mood and sleep. While not a direct brain-boosting nootropic, 5-HTP may indirectly help mental performance that is compromised by depression, anxiety, insufficient sleep, and other health issues related to low serotonin levels. Since serotonin levels decline with age, we think 5-HTP may also have a place as a brain supplement for maintaining bright and happy moods in an aging population.
100 mg is a standard 5-HTP serving size. Most of the best research for 5-HTP's mood support uses higher dosages, ranging from 150 mg to 300 mg. It may be best to start out with 100 mg dosing, assess tolerance and efficacy, and then gradually increase to to 2-3 daily doses of 5HTP 100 mg over the period of a few days to a week.
References