Sugar alternative isomaltulose may promote fat burning during exercise.


Isomaltulose is a sugar growing in popularity as a pre workout replacement for standard sugar. Its physiological properties may imbue pre workout formulas with such potential benefits as:
Enhanced fat oxidation. By promoting the usage of fat during exercise, isomaltulose may increase fat loss.
Improved endurance performance. By helping spare glycogen, isomaltulose may improve endurance exercise performance.
Overview
Isomaltulose is a naturally-occurring – though somewhat obscure – simple sugar. Structurally similar to sucrose, isomaltulose is made up of glucose and fructose molecules that are bound together. In 1950, German scientists discovered that an enzyme taken from the bacterium Protaminobacter rubrum was capable of converting sucrose into isomaltulose.
Since then, isomaltulose has been used as a sugar alternative in Germany, Japan, and most recently in the US, among other countries. Slightly less sweet than standard sugars but having no aftertaste, isomaltulose is often included in baked goods, cereals, dairy products, candy, and all kinds of beverages.
Isomaltulose works as a basic energy source, but unlike most other sugars it has been associated with some health benefits.1 It has been proposed to aid in the management of diabetes, and recent research has unveiled its potential to promote fat burning and improve athletic performance.
Isomaltulose is generally recognized as safe (GRAS) by the US FDA, approved by the European Commission, and classified as a food for specific health use (FOSHU) in Japan.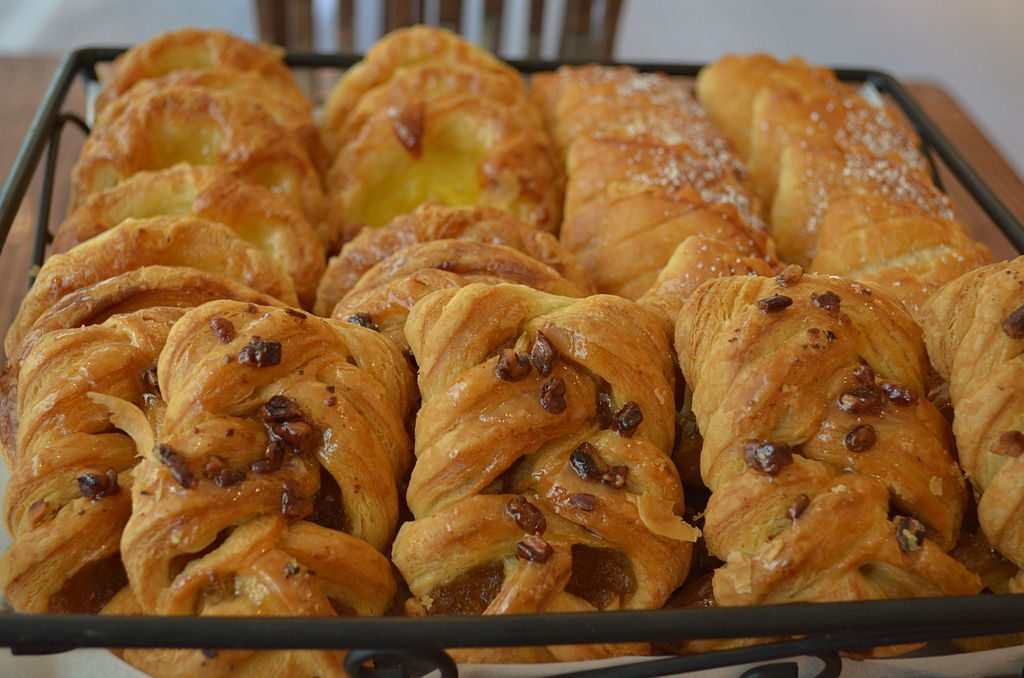 How Isomaltulose Might Help With Pre-Workout Formulas
Boosting fat metabolism
Compared to other carbohydrates, especially the typical sugar component of most food and drinks, i.e. sucrose, isomaltulose is digested slowly and provides a steady release of energy. In doing so, isomaltulose promotes an increased ratio of fat to carbohydrate (glycogen) metabolism in the body, meaning that less sugars and more fats are oxidized (burned) to meet the body's energy needs.2 3 This may in turn promote increased fat loss during exercise and help spare glycogen during extended endurance activity.4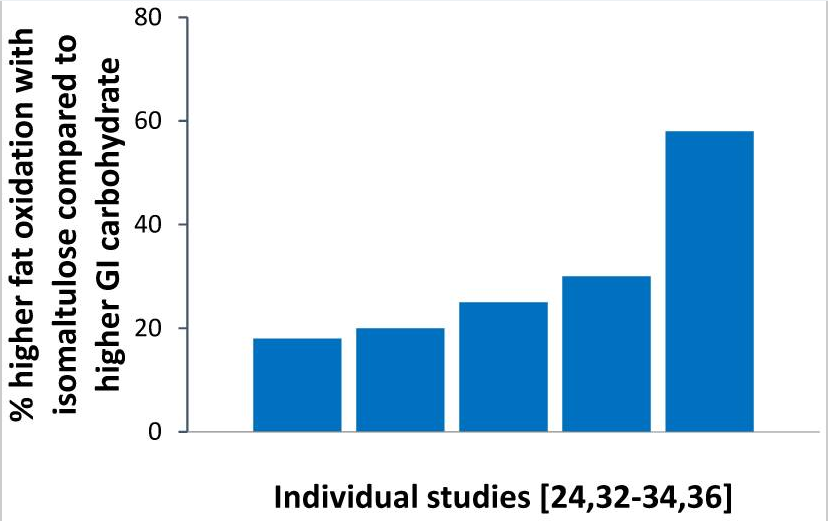 Isomaltulose Pre-Workout Benefits & Uses
Isomaltulose is primarily used as a way to promote fat oxidation during exercise, an effect which is backed by multiple research studies. In turn, this might improve exercise-induced fat loss, a common goal of pre-workout supplementation. There is also some evidence that isomaltulose can enhance exercise performance, but this effect has not been conclusively proven by research and seems to be restricted to endurance training, contrary to its usage by bodybuilders and other athletes engaged in anaerobic workouts.
Isomaltulose Versus Sucrose
Both isomaltulose and sucrose provide roughly 4 kilocalories of energy per gram. Unlike sucrose, however, isomaltulose does not promote tooth decay, is slowly digested, lowers glucose and insulin responses, and may enhance physical performance and cognitive function.5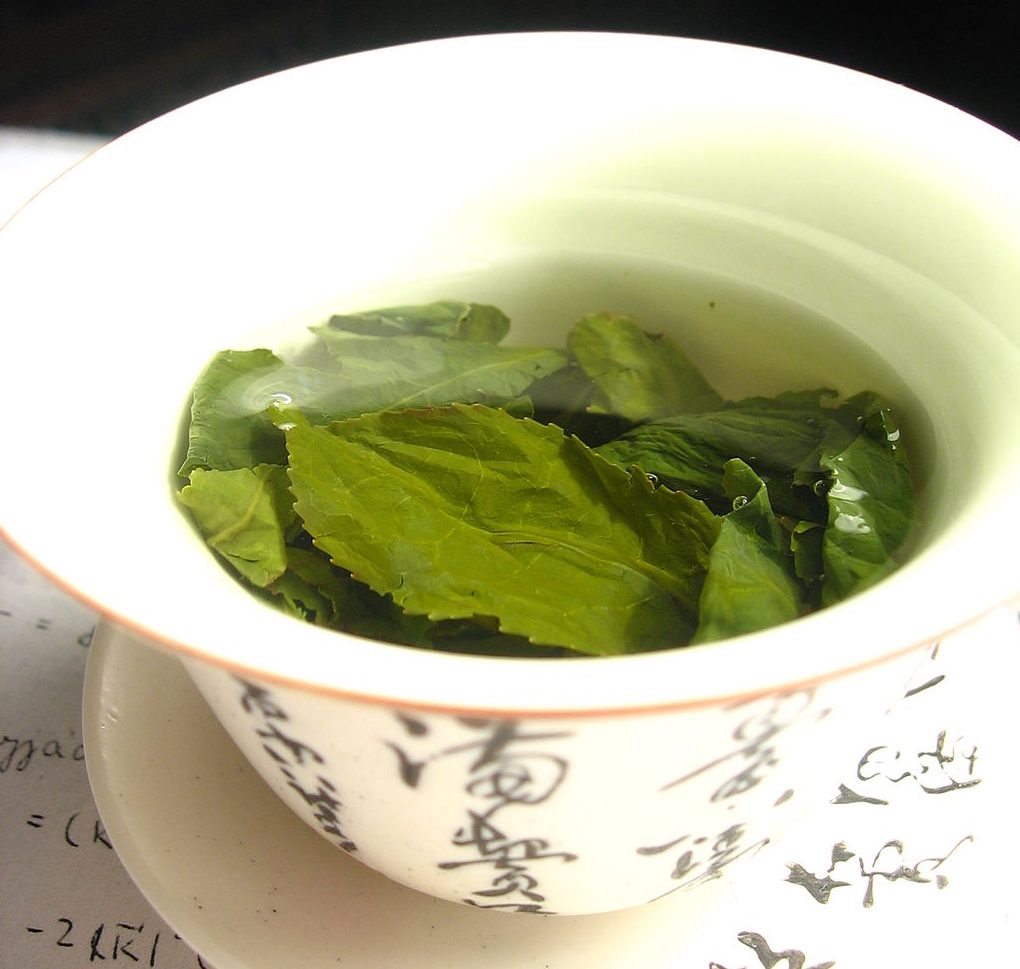 Research
Animal Research
Animal studies indicates that isomaltulose may be advantageous to pre workout formulas for its ability to:
Improve glucose metabolism compared to sucrose in rats6
Human Research
Clinical studies consistently point to isomaltulose's ability to stimulate fat oxidation during exercise. Research also suggests its capacity to improve endurance exercise performance, albeit with some contradictory findings.
Isomaltulose as Palatinose™ (100 g) may promote fat oxidation
In this randomized, double-blind, placebo-controlled, cross-over investigation, 20 Chinese men followed either a high glycemic index diet or a low GI isomaltulose (Palatinose) diet for a 24-hour period. The meal schedule included a breakfast, lunch, snack, and dinner. The isomaltulose diet was found to increase fat oxidation.
The researchers concluded that "lower GI mixed meals incorporating isomaltulose are able to acutely reduce the glycaemic response and variability and promote fat oxidation."7
Isomaltulose as Palatinose™ (75 g) may improve cycling performance and increase fat oxidation
In this investigation, 20 male athletes took 75 g of either isomaltulose (Palatinose, PSE) or maltodextrin (MDX) before starting a 90-min cycling exercise trial. Compared to maltodextrin, isomaltulose led to higher fat oxidation, better finish time (-2.7%) and increased power output during the final 5 min (+4.6%).
The researchers concluded that "PSE maintained a more stable blood glucose profile and higher fat oxidation during exercise which resulted in improved cycling performance compared with MDX."8
Isomaltulose (60 g) may enhance fat oxidation without significantly altering cycling performance
In this crossover investigation, 10 male cyclists ingested a 60 g sucrose/glucose supplement (G) 30 min before and every 15 min during cycling, a 60 g hydrothermally-modified starch supplement (Iso HMS) at the same time points, or a 60 g HMS 30 min before and every 60 min during cycling (30 g/hr; Low HMS). Iso HMS and Low HMS were found to enhance fat oxidation and reduce carbohydrate oxidation, but did not have any notable performance benefits. The only reported adverse side effect was mild nausea during sprints.
The researchers concluded that "pre and during-exercise ingestion of HMS increases fat oxidation relative to G. However, changes do not translate to performance improvements, possibly owing to HMS-associated increases in gastrointestinal distress."9
Isomaltulose (63 g) may improve fat oxidation but negatively affect cycling performance
In this placebo-controlled investigation, 9 male cyclists ingested 63 g of 0.8:1 fructose:maltodextrin (F:M), isomaltulose (ISO), or a flavored water placebo (PL) per hour while performing 3 sets of 2-hour biking exercise followed by a 16 km timed race. Although ISO was found to increase fat oxidation while decreasing carbohydrate oxidation compared with F:M, the timed biking performance was 1.5 min slower with ISO compared with F:M, and ISO was also associated with digestive side effects.
The researchers concluded that "ingesting isomaltulose at a continuous high frequency to meet the recommended carbohydrate replacement dose, results in severe gastrointestinal symptoms during prolonged or high intensity exercise and negatively affects exercise performance compared with fructose-maltodextrin supplementation."10
Dosage for Pre-Workout
Successful research studies have used from 60 – 100 g of isomaltulose.
Typical supplemental servings of isomaltulose are listed at 10 g before and/or during a workout.
Available Forms
Palatinose. Synthetic compound prepared via enzymatic rearrangement of beet sugar (sucrose). Most isomaltulose supplements come in this branded form.
Natural isomaltulose drawn from honey or sugarcane extracts.
Try isomaltulose with green tea. 
Combining isomaltulose and
green tea
seems to enhance its glucose-stabilizing effects.
11
Supplements in Review Says
Isomaltulose (Palatinose) 10 g as a pre-workout.

Isomaltulose may improve fat metabolism. We recommend replacing standard sugar with isomaltulose pre-workout if you're looking to burn more fat. This may also aid endurance exercise performance, but research evidence is not conclusive.
Take 10 g of isomaltulose powder (Palatinose). 10 g of isomaltulose powder stirred into water or tea before working out seems to be the recommended method.