Natural melatonin may serve as an effective sleep aid by regulating circadian sleep cycles.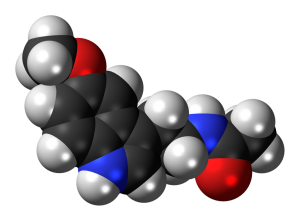 Melatonin is the most abundantly produced sleep hormone in the body and is its chief sleep regulator. Although melatonin may provide some degree of neuroprotective support, its principal role in dietary supplements is as a sleep aid, with such potential uses as:
Decreasing sleep onset latency. The main function of melatonin is to shorten the amount of time it takes to fall asleep.
Combating jet lag. The hormone appears to counter jet lag symptoms, such as alertness, daytime sleepiness, and coordination.
Reducing insomnia. According to some research, melatonin seems to be capable of helping with primary insomnia.
Overview
Melatonin, chemically known as N-acetyl-5-methoxyl tryptamine, is a naturally produced hormone found in most animals, plants, bacteria, and fungi. It has various health-related functions and plays a notable part in blood pressure regulation, reproduction, sleep timing, and antioxidation. The innate quality of melatonin makes it an ideal candidate for safe medicinal application, and has been used in health practices to alleviate headaches, Alzheimer's, tinnitus, bone loss, aging, and UV radiation for many years.
The primary occupation of the hormone seems to be managing standard sleep cycles. Under normal conditions, the excretion of melatonin coincides with the regular arrival of darkness after sunset and discontinues with the return of daytime light. Sleeping disorders, old age, and a number of health conditions may disrupt the sleep cycle and interfere either with melatonin production or availability.
Melatonin's connection to sleep induction makes it a worthwhile compound to consider when dealing with most sleep-related health complications. In recent years, it has farther been used to calm patients down before surgery with varying degrees of success.1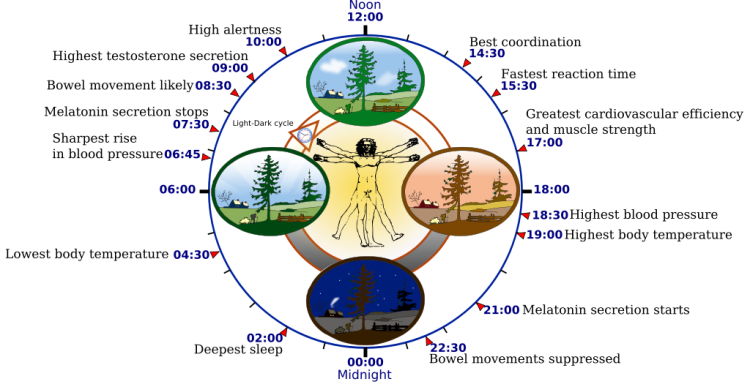 Small concentrations of melatonin are present in everyday foods, which may be tasty – although much milder in effect – alternatives to melatonin capsules.2:
Strawberries, 1 – 10 nanograms / gram
Walnuts, 3 nanograms / gram
Tomatoes, 3 – 100 nanograms / gram
Milk, 10 – 40 nanograms / gram
Cereal, 300 – 1000 picograms / gram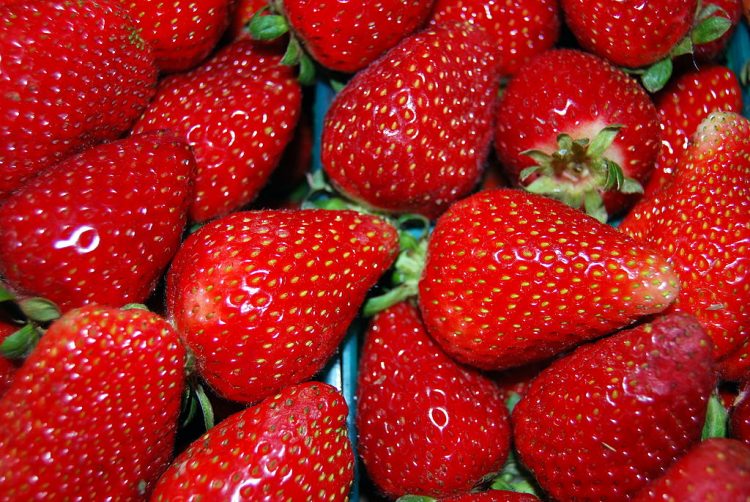 How Melatonin May Help With Sleep
Normalizing Sleep Patterns
Healthy sleep cycles are managed through the appropriate excretion of melatonin when dusk sets and its termination upon sunrise. A number of factors, including unnaturally low levels of melatonin, can disrupt the standard cycle and consequence in sleeping difficulty. Fortunately, circadian rhythm sleep patterns may be sustained by orally taking melatonin.3
Melatonin has shown to be particularly effective in restoring healthy sleep patterns in the blind.4
Reducing Sleep Latency
A decrease in sleep onset latency (SOL) seems to be one of the most consistent result of melatonin supplementation. Dozens of studies have also shown the ability of melatonin to increase total sleep time and improve overall sleep quality.5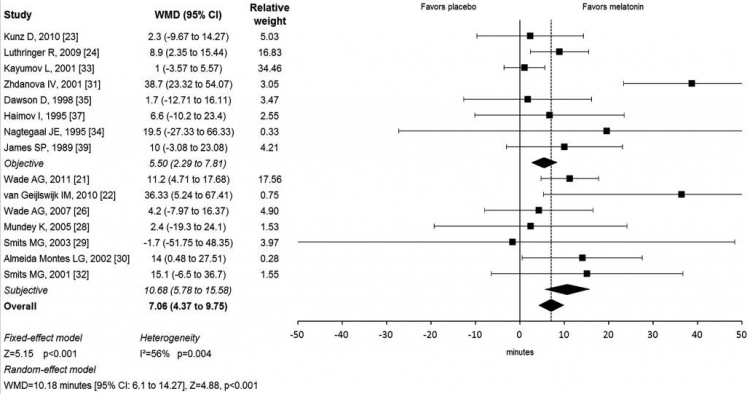 Minimizing Sleep-Wake Cycle Disturbances
Melatonin may also help to minimize sleep-wake cycle disturbances, which would prolong the kind of full-length resting period needed for healthy development. A reduction in sleep interruptions has been identified in girls with Rett6, people with tuberous slcerosis7, and in adults with major depressive disorder8, all of which negatively impact routine sleep.
Mitigating Insomnia
The efficacy of melatonin in insomnia is still under review: most studies show some improvement in sleep latency and overall sleep efficiency, but it does not appear to eliminate the disorder in its entirety.9
Combating Jet Lag
Evidence points to the capacity of melatonin to improve symptoms of jet lag, including alertness, psychomotor coordination, daytime sleepiness, and fatigue.10 Melatonin has not, however, been shown to affect jet lag symptoms when taken before their onset. As far as jet lag is concerned, it seems melatonin's role is better suite to ameliorate symptoms rather than avert them.
Melatonin supplements may not be the best bet for children.
 While melatonin is occasionally offered for use by children with specific sleeping disorders, it should be taken cautiously due to its effects on other hormones, which may interfere with their natural development. Melatonin supplementation may additionally inflict health consequences in children with immune disorders.
11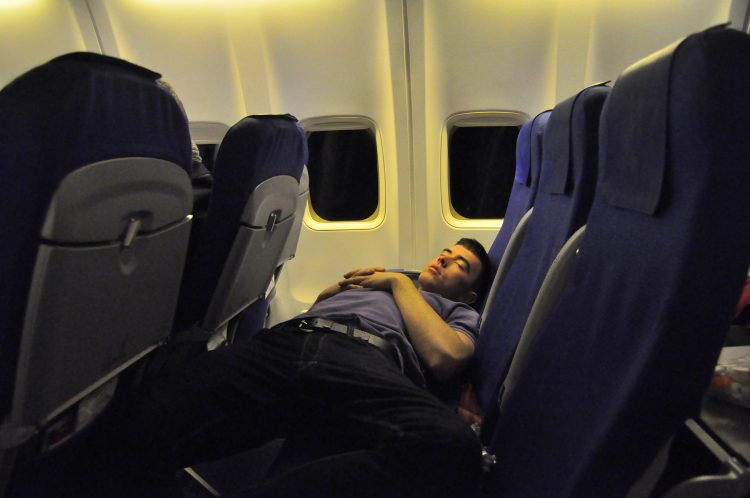 Melatonin Benefits & Uses for Sleep
The human body follows a 24-hour cycle to complete its basic physiological processes, of which sleep is one of the most critical. Melatonin is a kind a sleep supervisor. It's consistent production and excretion maintains normal sleep patterns.
For various psychological or physical reasons – such as sleeping disorders, stress, and excessive stimulation – some people have lower levels of available melatonin in their system, which makes it difficult for them to sleep according to a stable schedule.
Melatonin supplementation is an ideal way to counteract such disturbances. When given in proper increments, melatonin may improve sleep patterns by increasing quality, decreasing latency, and limiting the effects of sleep-cycle disturbances. Summing it all up, melatonin promotes healthy sleep.12 One interesting effect linked to melatonin's sleep-supportive properties appears to be an increase in growth hormone.
Time-release versus standard melatonin.
While melatonin supplements may certainly make it easier to fall asleep, they may not be able to compensate for chronically low levels of melatonin in the system for the course of a full sleep cycle due to its short half-life. In order to avoid the wearing-off of melatonin in the body, time-release, or prolonged-release, melatonin is being promoted. It seems particularly apt for the elderly and insomniacs, both of whom sustain substantially lower levels of melatonin production.
13
Research
The natural presence of melatonin in the human body makes it a relatively safe supplement for clinical trials. As such, it has been granted orphan drug status by the FDA.
Human Research
Studies indicate that melatonin may prove very effective in promoting sleep, especially in scenarios of lower melatonin levels, such as for the elderly and other adults with sleep disorders. Current research highlights the advantage of taking melatonin to stabilize sleep patterns post-jet lag and demonstrates mildly promising use for melatonin in battling insomnia.
Melatonin at 2 mg may improve sleep latency and quality in elderly insomniacs
In this randomized, double-blind, placebo-controlled investigation, 40 seniors with insomnia were given prolonged-release melatonin (PRM) before bed at 2 mg for a period of 3 weeks. Sleep onset latency was significantly reduced in the PRM group by 9 minutes. Sleep quality was also substantially improved by 15% without any negative affects on sleep structure and architecture.
The study concluded that "nightly treatment with PRM effectively induced sleep and improved perceived quality of sleep in patients with primary insomnia aged > or =55 years."14
Melatonin at 2 mg may improve sleep quality and morning alertness in seniors with trouble sleeping
In this double-blind, placebo-controlled investigation, 170 seniors with primary insomnia were given 2 mg of melatonin in the evening over the course of 3 weeks. Prolonged-release melatonin (PRM) significantly improved quality of sleep (QOS) (-22.5 versus -16.5 mm) as well as morning alertness (BFW) (-15.7 versus -6.8 mm).
The study concluded that "PR-melatonin is the first drug shown to significantly improve quality of sleep and morning alertness in primary insomnia patients aged 55 years and older-suggesting more restorative sleep, and without withdrawal symptoms upon discontinuation."15
Melatonin from 0.3 mg – 10 mg may improve sleep quality in children with sleep onset insomnia
In this double-blind investigation, 51 children taking melatonin at a range of 0.3 mg – 10 mg for extended periods of time marked significantly improved scores on their Children's Sleep Habits Questionnaire (CSHQ) with no negative effects noted on thier development.
The study concluded that "melatonin treatment in children can be sustained over a long period of time without substantial deviation of the development of children with respect to sleep quality."16
Melatonin at 3 mg may improve sleep quality in adults with tinnitus
In this prospective open-label study, 24 adults with sleep issues due to tinnitus were given 3 mg of melatonin each day for 4 weeks. The month following administration, the Pittsburgh Sleep Quality Index (PSQI) significantly improved. Researchers noted that the effects of melatonin were most pronounced on those who reported having the worst quality of sleep before the study began.
The study concluded that "Melatonin may be a safe treatment for patients with idiopathic tinnitus, especially those with sleep disturbance due to tinnitus."17
Melatonin may improve the onset latency and quality of sleep in adults with intellectual disabilities, as well as reduce the number of times they wake up at night
In this randomized, double-blind, placebo-controlled investigation, 51 adults with intellectual disabilities (ID) and sleep disturbances were given melatonin over a one-month period. The administration of melatonin significantly reduced average sleep onset latency by 29 min, advanced average sleep onset time by 34 min, lowered the average number of times a person woke up in the evening by 0.4, and augmented average total sleep time by 48 min.
The study concluded that "Melatonin treatment improves some aspects of chronic sleep disturbance in individuals with ID."18
Melatonin at 2 mg may improve sleep quality in the elderly
In this randomized, double-blind, placebo-controlled investigation, 12 elderly people with sleeping issues were give 2 mg of melatonin at night over the course of a 3-week period. While total sleep time remained the same, sleep efficiency significantly improved (83 [SE 4] vs 75 [3]%), and wake time after falling sleep was significantly shorter (49 [14] vs 73 [13] min).
The study concluded that "Controlled-release melatonin replacement therapy effectively improves sleep quality in this population."19
Melatonin at 2 mg may improve the initiation and maintenance of sleep in elderly insomniacs
In this randomized, double-blind, placebo-controlled investigation, 2 mg of sustained-release melatonin were given to elderly insomniacs 2 hours before expected bedtime for a 2-month period. Sleep maintenance and initiation were significantly improved after a 3 weeks based on wrist-worn actigraphs. Sleep quality returned to its disruptive state after stopping melatonin supplementation.
The study concluded that "for melatonin-deficient elderly insomniacs, melatonin replacement therapy may be beneficial in the initiation and maintenance of sleep."20
Did you know? 
Caffeine, along with many other stimulants, reduces melatonin levels in the body and may thus hinder normal sleep patterns.
21
Drinking coffee before bed may not be the wisest choice for insomniacs.
Dosage for Sleep
Melatonin may be taken as a supplemental pill, 0.5 mg – 10 mg.
Doses as low as 0.3 mg are available, although 5 mg is the most common for adults and 3 mg for the elderly.
Best taken 30 minutes before desired sleep time.
Supplements may be swallowed, placed in the cheek, or put under the tongue.
Topical melatonin cream may be used to protect skin from UV rays.
Supplements in Review Says
Melatonin may be an effective sleep aid. Considering that melatonin is the body's natural sleep pacemaker, we highly recommend taking the hormone as a general sleep aid for most conditions, especially for people with jet lag, sleeping disorders, and inherently low levels of the hormone. Above all, melatonin's principal function is to decrease the time it takes to fall asleep, although it is also known to improve sleep quality and limit nighttime disturbances.
We recommend taking melatonin as a standardized 5 mg pill. Melatonin may be placed under the tongue or in the cheek for increased absorption, but we recommend consuming it as a pill. It is best taken in the evening, 30 minutes before expected bed time.