Calming herb skullcap may improve sleep by reducing anxiety.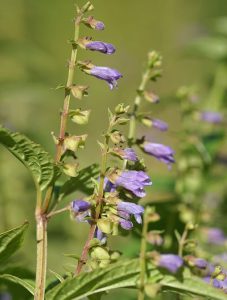 Skullcap refers to two species of flowering plants with medicinal qualities. Skullcap may aid sleep through:
Reducing anxiety. Active ingredients in skullcap promote relaxation, making it easier to fall and stay asleep.
Overview
The term skullcap typically refers to two specific plants from the Scutellaria genus: Scutellaria baicalensis (Chinese skullcap) and Scutellaria lateriflora (American skullcap). Although both of these skullcap plants are used for their medicinal properties, they vary significantly in their effects.
Chinese skullcap is native to China and eastern Russia. Unlike its American cousin, this skullcap species is mostly used to treat inflammation, infections, allergies, and headaches.
On the other hand, American skullcap (also known as blue skullcap) is native to North America, and has been used for over 200 years to reduce anxiety, nervousness, and convulsions. As such, it's not surprising that it is often used as a sleep aid by itself or mixed together with other calming herbs such as valerian.
Skullcaps are recognized by their ridged leaves and multiple flowers that can range in color from white to pink. This group of plants gets its name from the Latin term scutella, which means small dish, and refers to the shape of the flower sepals.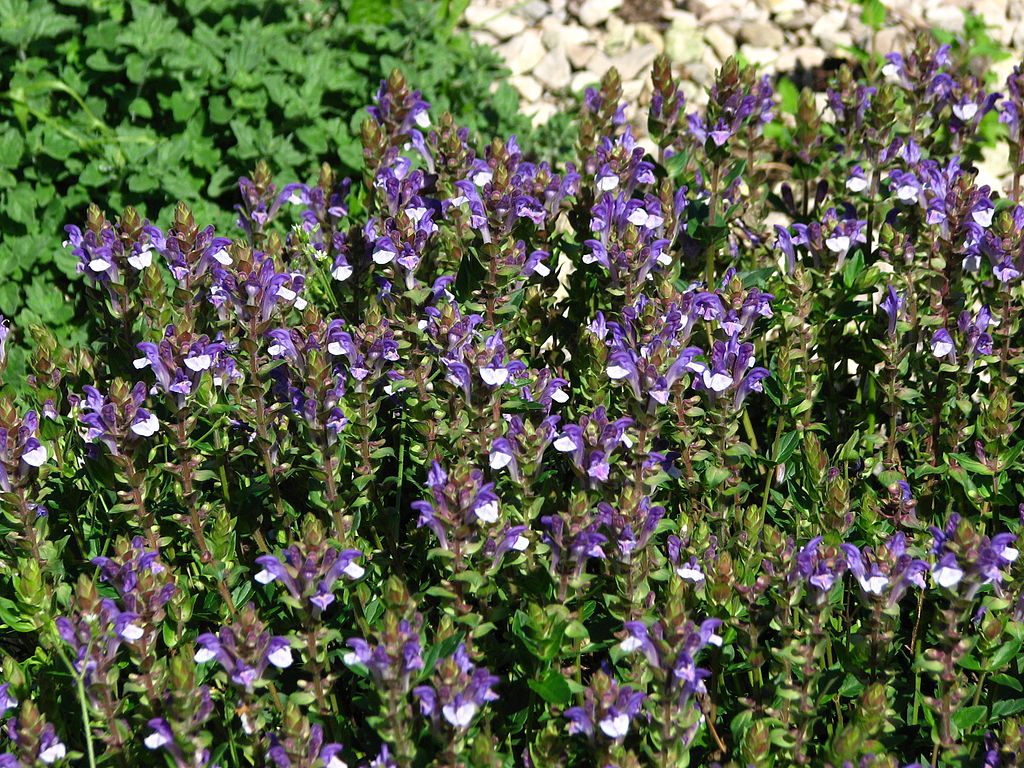 How Skullcap Might Help With Sleep
American skullcap contains several bio-active ingredients, namely baicalin and baicalein, which appear to account for its anxiety-reducing effects.
Interacting with GABA receptors
Similar to valerian and other anxiety-reducing herbs, skullcap seems to work primarily by interacting with GABA, an inhibitory neurotransmitter that reduces neuron activity. In particular, baicalin and baicalein seem to activate receptor sites used by GABA, producing an anxiolytic, calming effect.1
Skullcap Potential Sleep Benefits
American skullcap is best known as an anxiety-reducing, sleep-supporting supplement. Although people take anxiolytic supplements for many different purposes, improving sleep and warding off insomnia is among their most common uses. Furthermore, current research evidence supports the claim that American skullcap reduces anxiety, which is a frequent cause of poor sleep.
It's also important to highlight that both American (Scutellaria lateriflora) and Chinese skullcap (Scutellaria baicalensis) contain baicalin, the main active ingredient believed to be responsible for skullcap's sleep-supporting effects. However, only American skullcap has been clinically investigated as an anxiety-reducing herb. As such, it's best to stick to American skullcap.
Research
Animal Research
Animal research of skullcap and its constituent baicalin shows promising findings.
Baicalin seems to improve sleep in rats
This animal study examined the effects of baicalin, one of the main active ingredients of both Chinese and American skullcap, on sleep. Rats were injected baicalin directly into the brain, and had their sleep studied during light and dark periods. Baicalin was found to decrease slow-wave sleep (SWS) during the light period, and increase SWS and rapid-eye movement sleep (REMS) during the dark period.
The researchers concluded that "Baicalin exhibits biphasic effects on sleep–wake regulation; the decrease of SWS during the light period and increases of SWS and REMS during the dark period"2
American skullcap appears to reduce anxiety in rats
This animal study examined the sedative and anxiety-reducing effects of Scutellaria lateriflora L. (American skullcap). Rats were given S. laterifolia extract and tested in several models of anxiety, such as the elevated plus-maze. The extract was found to increase positive behavior during the test, suggesting an anxiolytic effect.
The researchers concluded that the baicalin and baicalein in skullcap "may play a role in anxiolytic activity"3
Human Research
Research on the benefits of American skullcap has only begun,  but existing evidence does support its anxiolytic effect.
American skullcap (100-350 mg) appears to reduce anxiety in healthy adults
This double-blind, crossover trial examined the usefulness of skullcap (Scutellaria lateriflora) for anxiety. Nineteen healthy adults took placebo or 100 mg, 200 mg, or 350 mg skullcap capsules and then had their anxiety, cognition, and energy examined for 2 hours. All skullcap groups reported a consistent anxiolytic (anxiety-reducing) effect, with a stronger benefit at the two higher doses.
The researchers concluded that "A meaningful anxiolytic effect was demonstrated using 3 preparations of S. lateriflora…"4
American skullcap (1050 mg) may reduce anxiety and improve mood in healthy adults
In this double-blind, randomized, crossover study, 43 healthy individuals  were given placebo or skullcap capsules (S. lateriflora, 1050 mg total) daily for two weeks. A week later, the groups were switched so that everyone tried both treatments.
Taking skullcap was associated with improved mood and a slight reduction in anxiety, which can be explained by the fact that most of the participants had low anxiety scores to begin with.
The researchers concluded that " The positive findings of this study suggest further research of S. lateriflora could prove it to be a safe, effective alternative to currently used anxiolytics"5
Dosage for Sleep
Sucessful trials have used capsule doses ranging from 100 to 1050 mg
American skullcap (Scutellaria lateriflora) supplements typically come in 400 – 425 mg capsules taken 2-3 times daily
American skullcap is also often mixed with other sleep-promoting herbs such as valerian in proprietary blends, in which case its exact amount is not listed
Skullcap can also be taken as tea
Supplements in Review Says
American skullcap (S. lateriflora) 350 – 1200 mg around bedtime.

Skullcap seems to help some people with sleep. Similar to valerian, skullcap appears to be a safe herbal sleep aid that makes it easier to fall and stay asleep by reducing anxiety and promoting calmness.
Given the scarcity of research, you may have to experiment with different doses. While it seems that 350 mg is enough to elicit an anxiety-reducing, sleep-supporting effect, everyone is different. As such, you may have to take multiple capsules to see a notable effect.