Animal Research
section" id="fat-loss-supplements">Fat Loss Supplementson" id="morosil-harvesting">Morosil harvesting18pt;">
Morosil® is a blood orange extract clinically shown to minimize fat accumulation.


Morosil is an extract of the Moro variety of blood orange. This review details its advantages as a fat burner compared with generic blood orange supplements:
Patented. Morosil comes from a special type of Moro blood oranges harvested solely by its manufacturer.
Researched. Clinical and animal research has demonstrated Morosil's capacity to burn fat.
<
Overview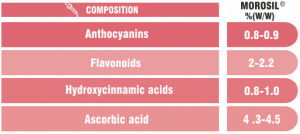 Morosil is a branded extract of a cultivar of blood oranges (Citrus sinensis) indigenous to the southeastern regions of Sicily. Italian company Bioactive Natural Products (BIONAP) has secured a patent granting it exclusive rights to harvest this variation of blood orange in its native habitat.
Among the several existing types of blood oranges, the Moro variation boasts one of the richest stores of flavonoids and other health-promoting ingredients. The fruit is characterized by a violet-red pulp and a bright red rind, which reflect its high content of the anthocyanin cyanidin-3-O-glucoside — widely believed to support lipid metabolism.1
The Moro blood orange is able to obtain a notably intense red coloring due to the cultivation of its trees in specific environmental conditions unique to southeast Sicily, including hot days and cold evenings. By monopolizing this particular kind of blood orange, Morosil is able to offer a higher supply of potentially fat-burning compounds than similar supplements do.
How Morosil Works
>Morosil contains numerous bioactive substances that may facilitate the breakdown of fat cells and possibly
inhibit adipogenesis
. Recent animal and human studies have found that flavonoids — especially anthocyanin, widely present in Morosil — affect lipid metabolism by suppressing gene expression factors that would otherwise promote fat storage and accumulation.
Bitter orange
has also proved capable of supporting fat loss. Unlike Morosil, however, bitter orange seems to do so by regulating appetite and increasing
thermogenesis
.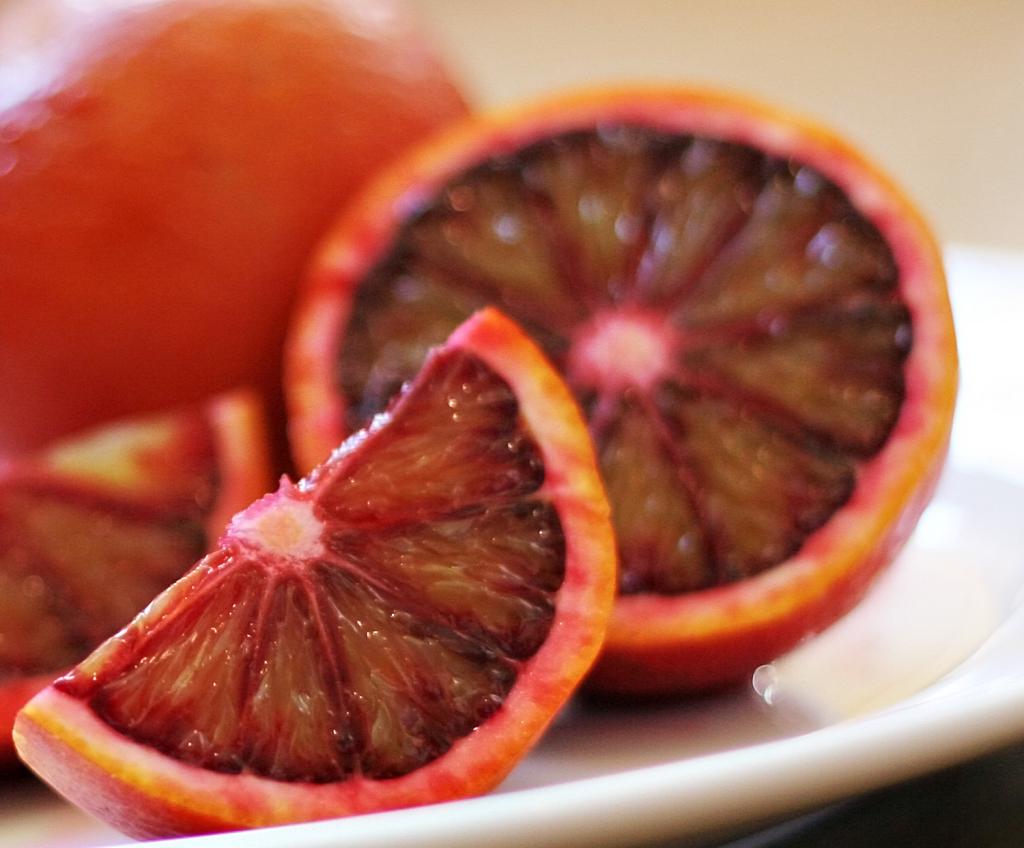 Mor
Morosil Patents

rosil harvesting

Morosil comes from Moro blood oranges grown in a unique area of Sicily. Though no patented technology is involved in the production of Morosil, the harvesting of Moro blood oranges from this key location is covered by an international patent.

Did you know? Experts believe that the Moro variety of blood orange originated at the beginning of the 19th century in the Province of Siracusa in Sicily.
Moros
Morosil Nutritional Supplement Uses

Loss Supplements

The primary health benefit of Morosil is that it may help promote fat loss, especially for overweight individuals. To be specific, its potential effects on the body include the following:
Decreasing body mass index (BMI)
Lowering body weight
Reducing waist and hip size
Pre-W
Pre-Workout Supplements

er possible, albeit limited, use of Morosil is to improve exercise conditions when taken as a pre-workout supplement. It provides a high amount of the anthocyanin cyanidin-3-O-glucoside, which can not only reduce inflammation by blocking both the COX-1 and COX-2 enzymes, but also increase peak oxygen availability during workouts.
Moros
Morosil Advantages

omparison with similar blood orange extract supplements, Morosil has several advantages:
Clinical backing: A recent randomized, controlled clinical study has shown that taking Morosil can significantly reduce various metrics related to weight management, including body weight.
Patent protection: Morosil may be more effective than generic supplements because its source is cultivated under ideal conditions, presumably available only in a private area of Sicily. BIONAP owns the rights to harvest these Moro blood oranges.
Potency. Furthermore, the distinct growing grounds of Morosil's blood orange trees imbue the extract with a higher content of bioactive ingredients than most other blood oranges.  
Morosil Re
Morosil Research

search

Morosil has displayed a capacity to support fat loss in a variety of ways in multiple mouse studies:
Human Rese
Human Research

ed, controlled clinical trial has confirmed the anti-obesity benefits of Morosil.

Morosil (400 mg) may counteract fat accumulation and weight gain

In this randomized, placebo-controlled investigation, 60 overweight adults took either a placebo or 400 mg of Morosil juice every day for 12 weeks. Compared with the placebo group, the Morosil group experienced statistically significant reductions in average body weight (3.08 ± 0.24 kg), body mass index (1.11 ± 0.09 kg/m²), and waist (7.08 cm) and hip circumference (5.96 cm).
The researchers concluded that "the active compounds contained in Moro juice have a synergistic effect on fat accumulation in humans and Moro juice extract can be used in weight management and in the prevention of human obesity."4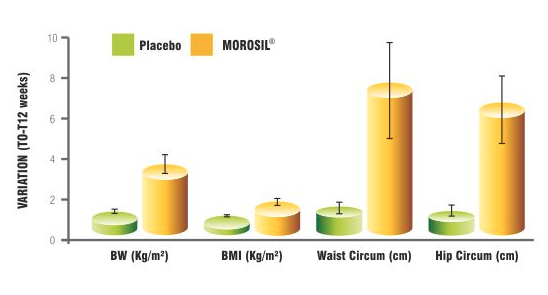 Morosil Dosage
Morosil Dosage

ular successful clinical trial used a daily serving size of 400 mg of Morosil.
Morosil is typically available as 400 – 500 mg capsules, tablets, or granules. The product is also occasionally taken as a solid functional food or instantaneous drink.
SupplementSupplements in Review Recommendationsil®, 400 mg.

Morosil may help reduce fat accumulation. Morosil is a relatively newer fat loss supplement with limited clinical support. However, all signs suggest the brand may be a highly safe and efficient supplement for general weight management.
Take 400 mg of Morosil per day. The recommended daily dose for Morosil is 400 mg. It appears to be equally effective when taken either as a liquid or solid.