Paradoxine® is the sole grains of paradise extract certified for safely increasing energy expenditure.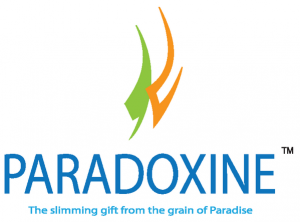 Paradoxine is an extract of grains of paradise — an herb that has shown potential to promote fat loss. It is the predominant brand of the herb and has several advantages over similar supplements:
Clinical research. The manufacturing company behind Paradoxine reports that clinical studies have shown the supplement to be safe and effective.
Stimulant-free. Paradoxine promotes fat burning without using stimulants or other additives commonly found in generic supplements.
Certified. Paradoxine is currently the only safety-certified grains of paradise extract on the market.
Overview
Paradoxine is a branded ethanol extract of grains of paradise (Afromomum melegueta), which is a species of ginger that is indigenous to West Africa. Grains of paradise are commonly used as a food additive and peppery spice, as well as for several potential health-promoting applications in herbal medicine, ranging from boosting strength and cardiovascular health to burning fat.
There are several key bioactive ingredients within the seeds of grains of paradise, including the following:
6-paradol
6-gingerol
6-gingerdione
6- shogaol
Chinese biotechnology company Suzhou Win Health International put together a unique mixture of these chemical compounds and referred to it as Aframols. The Paradoxine brand contains this proprietary combination, with 12.5% standardization of 6-paradol.
Recently, traditional medicine practitioners and fitness enthusiasts have used Paradoxine for its capacity to help improve body composition. Multiple studies have shown that the supplement holds fat-burning properties without the high content of stimulants often present in fat loss supplements.
How Paradoxine Works
The aromatic ketones in grains of paradise, especially 6-paradol and 6-gingerol, have demonstrated a capacity to convert regular fat cells, or white adipose tissue, into brown fat cells, or brown adipose tissue, whose main function is to convert energy from food into body heat. In effect, grains of paradise reduces the body's fat stores while increasing its ability to perform thermogenesis, and thus, sustain exercise and improve body composition. As a branded form of grains of paradise, Paradoxine enhances this process for greater energy expenditure and fat reduction.1
Did you know? The central ingredient in Paradoxine, grains of paradise, goes by several different names, including roman pepper, fom wisa, melegueta pepper, ossame, and guinea grains.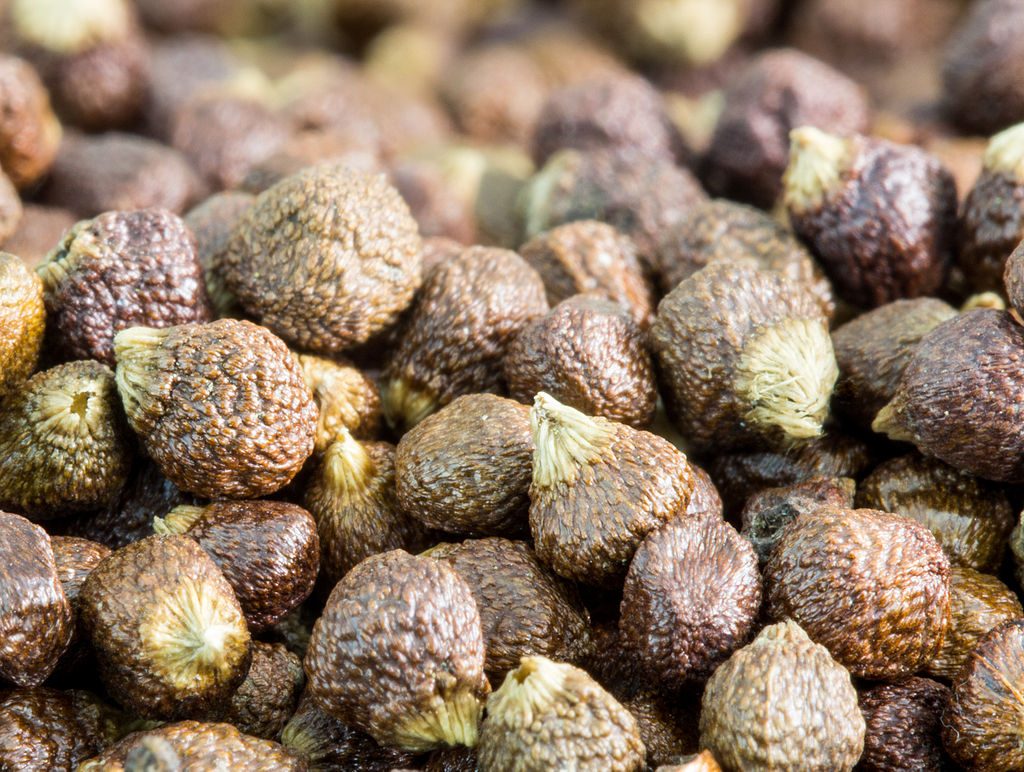 Paradoxine Patents
Paradoxine formulation
Suzhou Win Health International has yet to patent its proprietary mixture of bioactive ingredients extracted from grains of paradise.
In addition to improving fat profiles, several studies have shown that Paradoxine may help lower blood pressure and mitigate chemical-induced
liver
damage in animals.
Paradoxine Nutritional Supplement Uses
Fat Loss Supplements
The primary supplemental use of Paradoxine is to support fat loss. Grains of paradise have a natural capacity to trigger thermogenesis and increase energy expenditure. Taking this process to the next level, Paradoxine can promote faster metabolism and ultimately help reduce fat content. Casual organic supplement enthusiasts have also taken Paradoxine to counteract obesity and subsequent cardiovascular complications.
Pre-Workout Supplements
Particularly when used in a pre-workout stack, Paradoxine can may help improve body composition and workout endurance. In addition, the supplement has shown early signs of slightly boosting testosterone levels due to the anti-estrogenic properties of its ingredients. These effects collectively allow for rapid muscle gains.
Nootropic Supplements
Though not the main use of Paradoxine, its bioactive ingredients have demonstrated the potential to act like a nootropic and enhance brain health. To be specific, 6-paradol helps protect brain cells against inflammation and antioxidation for better long-term health and function. The ingredient 6-shogaol has also proved capable of promoting central nervous system health.
Paradoxine Advantages
In comparison to generic supplements, Paradoxine offers several advantages:
Clinical research: Out of various generic grains of paradise brands, Paradoxine is the only one with clinical studies demonstrating its long-term safety.
Stimulant-free: The herbal supplement is well-suited for individuals who prefer to lose weight and tone their bodies without excess stimulation. Paradoxine promotes fat burning without the presence of added stimulants, which many fat burners on the market include.
Certification: The supplement is the only one of its kind that is National Sanitation Foundation (NSF) and Good Manufacturing Process (GMP) certified, with third-party certification verified by Chromadex.
Standardized. Paradoxine has a validated reference standard and assay method, which includes 12.5% 6-paradol in the final product.
Paradoxine Research
Animal Research
Animal studies with grains of paradise supplements including Paradoxine have shown that the compound 6-paradol can trigger thermogenesis of brown adipose tissue.2
Human Research
There are no publicly available studies that have specifically evaluated Paradoxine's health-promoting effects. However, the manufacturer, Suzhou Win Health International Clinical, has claimed that they have an established research program with clinical trials underway since 2016.
The following studies confirm the potential of grains of paradise extracts such as Paradoxine to facilitate fat loss through thermogenesis.
Grains of paradise (40 mg) may decrease body fat
In this randomized, single-blinded, placebo-controlled investigation, 19 men received either a placebo or 40 mg of a 95% grains of paradise extract and then exposed to extreme cold for 2 hours. The 12 participants who were positive for brown adipose tissue had significantly greater energy expenditure than those in the placebo group.
The researchers concluded that "grains of paradise extract, like capsaicin and capsinoids, may be a potential tool for increasing brown adipose tissue thermogenesis and decreasing body fat."3
Grains of paradise (30 mg) may reduce stomach fat in females
In this randomized, single-blinded, placebo-controlled investigation, 19 females received either a placebo or 30 mg of a 95% grains of paradise extract daily for 4 weeks. The grains of paradise group had significantly decreased fat accumulation in the abdomen, whereas the placebo group had slightly increased abdominal fat. However, neither grains of paradise nor the placebo seemed to have a strong impact on overall fat levels.
The researchers concluded that "daily ingestion of grains of paradise extract increases whole-body energy expenditure and decreases visceral fat in young non-obese females."4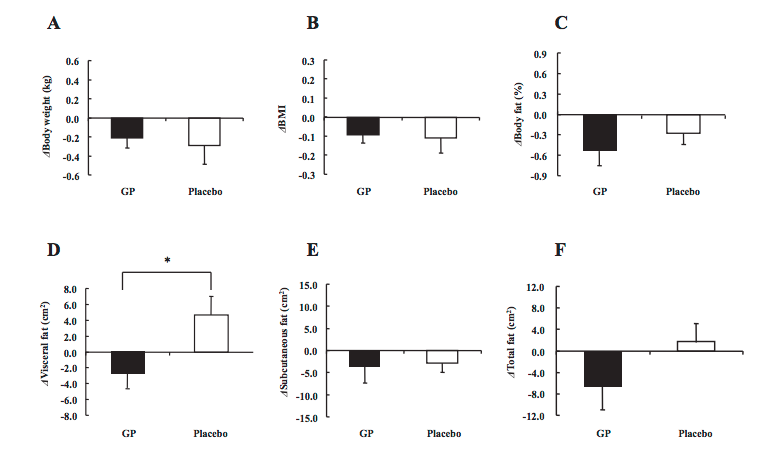 Paradoxine Dosage
Successful clinical trials have offered between 30 – 40 mg per day.
Typical supplements come in a daily serving size of 25 – 50 mg.
Supplements in Review Recommendation
Paradoxine is the premier grains of paradise extract for fat loss. Paradoxine remains the predominant grains of paradise supplement. Its production involves a proprietary technique that allows for the formation of a stable extract standardized to 12.5% 6-paradol. There have been other generic grains of paradise supplements but most were either discontinued or never certified.
Start with a dose of 40 mg per day. We recommend starting with 40 mg of Paradoxine per day to increase energy expenditure and help improve body composition. A serving size as large as 2 grams is safe for daily consumption.