Animal Research
e: 18pt;">
Caffeine-rich plant guarana seems to impart many of the same energy benefits as pure caffeine.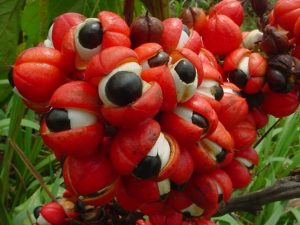 Guarana is a South American plant known for its high caffeine content. It is most commonly used as a stimulant and is believed to boost energy by:
Stimulating the central nervous system. Much like pure caffeine, guarana increases energy levels, and improves mood, focus, and other cognitive aspects.
Overview
Native to the Amazon basin and widely utilized in Brazil, guarana (Paullinia cupana) is a fruit tree whose seeds have been ground and consumed as a psychoactive drink for centuries.
The key component of guarana are the seeds found inside of its red fruit, which are about the same size as coffee seeds but have more than two times the caffeine content (1–2% for coffee seeds and 3 – 7% in guarana seeds).1
Because of this, the use of guarana parallels that of caffeine and caffeine-containing beverages, which includes energy drinks, medications, and dietary supplements aimed at energy, fat loss, and other uses. Additional medical uses of guarana include treatment of low blood pressure and chronic fatigue syndrome (CFS).
Did you know? The name guarana hails from the South American indigenous tribe Tupi-Guarini, and literally means "fruit-like eyes of the people." Legend has it that in order to console the death of a beloved village child, a benevolent deity saved the child's eyes and planted them anew as the seed of the guarana plant.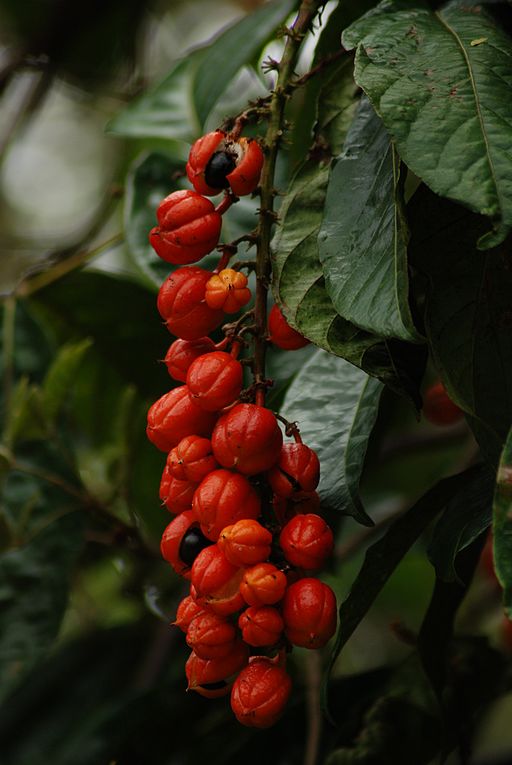 How Guarana May H
How Guarana May Help With Energy

ng mechanism of guarana seems to parallel that of caffeine:
Stimulating the centr
Stimulating the central nervous system

gredients capable of stimulating the central nervous system (CNS), most importantly caffeine, but also other xanthines such as theophylline and theobromine. The CNS stimulation of guarana results in:
Increased energy metabolism not just in the brain, but in the heart and muscles as well.2
Elevated mood. Caffeine and theobromine positively influences mood and state of alertness by inhibiting phosphodiesterases, which are enzymes that block energy metabolism.3
Guarana Benefits &
Guarana Benefits & Uses for Energy

_11214" style="width: 212px" class="wp-caption alignright">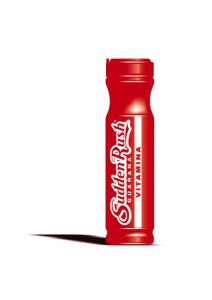 Brazilian guarana soft drink. By Nussbaumer (assumed based on copyright claims). [GFDL, CC-BY-SA-3.0 or CC BY 2.5], via Wikimedia Commons

The early stages of guarana research confirm that it shares many of the energy-related benefits of pure caffeine, including:
Mood enhancement
Alertness
Decreased sleepiness
Enhanced cognitive function
As such, guarana's high caffeine content may justify its use in keeping people active on a day-to-day basis, similar to the way coffee is frequently taken.
Other compounds in guarana may help, too.
Although caffeine tends to get all the glory, theophylline and
theobromine
seem to act like a weaker version of caffeine.
Research
Animal
Research

In animal models, guarana has been shown to:
Provide stimulating effects. Guarana was found to be more stimulating than caffeine alone.4
Improve alertness and positive mood in mammals.5
Human Research
Human Researcht;">Clinical studies of guarana are scarce, but suggest that it works similar to pure caffeine.
Guarana (1050 mg) does not seem to affect mood to a significant degree
In this prospective, randomized, single-blind, placebo-controlled, crossover investigation, 27 adults took placebo or guarana pills (3 pills, each 350 mg) after breakfast for 5 days. Based on psychological well-being (PWB) scales, the self-rating anxiety state scale (SAS), and the Bond-Lader mood scales, there were no significant mood differences reported between guarana and placebo.
The study concluded that "in healthy subjects a 5-day treatment with a commercial preparation of guaranà used according to labelled instructions provided no evidence for any major effects on psychological well-being, anxiety and mood."6
Guarana (75 mg) may improve mental performance and alertness
In this double-blind, placebo-controlled investigation, 28 participants were given placebo, 75 mg of guarana, 200 mg of ginseng, or a mixture of both daily during computerized cognitive assessments. Compared to the placebo, guarana was found to improve attention and subtraction tasks as well as enhance mood according to Bond-Lader mood scales.
The study concluded that "in the case of guarana, improvements were seen across 'attention' tasks…[and] also enhanced the speed of memory task performance, with little evidence of modulated accuracy."7
Berocca® may improve attention and mood via increased brain activation
In this double-blind, placebo-controlled, randomized, crossover investigation, 20 adults took either a placebo or guarana in the form of the multivitamin Berocca® before undergoing a cognitive challenge and a following mood assessment.  Cognitive performance and self-rated contentment were higher in the guarana group than the placebo group.
The study concluded that "treatments increased activation in areas associated with working memory and attentional processing, with the effect being greater in the multivitamin with guaraná condition. These data confirm the acute benefits of multivitamins with guaraná on mood and cognitive performance. Furthermore, they demonstrate for the first time increased brain activation."8
Dosage for Energy
Research s

Dosage for Energy

50 mg per day
Typical guarana supplements range from 200 – 900 mg of seed extract
Guarana is also popular in energy drinks (often mixed with essential vitamins), herbal tea, soft drink (30 mg caffeine in 8 oz), and even paste or gum
Supplements in Review SaysSupplements in Review Says
;">Guarana seed extract 200 – 900 mg for energy.
We recommend pure caffeine for energy. Although guarana seems to have many of the same benefits as caffeine, it has seen far less research and is not nearly as potent as pure caffeine. As such, we recommend sticking to pure caffeine or at least coffee for more reliable energy-boosting effects.
But if you do want to give guarana a try, stick to supplement-recommended dosages. Guarana supplements come in a wide range of doses, as low as 200 mg and as high as 1600 mg.