Caffeine-rich seeds from Amazonian Guarana berries may be helpful for weight loss.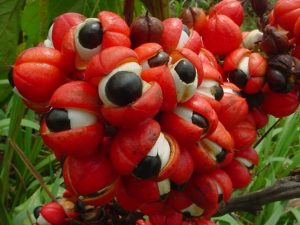 Guarana is widely used as a stimulant, particularly in drinks and dietary supplements. Guarana may aid weight loss through the interplay of several active compounds, which appear to:
Increase fat oxidation, the body's usage of fat for energy
Raise energy expenditure through thermogenic (heat-generating) effects
Enhance exercise performance; guarana is a potential ergogenic aid
Ove
Overview

rana (Paullinia cupana) is a tropical plant found in Brazil, which has been used for thousands of years by tribes in the Amazon for its medicinal effects. Guarana seeds are known for their high caffeine content (3-7%) – about twice of that found in coffee beans.1

As a result, its use parallels that of caffeine. Guarana is a popular ingredient in dietary supplements and soft drinks, and is used to help with a number of ailments ranging from low blood pressure to headaches. Guarana is also commonly used in weight loss aids, and may have some alertness-enhancing properties that, while not truly nootropic, may help to energize cognitive function.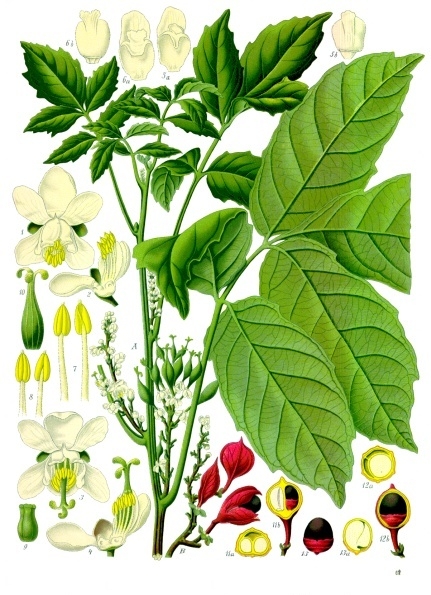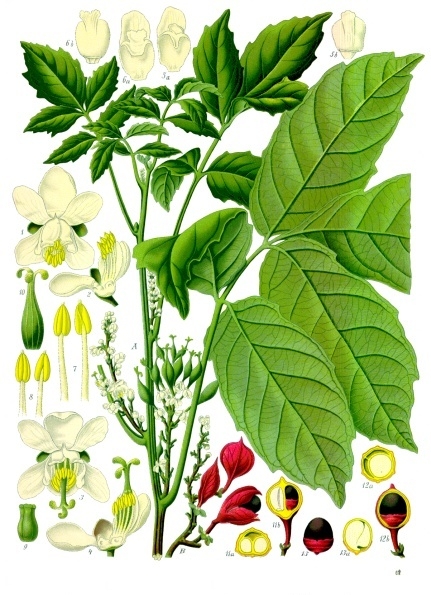 Given that caffeine is one of the most researched substances in the world, Guarana as a whole has not seen much research. However, it may be more effective than caffeine alone because Guarana contains other compounds that may also be beneficial for weight loss – small amounts of theobromine, theophylline and catechins, as well as high tannin content (5-8.5%).2
Caffeine, theobromine and theophylline are all methylxanthines – compounds that are known for their stimulating effects. Meanwhile, catechins and tannins are polyphenols – organic compounds found in plants that have a number of health benefits.
Guarana's Potential Fat-Burning<Guarana's Potential Fat-Burning Bio-Activitiesss through the combined biological activities of 5 key components:

Caffeine
Theobromine
Theophylline
Tannins
Catechins.

Fat Oxidation & Metabolism Support

Fat Oxidation & Metabolism Support

active ingredient – is believed to aid weight loss through 3 main actions: increasing fat oxidation (the body's usage of fat for energy), enhancing metabolism by increased energy expenditure, and enhancing the effectiveness of exercise.

These effects are achieved through a number of complex mechanisms which include:345

Inhibition of the enzyme phosphodiesterase
Blockade of receptors for adenosine, a compound responsible for suppressing lipolysis (fat breakdown)
Countering sleepiness and increasing serotonin and dopamine levels, neurotransmitters associated with happiness and well-being.

Meanwhile, research shows that both theophylline and theobromine are believed to function similarly to caffeine, since they belong to the same group of stimulant compounds.67

Possible Fat-Binding Activity

TaPossible Fat-Binding Activitya role in Guarana's bio-activity, but few human trials have been done. Studies in animals suggest that tannins may aid in weight loss by binding proteins and carbohydrates into indigestible forms, and also by directly binding to digestive enzymes.8

Energy Expenditure

Finally, catechEnergy Expenditurea role in Guarana's bio-activities by enhancing energy expenditure and fat oxidation, similar to caffeine. They are believed to work by inhibiting the enzyme COMT, which plays a role in degradation of catecholamines – compounds such as epinephrine that play a role in regulating fat tissue, and also by inhibiting several enzymes used to digest fat.9

Guarana powder, mixed in water, is one form of the herb. By User:Wesley2048 [Public domain], via Wikimedia Commons

ResearchAnimal Research

Animal resea

Animal Research

rch">Research
nefits of some of Guarana's components for weight loss.

Tannin may reduce weight gain in animals

This review looked at the health impacts of a number of plant compounds, including tannin. The authors noted that a large number of studies reported reduced weight gain for animals who were given food high in tannin. For example, one study found that pigs fed a diet high in tannin versus corn gained 10% less weight.

This effect is believed to function by reducing the nutrient value of food by binding it into forms that can't be digested, as well as by tannin directly binding to digestive enzymes.
The researchers conclude that "…tannins can be extracted for use as antioxidant supplements as well as anti-caloric agents for obese individuals"10
Tannins and catechins found in Guarana may be effective for weight loss in rats
This study looked at the effects of guarana supplementation weight loss in rats. The animals were supplemented with either 0.13g/kg bodyweight Guarana extract (GE), 0.325g/kg GE, 0.13g/kg decaffeinated Guarana (DG) or 0.325g/kg DG for 14 days.
The most interesting finding was that the rats given decaffeinated guarana gained less weight than the ones given the whole extract. While the two GE groups gained 35 and 37.08g of weight on average, the decaffeinated groups gained only 29.1 and 27.22g. The researchers suggest that the weight loss could thus be attributed to the tannins and catechins found in Guarana.
The researchers concluded that "the fact that the final weight gain of animals consuming the decaffeinated extract was lower than that of the group receiving whole guarana suggests that tannins and catechins may also contribute to the result, especially after the removal of methylxanthines"11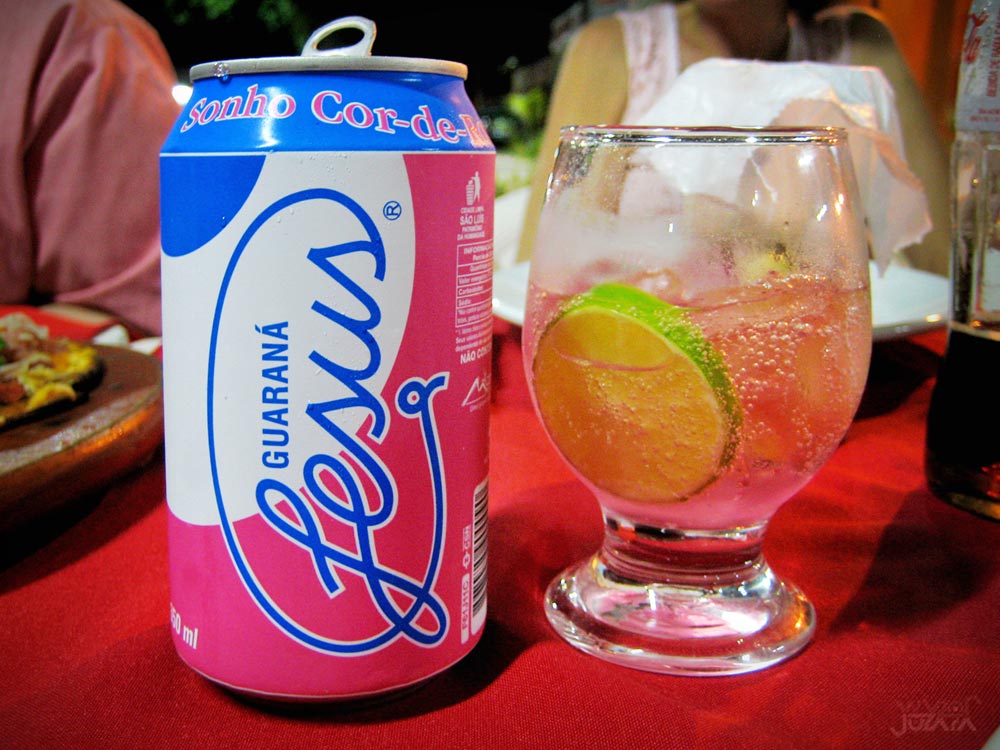 Human Research
Human trials of guarana are rare, and typical
Human Research

of Guarana with another supplement, such as tea. However, they do show potential.

Guarana-green tea extract mixture may boost metabolism

Fourteen healthy men took a mixture of green tea and guarana extracts that was standardized to 200mg caffeine and either 90, 200, 300, or 400mg EGCG, a catechin compound found in green tea. All doses resulted in an energy expenditure (measure of calories burned by the body) increase of roughly 750 kilojoules for the next 24 hours.
The researchers concluded that "the EGCG–caffeine mixture should be considered as a good complement in a weight-loss programme"12
Habitual guarana intake is associated with reduced risk of obesity and metabolic syndrome
637 elderly participants (60 and older) were classified as either habitual guarana drinkers since childhood, or those who never took it. The researchers found that the habitual group had lower prevalence of hypertension (43% vs 53%), obesity (32% vs 47%), and metabolic syndromes such as diabetes (21% vs 32%). The researchers suggest that the xanthines and other compounds in Guarana are likely responsible for this effect, but the exact mechanism is unknown.
The researchers concluded that "the results described in this study suggest that habitual guaraná ingestion contributes positively to the prevention of various metabolic disorders in the elderly"13
Catechins 690 mg may lead to a reduction of body fat
This study looked at the effect of ingesting tea containing 690mg catechins daily for 12 weeks. The 35 male subjects were split up into either the 22mg or 690mg-supplemented groups. The 690mg group was found to have lost 3.7% more fat and 1.5% more overall body weight than the 22mg group.
The researchers attributed this to catechins increasing energy expenditure and directly reducing body fat by a mild amount. Although this study did not look at Guarana directly, it still useful since Guarana has a notable catechin content which may play a role in its effects.
The researchers concluded that "long-term consumption of beverages containing catechins inhibits the formation of oxidized lipids such as MDA-LDL, and this is a risk factor for developing arteriosclerosis. Moreover, catechin intake decreases body fat"14
Tannins and catechins may be effective for inhibiting fat digestion
This study reviewed a wide array of natural compounds that could help obesity by inhibiting the digestion of fat. Among these the authors mention the effects of polyphenols such as tannins and catechins, which are believed to inhibit several enzymes required for the digestion of dietary fat, including pancreatic lipase, lipoprotein lipase, and others. Since Guarana contains both tannins and catechins, it is possible that they play a part in its supposed weight loss benefits.
The authors concluded that "…new natural products are being identified and screened for their PL inhibitory potential. Some of these extracts are obtained from plants that are rich in polyphenols and saponins and show inhibitory effects on fat digestion…"15
Dosage Notes
It is difficult to discern the ideal dosage given that studies that
Dosage Notes

a's active ingredients together are rare, as well as the fact that their content varies. Judging by commercially available products, doses of up to 2 g extract a day are considered safe.
Side Effects
Given that caffeine is the main active ingredient in guarana, the poss
Side Effects

very similar to plain caffeine – restlessness, irritability, insomnia, tremors, and others. However, these side effects do not usually occur unless a large dose is taken.
Available Forms of Guarana
Guarana Extract, standardized to contain anywhere fr

Available Forms of Guarana

Concentrated Extract, typically 4:1 ratio
Ground/powder guarana seeds
Guarana is sometimes found in energy & vitality drinks
Supplements in Review Recommendation
Supplements in Review Recommendationb>
Guarana is a good natural source of caffeine. Its antioxidant activity brings additional layers of weight loss support, including catechins that are famously found in another top fat-burner, Green Tea. Guarana's antioxidant activity may also help quench the cell-damaging free radicals that are generated during the fat-burning process.
A 4:1 extract concentrates Guarana's activity. That means that with a 4:1 extract, our recommended 400 mg dose is the equivalent to 1600 mg raw guarana. This seems like a good starting dose to see if you feel a fat-burning buzz, but take care when consuming coffee, tea, and other caffeine sources while supplementing with guarana.
References