Animal Research
section" id="potential-enhancement-of-acetylcholine-levels">Potential enhancement of acetylcholine levelslass="wp-caption alignright">

Centrophenoxine chemical structure. By Harbin [Public Domain], via Wikimedia Commons
Synthetic nootropic shows evidence for age-related cognitive health and potential for brainpower.
Centrophenoxine is a psychostimulant synthetic compound that is popularly used as an "anti-aging" supplement. It appears to aid the nervous system through:
Overview

Centrophenoxine — also known as meclofenoxate, the brand name Lucidril, or simply CPH — is a compound believed to stimulate brain activity mainly through elevating levels of acetylcholine, a neurotransmitter strongly associated with memory function.

Centrophenoxine supplies the active nootropic compound dimethylaminoethanol (DMAE), and is used to help DMAE reach the brain more effectively. CPH is suggested to be an advanced form of DMAE, but no evidence to date backs this belief.

With its close relationship to DMAE, centrophenoxine is popularly used by healthy individuals as a nootropic aid.

Although it is only available by prescription in Germany, Austria, Hungary and Japan, in most countries centrophenoxine is available over the counter and classified as a dietary supplement. More on nootropic legality worldwide
Is C
Is CPH a longevity pill?

rophenoxine is popularly regarded as an anti-aging compound because of its ability to improve age-related cognitive decline and reduce levels of  lipofuscin, a cellular waste product that is recognized as a hallmark of aging.
A 1973 study reported that centrophenoxine and DMAE seemed to be associated with longer average lifespan and maximum lifespan in mice.1
How CentroHow Centrophenoxine Might Help the Brain
enhancement of acetylcholine levels
Centrophenoxine's main biological activity is theorized to be the elevation of acetylcholine — the neurotransmitter particularly important for memory and learning. Although there doesn't seem to be much direct evidence for this, research does show that centrophenoxine results in increased activity of acetylcholinesterase, an enzyme which breaks down acetylcholine. Some researchers interpret this as indirect evidence that centrophenoxine may indeed increase acetylcholine levels.2
Brain-prot
Brain-protective antioxidant activity

oxine has been shown to decrease the concentration of lipid peroxidation products in the hippocampus region of the rat brain, indicating  a protective, antioxidant effect.3 In addition, centrophenoxine has been found to significantly reduce the effects of experimentally-induced oxidative stress in a rat model of Parkinson's.4 Similarly, centrophenoxine also appears to increase the activity of major antioxidant enzymes and decrease the level of lipid peroxidation products in the brains of the aged rats.5
May help regu
May help regulate lipofuscin

ne has been suggested in early research to slow the accumulation of lipofuscin (a marker of cell aging) in neurons and other cells throughout the body.6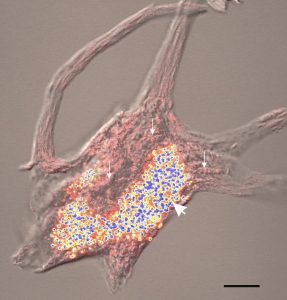 Researchers have linked centrophenoxine's apparent ability to slow lipofuscin formation to its antioxidant activity. This bio-activity seems to lend further support to centrophenoxine's anecdotal use in anti-aging practices, including for age-related cognitive issues.
Stimulation of
Stimulation of brain cell metabolism

e may also stimulate the uptake of glucose and oxygen by neurons, enhancing their metabolism and function. For example, studies in animal and cell culture models have demonstrated that centrophenoxine affects the activity of enzymes involved in glucose oxidation.7 In addition, centrophenoxine supplementation appears to increase the rates of RNA synthesis, protein synthesis and glucose uptake in human glial cells, which function as support cells in the nervous system.8
CentrophenoxinCentrophenoxine's Proposed Benefits
phenoxine is advertised as a nootropic aid that enhances memory, focus, and other aspects of cognition. Thus far however, there is only evidence of such benefits in older individuals, in whom centrophenoxine has been used for over five decades to keep the mind sharp and stave off neurological disorders such as Alzheimer's.
On the other hand, there is currently no research to back up its use as a nootropic in young adults, although its biological activities may still have some benefit.
Research
Research
ch
Animal studies suggest that centrophenoxine may:
Human Research
Human Research

e was tested in a large number of clinical trials in the 1960s and 1970s with the purpose of determining its efficacy in the treatment of cognitive decline in the elderly.12 However in most cases the results of these early studies are not available, making it difficult to say anything conclusive about its effects in humans.

Centrophenoxine (1200 mg) may improve memory and alertness in the elderly

This randomized, double-blind study tested the effects of centrophenoxine (CPH) on memory in elderly subjects. Sixty-seven geriatric patients were split into two groups, one receiving CPH and the other placebo for 9 months, and had their memory function tested at 0, 3, 6, and 9 months. The CPH group saw improvements in long-term memory, and had better mental alertness.

Centrophenoxine (2 g) may alleviate the memory decline seen in dementia

In this double-blind clinical trial, 50 elderly people (average age 77) suffering from dementia were treated first for the first 2 weeks with placebo to establish baseline cognitive performance. Next, they were treated with placebo or centrophenoxine tablets (2 g) daily for 8 weeks. The CPH-treated group demonstrated significantly better improvements in memory function.
Dosage for Brain HeaDosage for Brain Health
nical trials employed centrophenoxine doses in the range of 200-2000 mg/day
Retail supplements typically supply doses of 300-400 mg
For healthy, younger individuals, 1-3 doses of 250 mg appears sufficient
Side effects
Side effects about the safety of centrophenoxine supplementation is limited, a study of its effects in healthy Chinese men did not report any adverse effects. In this study, capsule and tablet centrophenoxine formulations were well-tolerated at the dose of 200 mg daily.15In general, this drug is considered to be safe and having minimum side effects.
Supplements Supplements in Review Recommendationstyle="font-size: 14pt;">Centrophenoxine, 300 mg capsules taken 2-3 times daily.

Centrophenoxine helps the brain through multiple ways.  Although research is lacking, it's fair to say that centrophenoxine is effective for older adults seeking to improve age-related cognitive decline. The only question that remains is whether it can also have benefits for younger individuals.
300 mg taken multiple times should be sufficient to see centrophenoxine's effects. Doses as high as 2 g do not appear to cause any adverse effects, so taking upwards of 900 mg is perfectly safe and should be enough to test whether you benefit from this supplement.
References