Pea protein is an effective plant-based alternative to animal protein sources.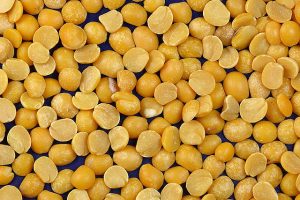 Peas protein comes from field peas. Although it doesn't appear to have any specific benefits, pea protein does have some distinguishing qualities:
No major allergens. People sensitive to whey, casein, or soy protein can turn to pea protein as a viable alternative.
Appears to be as effective as whey. Early research indicates that pea protein is as effective as whey at building muscle and suppressing appetite.
Overview
Pea protein is derived from seeds of the Pisum sativum plant. It's typically made from field peas — one of the three major pea plant types — which are grown specifically to be dried. Similar to soy, peas are a popular plant-based source for supplementing protein intake.
Aside from being ideal for vegetarians, another advantage of pea protein is that it doesn't contain any major allergens, and can therefore be consumed by individuals with sensitive to soy, whey, or casein. Peas are a relative newcomer to the protein supplement market; as such, clinical research on the potential benefits of pea protein is just beginning.
Most pea protein powder supplements contain anywhere from 50 to 70% protein, although isolates can provide up to 90%. In addition, pea protein is frequently mixed with soy, hemp, and other plant proteins.
Pea Protein's Reputation
Similar to hemp and soy, peas are a popular option for plant-based protein supplementation. Pea protein is ideal for vegans and vegetarians, especially those who are training or bodybuilding. Moreover, early research suggests that pea protein is as effective for maximizing muscle growth during resistance training as time-tested whey. Pea protein is a also good choice for those with allergy, sensitivity, or  intolerance to whey, soy, or casein, since it does not contain any major allergens and is considered hypoallergenic.
In addition, peas may also be one of the better protein sources for weight loss. While all proteins are great at reducing appetite, several studies have found pea protein to induce satiety as much as and in some cases more than whey – the most popular protein supplement for losing weight – which could in turn help shed the pounds by decreasing food intake.1
Research
Human Research
Although clinical research of pea protein is still in its early stages, the current findings look promising.
Pea protein appears to be as effective as whey at promoting muscle growth during resistance training
This double-blind, randomized study examined whether pea protein is as good at building muscle during resistance training as whey. One hundred and sixty one men underwent 12 weeks of training and were assigned to receive pea protein or whey protein (containing 50 g protein each), or placebo daily. The trial found that the protein groups had similar improvements in biceps thickness and strength, and were superior to placebo.
The researchers concluded that "This statistical superiority compared with the Placebo and the comparable results with those obtained for Whey intake make pea protein an alternative to Whey-based dietary products for athletes from different levels and sports"2
Pea and casein protein may reduce appetite more than other protein sources
In this trial, two randomized studies were performed to assess whether different sources of protein powder have different effects on satiety. In the first study, 32 men were given water, placebo, casein, whey, pea, or egg protein (containing 20 g protein), and then ate a meal 30 minutes later. The researchers found that food intake was substantially lower only after casein and pea protein.
The second study repeated the first protocol, but with the food being consumed immediately after the water, placebo, or protein supplementation.  No dfifference was found on food intake in this case.
The researchers concluded that "Casein and pea protein showed a stronger effect on food intake compared to whey when consumed as a preload. However, consuming the protein preload as a starter of a meal decreased its impact on food intake as opposed to consuming it 30 min before the meal"3
Pea protein peptides hydrolyzed by enzymes may be capable of reducing blood pressure similar to whey and some other protein sources, but it is not currently clear whether these effects translate over to whole pea protein.
4
Pea Protein Dosage
Successful studies of pea protein use doses of 20 – 50 g
Pea protein supplements usually provide 20 g protein per scoop, taken daily to support your personal protein intake goals
For sedentary individuals, 0.8 g/kg protein body weight is recommended
For resistance training, of 1.2- 1.5 g/kg is ideal for maximizing muscle growth
Supplements in Review Says
Pea protein with 20 g protein content taken daily.

Pea protein seems to be a viable alternative to whey, casein, and soy. If you're intolerant to dairy or soy, vegan, or simply prefer-plant based foods, then pea protein is a great substitute.
Unless you're undergoing resistance training, 20 g is a good all-around dose.  Although the ideal dosage will depend on your body weight, activity level, and goals, 20 g of supplemented protein is a solid foundation to build on.
References