Incan quinoa protein may help manage weight as well as maintain overall health via its antioxidant properties.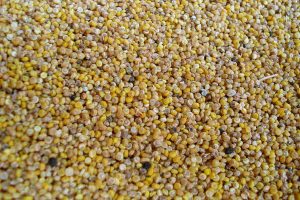 Quinoa is a grain crop that contains edible, protein-rich seeds. It is occasionally supplemented as a protein, and may offer various health benefits:
Supporting fat loss. Quinoa protein has been shown to lower triglyceride concentrations and help combat obesity.
Promoting immunity. The antioxidant and anti-inflammatory properties of quinoa may help upkeep the body's defenses.
Overview
Quinoa, Chenopodium quinoa, is a flowering plant and pseudocereal that is grown annually as a grain crop. It is closely related to several other common plants, including amaranth, spinach, and beetroot.
Originally from the Andean region of South America, quinoa was domesticated for human consumption thousands of years ago. It has been highly prized for being extremely nutritious — rich with vitamins, mineral, and dietary fibers, including vitamin E, magnesium, zinc, and potassium. Quinoa is included in numerous recipes because of its standing as a superfood.
Above all, quinoa seeds are valued for their substantial protein content and stock of saponins. Quinoa protein drawn from the seeds contains all nine essential amino acids and is thus considered a complete source of protein. It consists of 64% carbohydrates, 14% protein, 13% water, and 6% fat, although the content is altered after cooking.1
Did you know? Ancient Incans viewed quinoa as a sacred crop and referred to it as "mother of all grains."
Quinoa Protein's Beneficial Bioactivities
Antioxidation
Quinoa contains antioxidants that protect cell membranes, which accordingly, can help lower the risk of developing disease and promote healthy neuronal function.2 The natural antioxidant capacity of quinoa protein seems to stem from its sizable content of saponins and the flavonoids, quercetin and kaempferol.3
Hypoglycemic effects
Quinoa protein has demonstrated a potential to lower triglyceride levels in no small part due to its packed quantity of 20-hydroxyecdysone.4 Animal research has additionally verified the ability of quinoa protein to improve lipid (fat) profile, although the exact mechanisms remain unknown.
Anti-inflammatory activity
A few studies have suggested that quinoa protein may help reduce inflammation throughout the body, though which inflammatory pathways it inhibits have not yet been identified.5
Quinoa Protein's Reputation and Benefits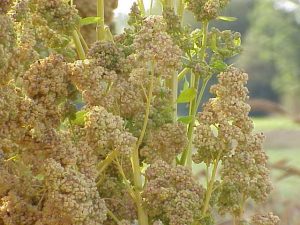 Quinoa has potential as a protein alternative for natural weight management. Besides being an excellent antioxidant, quinoa protein may benefit fat loss through a series of mechanisms, including: 6
Reducing lipid (fat) storage
Satiating appetite
Cutting glucose absorption in the digestive system
Challenging obesity risk factors
Providing soluble fiber
Increasing metabolism
All in all, quinoa consumption has been associated with decreased weight gain and cholesterol levels, as well an improved ability to respond to oxidative stress. Along those lines, it is commonly recommended for type II diabetics looking to stabilize their body weight and cholesterol levels. More on protein supplements.
Quinoa protein is that it is entirely gluten free — a great draw for those on a vegetarian or vegan diet.
Research
Animal Research
Animal research indicates that quinoa protein may impart various health benefits:
Human Research
Clinical studies covering quinoa protein are limited in number.
Quinoa may lower free fatty acid and triglyceride levels compared to traditional carbohydrates
Volunteers were given traditional bread, quinoa, gluten-free pasta, or gluten-free bread in this investigation. The glycemic index, which measures the impact of food on blood sugar levels, was lower for quinoa than any of the other sources of carbohydrate. Quinoa also induced decreased free fatty acid levels and triglyceride concentrations compared to the other options.
The researchers concluded that "quinoa seems to represent a potential alternative to traditional foods, even if further and larger studies are required to demonstrate its hypoglycemic effects."15
In one study, quinoa was shown to increase the availability of insulin-like growth factor 1 (IGF-1) in undernourished children, which may suggest its role in early growth and development.
16
Quinoa Protein Dosage
Clinical research studies have not yet identified ideal quinoa dosage.
Typical quinoa serving sizes range from 30 – 45 g when taken whole.
Suggested daily doses of quinoa in liquid form are approximately 970 mg.
Available Forms
Quinoa seeds, raw or cooked
Powder
Liquid extract
Supplements in Review Says
Quinoa may be a good choice of protein for weight-conscious individuals. Quinoa protein is not only a nutritious source of protein, vitamins, and minerals, but it also comes with the advantage of facilitating glycemic and cholesterol control. The potential health benefits of quinoa seem to assist weight loss and even reduce the likelihood of developing disease.
Start with 30 g of quinoa with meals. Quinoa may be easily integrated into meals as a full source of organic protein taken at regular serving sizes of roughly 30 grams.