If you're looking for a protein but follow a vegetarian lifestyle, you may be considering soy protein vs. pea protein. Both are superior vegetarian sources of health-promoting protein. But there are key differences between them that may help you figure out which one is right for you.
What is Soy Protein?
The soybean plant is the source of soy protein. It is originally from Southeast Asia, wherein the Asian farmers planted soy as a food source. Recently, soy has an increasing role in the diet of Americans. Surveys have shown that 74% of Americans believe that soy products are healthy.1
Soy protein can obtained in many forms such as, tofu, soy milk, soy- based infant formula, meatless burger patties, dietary supplement powders and many more.
Soy protein contains a complete set of essential amino acids because it supplies all of the amino acids that are required for human health. Specifically, soy protein supplies 9 amino acids (histidine, isoleucine, leucine, lysine, methionine, phenylalanine, threonine, tryptophan and valine).2.
It is also known for its low saturated fat content, as well as its absence of cholesterol.3
Isoflavones in soy are well-regarded for promoting health. Soy phytoestrogens appears to offer some benefits related to women's hormonal health, as well.
Soy protein benefits include support for:
Bone health and strength
Cardiovascular health
Immune function
Menopausal symptoms
What is Pea Protein?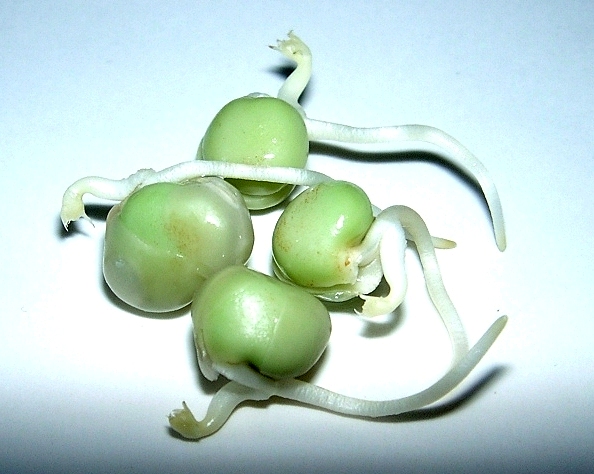 Pea protein powder is obtained from the seeds of Pisum sativum plant. A vegan, dairy-free source, it does not contain major allergens. People intolerant to soy, whey isolate or casein can consume pea protein without experiencing any allergic reaction. Rice protein is another good vegan protein powder choice.
Pea protein helps build muscle while suppressing appetite, a quality also known to whey protein.4
This vegetarian protein source also a good essential amino acid composition and is a cholesterol-free protein source. Be advised, however, some pea protein is genetically modified; look for a non-GMO seal instead.
Additional benefits associated with natural Pea Protein include:
Pea protein retains its soluble fiber; supplies some fiber in each serving
Promotes muscle strength
Supports cardiovascular health
Helps with gastrointestinal health
Increases satiety hormones, thereby helping with appetite control and fat loss
Comparing soy protein and pea protein macronutrient profiles can help determine which form is better for your health goals. Here is a table that compares the pros and cons of soy protein and pea protein nutritional content side by side that can help you choose:
Soy Protein vs. Pea Protein: Nutritional Content

Serving Size 100 g.

Nutrition Facts
Soy Protein
Pea Protein 

Protein

88.32 g

60 g

Calories

335 kcal

360 kcal

Fat

3.39 g

4 g

Carbohydrate

0 g

24 g

Total Dietary Fiber

0 g

4 g

Total Sugars

0 g

12 g

Calcium

178 mg

0 mg

Iron

14.50 mg

34.56 mg

Sodium

1005 mg

800 mg

Potassium

81 mg

0 mg

Magnesium

39 mg

0 mg

Phosphorus

776 mg

0 mg

Zinc

4.03 mg

0 mg
Which is Better?
Soy protein has a higher amount of protein and fewer calories when compared to pea protein.
However, pea protein has a distinct dietary fiber advantage, supplying 4 grams versus zero from soy protein.
Hence, more energy can be provided by pea protein when it comes to physical activity.
There is only a slight difference in the total fat content of these two protein sources.
Soy protein does not contain carbohydrate, dietary fiber and sugar content while pea protein contains all three to provide the necessary fuel for the body during exercise.
These 3 components are essential in management of food cravings that will eventually lead to weight loss without losing muscle. Soy protein provides more vitamins and minerals compared to pea protein which compensates for the lack of carbohydrate, dietary fiber and sugar. Therefore:
Soy protein may be best for body builders and weight lifters in need of more muscle mass and strength with less of an emphasis on weight management. Its higher protein content will help improve muscle size and appearance while its lower calorie count helps weight management.
Pea protein is great for people who need to lose fat while toning and strengthening muscles at the same time. It is also the best protein type for people with allergies. The dietary fiber present in pea protein is also great in aiding weight loss since it helps control appetite.
Conclusion
The Soy protein vs. Pea protein comparison evaluates two leading vegetarian protein sources. While they are both good overall choices for supplemental protein, each appears to have specialized advantages that set them apart. Keep these differences in mind when you are ready to buy, so you can choose the healthiest choice for your unique nutritional needs.