The sedative qualities of passionflower may make it a safe way to tackle anxiety and aid sleep.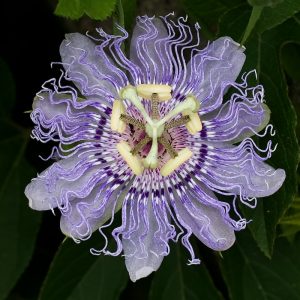 Passionflower, Passiflora, includes more than 500 species of herbs bearing gorgeous flowers. The maypop or purple passionflower, in particular, stands out for its health benefits with such potential uses in sleep as:
Reducing anxiety. Passionflower is used in medicine for its anxiolytic ability that may stem from its abundance of active flavonoids, including apigenin.
Improving sleep quality. The plant seems to impart sedative effects that may reduce insomnia and enhance general sleep quality.
Overview
The numerous species of passionflower have long been cultivated throughout the world for their alluring flowers and delicious fruit. With a pantropical distribution, the plants can be found in South America, southern & eastern Asia, New Guinea, and all over the United States.
While a few of the species are considered shrubs, the majority are vines that carry flowers with a unique structure requiring a large bee or hummingbird for optimal pollination.
Beyond its aesthetic beauty and culinary delectability, passionflower has shown promise as a health-boosting supplement. The maypop species, Passiflora incarnata, seems especially suited for herbal medicine.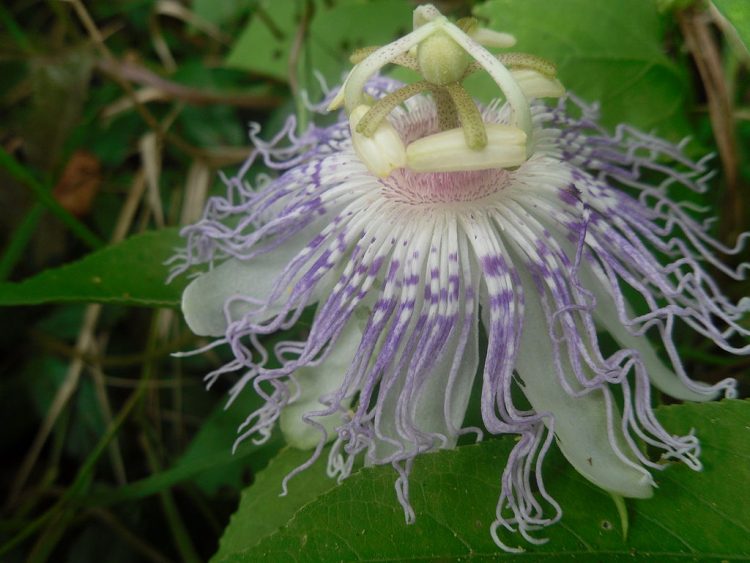 The flowers, leaves, and roots of maypop plants have a long history of medicinal use by Native Americans to manage anxiety, insomnia, hysteria, and epilepsy due to its potent sedative and nootropic properties. Its use in medicine eventually spread to Europe and around the world and has since then been utilized for a variety of health complications, such as inflammation, cramps, spasms, diarrhea, neuralgia, and a wide range of pain-provoking conditions.1
Here are some of the ingredients in passionflower that might contribute to health:
Flavonoids. Apigenin, chrysin, luteolin, quercetin, kaempferol, & vitexin
Harmon alkaloids. Harmine, harmaline, harmalol, harman, & harmin
Ethyl maltol
How Passionflower May Help With Sleep
The mechanism behind passionflower's sleep-promoting and anxiety-reducing skills is complex and not entirely known. Current research points to the flavonoids apigenin and chrysin as key players in the game for their association to GABA.
Enhancing benzodiazepine & GABA activity
Passionflower is bursting with sleep-promoting flavonoids. Apigenin seems to have a special affinity for the central benzodiazepine receptor and through this relationship may have ties to gamma-aminobutyric acid (GABA) receptors.2 3 Another bioflavonoid by the name of chrysin is found in abundant supply in passionflowers. Similar to apignenin, chrysin has demonstrated anxiolytic, muscle relaxing, and sedative effects.4 5
Boosting GABA levels may be responsible for the sedative nature of the herb.6
Passionflower Benefits & Uses for Sleep
Interestingly, people have been using passionflower to treat anxiety and insomnia for ages despite the lack of significant scientific backing since it's generally accepted as carrying sedative properties.
It's prowess as an anxiolytic has been repeatedly supported, which is a great step toward reductions in stress, tension, restlessness, and ultimately, sleep promotion.7
Taking passionflower supplements – be it in the form of tea, tablets, or liquid extracts – does seem to demonstrate serious potential in improving sleep quality. For now, however, the data has yet to confirm its ability to reduce sleep onset latency, nighttime awakenings, and feelings of refreshment after waking up. 8
Safety first. 
The U.S. Food and Drug Administration (FDA) counts passionflower as a part of it's "
Everything added to food in the United States
" (EAFUS) list, which is a collection of ingredients and additives that can safely be added directly to food. The lack of serious side effects makes passionflower a safe option for sleep.
You can take a closer look at the research below.
Research
Animal Research
Research indicates that passionflower:
Promotes sedation. The sedative effects of passionflower at 30, 100, or 300 mg/kg of body weight reduced stress in male rats through the GABA receptor mechanism.9
Induces sleep. Passionflower extracts at 400 mg/kg of body weight reduced anxiety and induced sleep in mice after performing a staircase test.10
Reduce anxiety. At a 10 mg/kg dose, passionflower exhibited anxiolytic effects in mice.11
Human Research
Passionflower, specifically Passiflora incarnata, has been in use as an herbal sedative and sleep aid for a long time but there have been few clinical trials conducted to verify its effectiveness. The few studies performed highlight its likely capacity to mitigate anxiety and improve sleep quality, at least according to subjective ratings.
Passionflower tea (1 cup) may improve sleep quality on the short term
In this double-blind, placebo-controlled investigation, 41 adults consumed either a placebo or passionflower tea before bed for 1 week. According to personal sleep diaries and Spielberger's state-trait anxiety inventory, sleep quality had a significantly better rating for passionflower than placebo.
The study concluded that "consumption of a low dose of Passiflora incarnata, in the form of tea, yields short-term subjective sleep benefits for healthy adults with mild fluctuations in sleep quality."12
Passionflower tablet (500 mg) may reduce anxiety in surgery patients
In this randomized, placebo-controlled investigation, 60 surgery patients were given either a control anxiolytic or passionflower at 500 mg 90 minutes before surgery. Based on a numerical rating scale (NRS), patients who took passionflower had lower anxiety levels.
The study concluded that "oral premedication with Passiflora incarnata 500 mg reduces preoperative anxiety without inducing sedation or changing psychomotor function."13
Passionflower extract (45 drops) may help manage generalized anxiety disorder in adults
In this randomized, double-blind, placebo-controlled study, 36 patients with generalized anxiety disorder (GAD) took either 45 drops of passionflower extract or oxazepam at 30 mg each day for 4 weeks.
The study concluded that "Passiflora extract is an effective drug for the management of generalized anxiety disorder."14
Passionflower & other natural sleep aids. 
Try combining passionflower with other natural sedatives, like
valerian
, 
lemon balm
, or chamomile, to boost their therapeutic effect. One worthwhile formula to check out is 100 – 200 mg valerian with 45 – 90 mg passion flower three times a day.
Dosage for Sleep
Passionflower may be taken as:
Supplemental tablets, 350 mg – 1050 mg, 2 – 3 times daily
Tea or drink, 0.5 – 2.5 grams of dried herb per cup, 1 hour before bedtime
Flower tinctures, 5 – 10 mL
A liquid extract, 45 – 60 drops, daily
Passionflower generally favors the use of liquid extracts for anxiety care and either tea or tablets when taken as a sleep aid.
Supplements in Review Says
Passionflower extract, 1 – 3 grams
We recommend passionflower extract for reducing anxiety. Low doses (less than 1 gram) of passionflower seems to effectively ameliorate anxiety and is commonly offered as a supplemental tablet, liquid extract, and tea. Higher doses (more than 1 gram) appear necessary for it's sedative properties to kick in and benefit sleep quality.
Follow supplement recommendations until more research is conducted.  For now, we suggest following standard supplement doses that come in 350 – 1050 mg capsules for a total of 1 – 3 grams each day while medical backing continues to build up.