The hardy qualities of eleuthero seem to make it an effective stress reliever.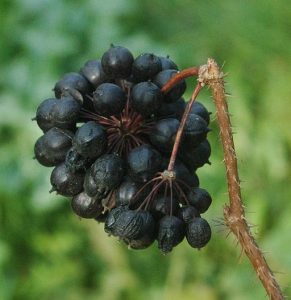 Eleuthero is an Asian shrub believed to carry many health benefits. As an adaptogen, it may help with stress through:
Reducing stress-related fatigue. Eleuthero seems to be a natural anxiolytic that minimizes stress-caused fatigue.
Boosting immunity. Chronic stress can damage the immune system.
Overview
Hailing from Northeastern Asia, eleuthero (Eleutherococcus senticosus) is a woody shrub that finds its home in mountainous forests or at the foot of cliffs. The tough nature of eleuthero allows it to tolerate difficult conditions such as sandy soils or excessive heat.
In traditional Chinese and Russian medicine, eleuthero is believed to impart a wide range of health benefits, including enhancing mental performance as a nootropic, improving exercise intensity, boosting immunity, and combating fatigue.1 In recent years eleuthero has also been used for stress relief.
Did you know? 
Despite commonly being referred to as Siberian ginseng, eleuthero cannot be marketed in the United States under any name including the word "ginseng," which is reserved exclusively for 
Panax ginseng
.
2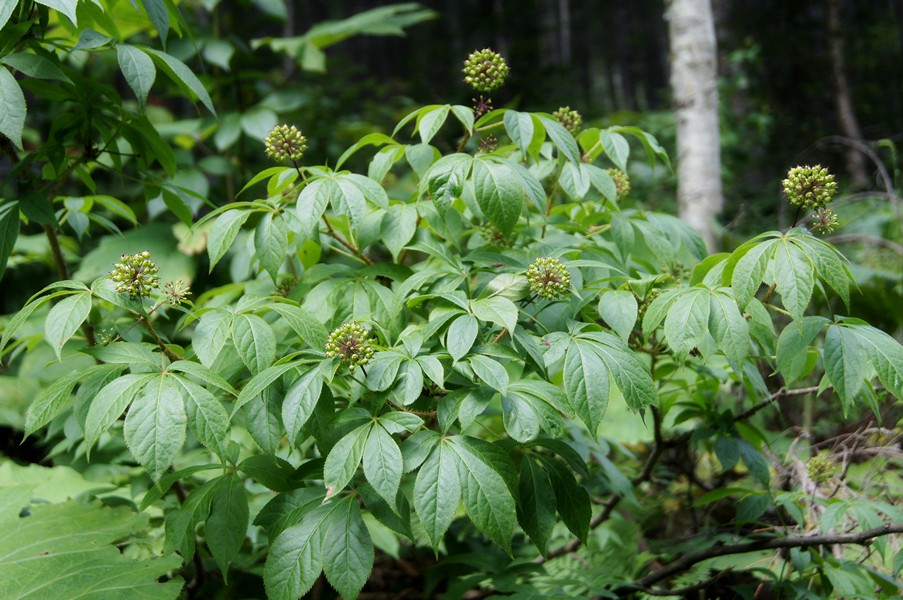 How Eleuthero May Help With Stress
The precise mechanism behind eleuthero's ability to relieve stress is currently unknown.
Counteracting fatigue
The most bioactive components of eleuthero are likely the phenolic compounds syringin and eleutheroside E, which are involved in anti-stress, anti-inflammatory, and hepatoprotective activities3, and isofraxidin, which may have anti-fatigue and immuno-modulating effects.4
A possible explanation contributing to the anti-fatigue action of eleuthero is that it may reduce natural killer (NK) cell activity and inhibit corticosterone elevation, both of which increase during stress.5
Eleuthero Benefits & Uses for Stress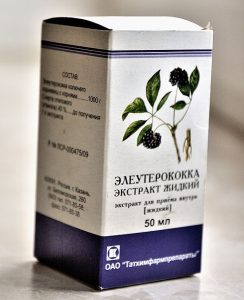 Eleuthero is reported to have multiple benefits when it comes to handling stress, making it one of the more popular adaptogens in Russia.
In traditional eastern medicine it is mainly used to combat physical and mental fatigue caused by stress, as well as to remedy all sorts of ailments, such as inflammation, ulcers, fevers, and flu.
Eleuthero supplements are also frequently marketed as ideal for people working in high-stress situations, such as sailors, divers, and miners. Even astronauts are said to have used it to improve stamina.
Eleuthero seems to work best on its own. In one study examining the impact of adaptogens on stress, integrating the three adaptogenic herbs Eleutherococcus senticosus, Rhodiola rosea, and Schisandra chinensis into one formula did not have a significantly different effect from placebo.6
Research
Animal Research
Animal studies have found that eleuthero may reduce stress by:
Human Research
Clinical studies have demonstrated the capacity of eleuthero to resist physical and physiological stressors.
Eleuthero (800 mg) may reduce fatigue and enhance cardiovascular function during exercise
In this randomized, double-blind, placebo-controlled investigation, nine male university students took either placebo or 800 mg of eleuthero (0.11% eleutheroside B, 0.12% eleutheroside E) before cycling until exhaustion every day for 8 weeks. Eleuthro supplementation was found to increase fatigue resistance during stressful exercise based on elevated peak oxygen usage by 12% and improved endurance time by 23%.
The study concluded that "ES supplementation enhances endurance capacity, elevates cardiovascular functions and alters the metabolism for sparing glycogen in recreationally trained males."11
Eleuthero tincture (75 drops) may boost immunity under stress
In this cohort investigation, 50 adults were given either 25 drops of eleuthero or 40 drops of echinacea 3 times daily for a 30-day period and asked to complete an ergospirometric test. Results showed improved lymphocyte and neutrophil activity in the eleuthero group, suggesting improved immunity.
The study concluded that "active components in Eleutherococcus senticosus contained in Taiga Wurzel preparation affect cellular defence and physical fitness, as well as lipid metabolism."12
Dosage for Stress
According to research, eleuthero is best taken as an extract (800 mg), or as a tincture (25 – 75 drops, up to 10 mL)
Eleuthero supplements typically come in the form of 400 – 600 mg capsules
Eleuthero extracts can be taken in doses of up to 3 g daily
Supplements in Review Says
Eleuthero extract 800 – 1200 mg daily for stress.

We recommend eleuthero for stress resistance. Eleuthero may help minimize the harmful effects of stress, particularly by reducing stress-related fatigue and boosting overall immunity.
Eleuthero is best taken as a tablet or tincture. In the limited number of clinical trials concerning eleuthero supplementation, the herbal extract seems equally effective as a pill at 350 – 1200 mg or a tincture at 75 drops daily.