Animal & Petri Dish Research
>ChromeMate® is a research-backed, patented form of chromium with superior absorption.

ChromeMate is a chromium-vitamin B3 complex used to help control blood sugar and cholesterol. This ChromeMate review details its advantages over basic chromium supplements:
Patented. ChromeMate's preparation and use for lowering cholesterol levels is protected by U.S. patents.
Clinically Researched. Human studies of chromium niacinate report improved weight loss and cholesterol-lowering effects.
Absorbable. ChromeMate has better absorption than other forms of chromium.
Established. ChromeMate has been safely used for over three decades.
<
Overview
ChromeMate is a patented form of the mineral chromium bound to niacin. Chromium is an essential trace nutrient best known for supporting the function of insulin, the hormone critical to energy metabolism and storage of fats, proteins, and carbohydrates in the body.
Because of these effects, chromium supplements are popularly used to help control blood sugar (glucose) & cholesterol levels, and promote weight loss. However, one notable issue with chromium is poor absorption. ChromeMate solves this problem by binding chromium to niacin (vitamin B3) to increase its bioavailability by as much as 18 times.
Also known as chromium polynicotinate, chromium niacinate, and niacin-bound chromium, ChromeMate has been sold since 1987 by American company InterHealth. Clinical studies of niacin-bound chromium report lowering of elevated cholesterol levels and enhanced weight loss when paired with dieting and/or exercise.
Did you know? Chromium picolinate is popularly used to help control sugar cravings.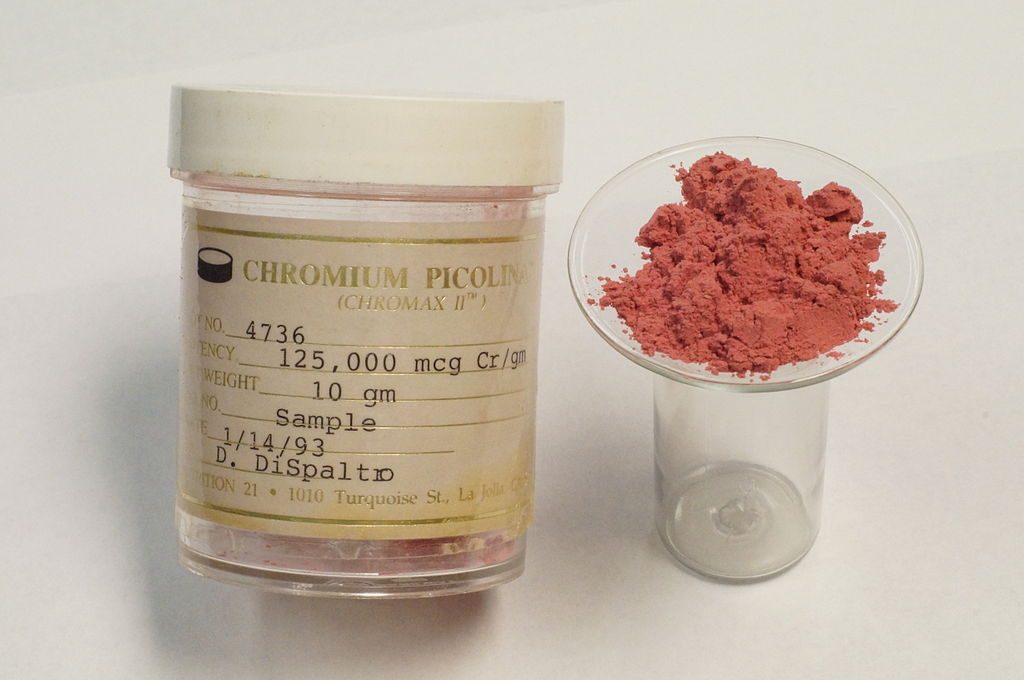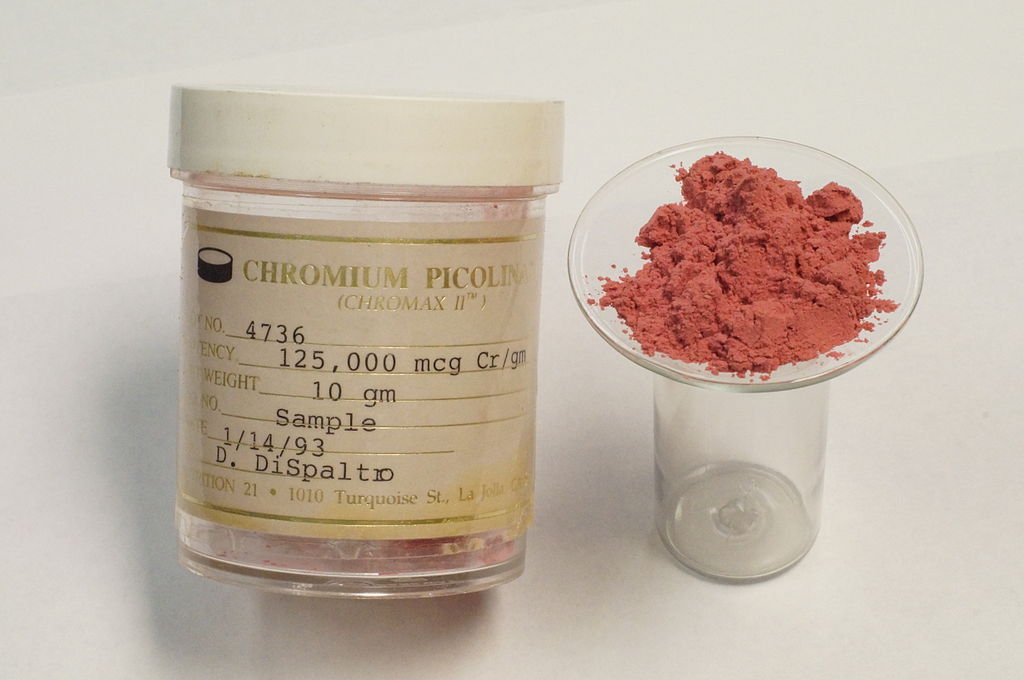 <
ChromeMate Patents
ChromeMate is protected by three U.S. patents:
U.S. patent 4923855 and 5194615, which describe the process for producing the chromium niacin complex, where a salt of nicotinic acid is mixed in a solution with chromium salt to form a chromium-nicotinate complex
U.S. patent 4954492, which covers the use of ChromeMate for lowering blood cholesterol levels
<
ChromeMate Nutritional Supplement Uses
ChromeMate is most commonly  sold as a single-nutrient supplement, but can also be found in multi-ingredient products. It's most common uses include:
Cardiovascular Health Supplements

p>ChromeMate is frequently used in cholesterol-lowering supplements. Studies show that ChromeMate can decrease elevated levels of total and LDL (bad) cholesterol, and generic chromium has been demonstrated to also lower triglycerides and improve measures of HDL (good) cholesterol.

Blood Sugar Supplements

p>ChromeMate is frequently used to help lower high blood sugar, because chromium supplementation helped lower blood glucose levels in some (but not all) human studies. High blood sugar is the central feature of diabetes, and is also associated with obesity and poor appetite control.

Weight Loss Supplements

p>ChromeMate and generic chromium are also popular as fat loss supplements. Two clinical studies of ChromeMate reported improved weight loss and sparing of muscle mass when the supplement was paired with exercise and/or dieting. It's not entirely clear how chromium works in this context, but many people report having reduced appetite and less sugar cravings when taking chromium.

Read more: Fat loss supplements

Did you know? Despite its popularity, chromium remains a controversial supplement due to the mixed results of human studies. One possible explanation is that chromium supplements can provide benefits to people who are borderline or fully chromium-deficient, but do nothing for people with healthy levels.

ChromeMate Advantages

h4>ChromeMate has several advantages over chromium picolinate, chromium chloride, and other generic forms of chromium:
Absorption: Dietary chromium and supplements are known to have poor absorption. ChromeMate has been demonstrated to have better absorption than other chromium forms in preclinical studies.
Clinical research: ChromeMate's cardiovascular and weight loss benefits are backed by several human studies, most of which are randomized, controlled trials (RCTs) – the gold standard of human research.
Safety: ChromeMate is Generally Recognized as Safe (GRAS) by the FDA and has been demonstrated to be safe in multiple animal and human studies.
Reputation: ChromeMate was first released in 1987, and has since been safely & successfully used in a wide range of supplements and functional foods and beverages.
Ch
ChromeMate Research

nimal & Petri Dish Research

Animal and isolated cell culture studies of niacin-bound chromium report promising findings, including:
Decreased blood vessel inflammation, which is often seen in diabetes 1
Protection against atherosclerosis 2
Higher absorption than chromium chloride and chromium picolinate 3
Hu
Human Research

man studies of ChromeMate report reduction of high cholesterol levels and enhanced weight loss and protection of muscle mass when paired with dieting and/or exercise.

ChromeMate (600 mcg) may enhance fat loss and spare muscle in dieting and exercising women

This randomized, double-blind, placebo-controlled, crossover pilot study examined the potential weight loss benefits of ChromeMate (niacin-bound chromium). Twenty overweight African-American women followed a diet and exercise plan while taking placebo or niacin-bound chromium (200 mcg) three times daily for 2 months. The groups were later switched and the experiment repeated.

Chromium supplementation promoted greater fat loss and spared lean body mass loss. In addition, chromium supplementation appeared to have a "carry-over" effect where fat loss was still greater for women who were taking placebo after they first took chromium.
The researchers concluded that "Niacin-bound chromium given to modestly dieting-exercising African-American women caused a significant loss of fat and sparing of muscle compared to placebo." 4
ChromeMate (400 mcg) may enhance the weight loss and insulin benefits of exercise
This randomized, placebo-controlled study examined the effects of chromium supplementation with and without exercise in young, obese women. A total of 43 women followed one of four regimens: 400 mcg chromium picolinate (CP), exercise plus placebo, exercise plus CP, and exercise plus 400 mcg chromium nicotinate (CN). Only the CN group reported weight loss and a lowered insulin response.
The researchers concluded that "…exercise training combined with chromium nicotinate supplementation may be more beneficial than exercise training alone for modification of certain CAD and NIDDM risk factors." 5
ChromeMate (400 mcg) appears to lower cholesterol, especially when combined with grape seed extract
This randomized, double-blind, placebo-controlled study studied the effects of ChromeMate and its combination with grape seed extract on blood cholesterol. Forty people with high cholesterol were given placebo, chromium polynicotinate (2×200 mcg), grape seed extract (2×100 mg) or a combination of the two, every day for 2 months. Both chromium and combination groups experienced a significant reduction in total cholesterol and LDL (bad) cholesterol.
The researchers concluded that "We conclude that a combination of Cr and GSE can decrease total cholesterol and LDL levels significantly." 6
Ch
ChromeMate Dosage
Positive clinical studies have used 400-600 mcg doses of chromium niacinate
ChromeMate is typically available as a single-nutrient supplement with dosages of 200-600 mcg
Supplements in Review Recommendation
ChromeMate®, 200-600 mcg.

ChromeMate is the highest quality chromium ingredient available. Compared to basic chromium supplements, ChromeMate stands out for superior absorption, clinical research evidence, and over three decades of safe and successful use.
Research suggests 400-600 mcg doses. You can start with the lower 200 mcg dose found in supplements and move up to 400 or 600 mcg if desired.