Human Research
-section" id="immune-system-supplements">Immune system supplements
EpiCor® is a unique fermented ingredient with clinically-backed immune system benefits.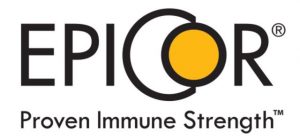 EpiCor is a fermented supplement ingredient used to boost the immune system. In this review, we're going to discuss its major advantages over generic immune system ingredients:
Patented. EpiCor is made through a unique, proprietary fermentation process that produces a mixture of active ingredients not found in any other supplement.
Clinically Researched. EpiCor's immune system benefits are supported by numerous high-quality human studies.
Digestive Benefits. Unlike other immune ingredients, EpiCor also supports digestive health by nourishing the gut microbiome.
<
Overview
EpiCor is a patented, fermented yeast supplement used to strengthen the immune system. Also known as "whole food fermentate," EpiCor is created through a patented fermentation method that utilizes baker's yeast  – the same microorganism used to make beer, bread, and other fermented food products.
This process causes the yeast to produce compounds that support immune system function, such as amino acids, vitamins, antioxidants, beta glucans, and polyphenols. The resulting mixture is then minimally processed and dried for use in supplements.
Made in the U.S. by Embria Health Sciences, EpiCor stands out from other immune system supplements in several ways:
It contains multiple ingredients that are usually sold separately (most notably beta glucans)
It is backed by high-quality research showing benefits for cold & flu infections, allergies, and overall immune function
It has been shown to aid digestive health, much like a prebiotic
Did you know?
As a minimally-processed "whole food fermentate", EpiCor is arguably closer to fermented foods such as
kefir
than to supplement ingredients.
How does Epicor work?

p>Research suggests that EpiCor supports a healthy, strong immune system in four major ways:
Increasing the levels of immunoglobulin A (IgA), an antibody that helps protect you from infection. IgA is particularly abundant in the mucous membranes of the eyes, nose, and mouth.
Increasing the activity of natural killer cells. These specialized white blood cells destroy infected cells.
Increasing the body's antioxidant capacity, which plays a key role in healthy immune system function.
Working as a prebiotic – a type of natural fiber that supports the growth of beneficial gut bacteria such as bifidobacteria and lactobacilli. These bacteria not only play an important role in immune system function, but also support digestive health.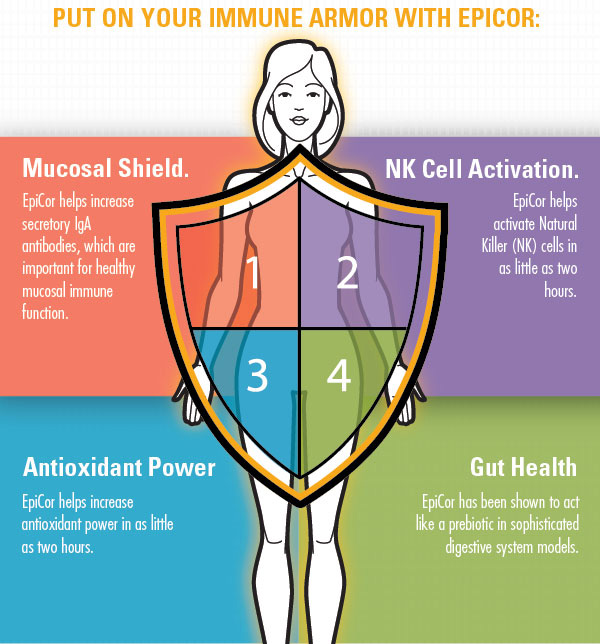 The discovery of EpiCor

div class="content-box-blue">Epicor is based on a fermented yeast product that was first introduced in 1943 by the company Diamond V to improve the health of livestock. Some 55 years later, it was noticed that Diamond V factory workers exposed to this yeast culture daily rarely ever got sick. As a result, the company commissioned a number of studies, which revealed that these workers had a stronger immune system. With this evidence in hand, they decided to create a fermented yeast product for supporting the human immune system.