Nutraflora® is a potent, pleasant-tasting prebiotic fiber that supports beneficial gut bacteria.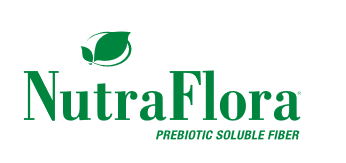 Nutraflora is a prebiotic fiber ingredient that helps support bifidus, acidophilus, and other beneficial gut bacteria.  This Nutraflora review details its advantages over generic prebiotic supplement ingredients:
Pure. Nutraflora contains at least 95% pure fructooligosaccharides, ensuring high potency and consistency.
Clinically-backed. The digestive, immune, and bone health benefits of fructooligosaccharides are backed by over two decades of research.
Pleasant. Nutraflora has a pleasant, sweet taste, which makes it easy to take in powder form.
Overview
Nutraflora is a branded prebiotic fiber made by American company Ingredion. Prebiotics are fiber compounds present in some plant foods that promote the growth and activity of beneficial (probiotic) gut bacteria. In doing so, prebiotics help support a healthy digestive tract and may benefit other aspects of your health.
Nutraflora contains a minimum of 95% short-chain fructooligosaccharides (scFOS), a type of soluble, non-digestible prebiotic fiber. This high concentration ensures consistent and potent effects in comparison to generic prebiotics.
Human clinical studies performed over the past two decades report that scFOS has digestive, immune system, and bone health benefits. In addition, Nutraflora provides the basic benefits of dietary fiber, the consumption of which is associated with a lower risk of obesity, diabetes, and cardiovascular & digestive issues. 1
Nutraflora is made from non-GMO cane sugar through a natural bio-fermentation process. It has few calories and maintains a pleasant taste that is about 30% as sweet as sugar. Nutriflora can be purchased as a standalone supplement in powder or capsule form, added to multi-ingredient products, and can also be incorporated into foods and beverages.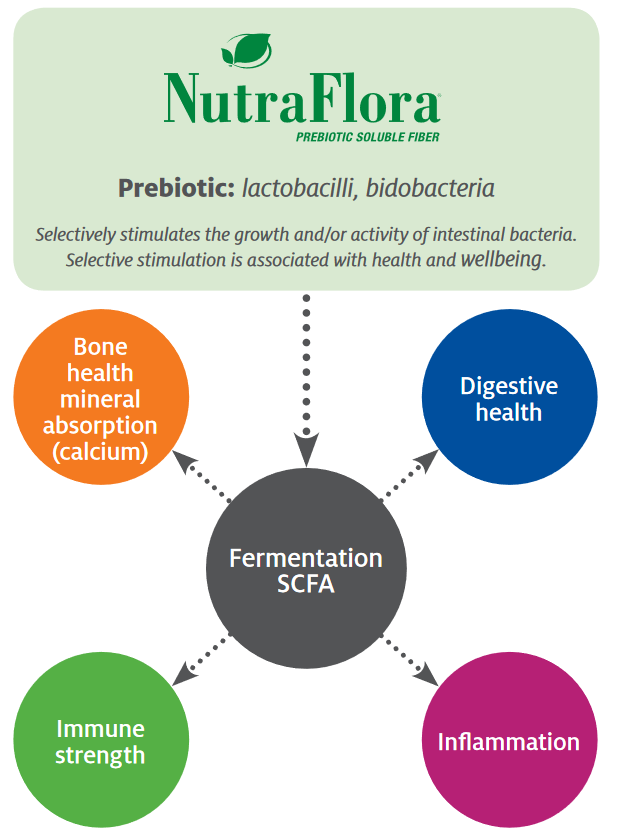 How does Nutraflora work?
The fructooligosaccharides (FOS) in Nutraflora are not digestible by our gastrointestinal tract. Instead, they act as food for certain types of beneficial (probiotic) gut bacteria. In doing so, fructooligosaccharides increase the level of these beneficial bacteria, which in turn provide health benefits such as improved digestion and immune function, reduced inflammation, and enhanced nutrient absorption.
Best Prebiotic Foods

Food
Total Amount of fiber
Prebiotic Fibers
Chicory root
65%
Inulin 
Dandelion greens
24%
Inulin
Jerusalem Artichoke
31%
Inulin
Garlic
18%
Inulin and FOS
Onions
9%
Inulin and FOS
Leeks
12%
Inulin
Asparagus
5%
Inulin
Bananas
1%
Inulin
Barley
17%
Beta-glucan
Oats
11%
Beta-glucan
Did you know?
Like most prebiotics, Nutraflora is specifically used for supporting
Bifidobacteria
and
Lactobacilli
– the two most important groups of probiotic bacteria.
Nutraflora Nutritional Supplement Uses
Nutraflora can be sold in capsule and powder supplements, as well as other forms such as bars, snacks, cereals, and beverages. Nutraflora is most commonly used to support healthy gut bacteria in order to improve digestion and reduce gastrointestinal issues such as bloating, diarrhea, and conditions such as IBS and IBD. In addition to this, Nutraflora can also be utilized in:
Immune System Supplements
Prebiotics such as Nutraflora are commonly used in immunity supplements because recent scientific research suggests that beneficial gut bacteria play an important role in immune health.
They have been found to regulate inflammation, enhance immune cell activity, support the intestinal barrier which protects the gut from pathogens and toxins, and have other activities that ultimately support a healthy immune system, ward off infection, and may improve a wide range of inflammatory and immunity-related conditions such as eczema, IBD, rheumatoid arthritis, and allergies.
Read more: Probiotics for immunity
Bone Health Supplements
Nutraflora can also be utilized in bone health supplements meant for improving low bone density and warding off osteoporosis. Clinical research shows that scFOS enhances the absorption of calcium – the key bone health mineral. In particular, studies report that taking 3 g of scFOS can enhance calcium absorption by 13-41%, and a study where women took Nutriflora alongside a calcium supplement reported significantly lower total body bone loss. 2
Did you know? Osteoporosis is particularly common in women because of lower overall bone density and faster bone mass loss with aging. It is estimated to affect over 200 million women worldwide.
Nutraflora Advantages
Compared to generic prebiotic fiber supplements, Nutraflora has the advantages of:
Purity: Nutraflora contains at least 95% pure fructooligosaccharides, making it more consistent and effective than most prebiotic products. This high fiber concentration ensures high efficacy and reliability.
Clinical evidence: short-chain fructooligosaccharides (scFOS) which comprise over 95% of Nutraflora have been the subject of more than 200 studies, showing evidence of improving gut microflora, and digestive, immune, and bone health.
Safety: short-chain fructooligosaccharides (scFOS) are Generally Recognized as Safe (GRAS) by the FDA and have been demonstrated to be safe in dozens of animal and human studies.
Pleasant taste: Nutraflora has a pleasant, sweet taste.
Non-GMO: Nutraflora is produced from non-GMO sugar cane.
Did you know? Nutraflora is approved as a dietary fiber source by Health Canada.
Nutraflora Research
Human Research
There are few studies looking specifically at Nutraflora. However, there are over 200 published clinical studies on the health benefits of short-chain fructooligosaccharides (scFOS), which are the main component (95%+) of Nutraflora. These studies have demontrated that scFOS: 3
Helps support healthy gut bacteria such as Bifidobacteria
Improve digestion
Enhance immune system function
Improve mineral absorption
Nutraflora Dosage
Research studies of short-chain fructooligosaccharides (scFOS) most commonly use large dosages (3 – 20 g)
As a standalone supplement, Nutraflora is usually presented in 0.75-5 g dosages
In multi-ingredient products, Nutraflora is more commonly seen in small dosages (100+ mg)
Nutraflora's manufacturer recommends dosages of at least 1.1 g for digestive and immune health, 3.2 g for bone health (calcium absorption), and 2.7 g to provide a good source of fiber
Supplements in Review Recommendation
Nutraflora is a research-backed, high-quality prebiotic. If you're looking for a quality prebiotic supplement ingredient, then Nutraflora is a solid choice because it is guaranteed to have a high, consistent purity, and is backed by multiple studies on the digestive, immune, and bone health benefits of short-chain fructooligosaccharides.
Dosages over 1 g are ideal. There aren't enough human studies of Nutraflora to suggest an ideal dosage. However, Nutraflora's manufacturer suggests dosages of 1.1 g or higher.