Human Research
ze: 18pt;">
Velositol® is a unique, clinically-researched workout ingredient designed to improve muscle growth after exercise.

Velositol is a patented supplement ingredient used to enhance the muscle growth benefits of protein supplements. This Velositol review details its advantages over basic protein supplements:
Patented. Velositol's components, uses, and manufacture are protected by numerous U.S. patents.
Clinically Researched. Velositol's unique enhancement of muscle growth is backed by a clinical study.
<
Overview
Velositol is a patented supplement ingredient that combines chromium with the carbohydrate amylopectin. Chromium is a trace mineral known for supporting the function of insulin, the hormone that allows glucose to enter cells, whereas amylopectin is a carbohydrate used as a source of glucose (sugar).
Manufactured by workout supplement company Nutrition 21, Velositol is designed to increase muscle protein synthesis (MPS) – the key process that builds new proteins that make up muscle. MPS is critical to muscle growth and recovery, especially after resistance training.
Because of its unique effects, Velositol is a distinctive supplement ingredient without many competitors. It is also backed by a clinical study demonstrating a two-fold increase in MPS following resistance exercise when compared to taking protein only.
<
How does Velositol work?
Velositol's two ingredients are believed to enhance insulin release and make muscle cells more responsive to insulin. This hormone plays a major role in the uptake of amino acids (protein building blocks) by muscle cells and is considered anabolic, which means it enhances protein muscle synthesis (MPS). In turn, this effect promotes the growth of muscle tissue.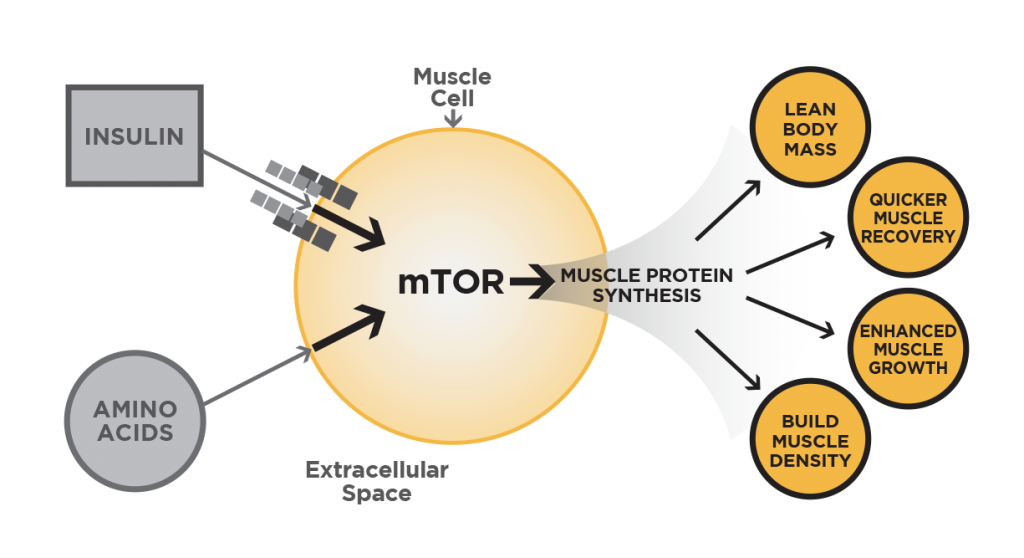 <
Velositol Patents
The technology used to make Velositol is protected by numerous patents, including:
Sustained release of chromium with fast-release and slow-release chromium forms (U.S. Patent 9675702)
Chromium compositions for increasing lean body mass (U.S. Patent 6713469)
Chromium-histidine complex which enhances chromium absorption (U.S. Patent 6689383)
Velositol contains chromium in both picolinate and histidinate forms.
<
Velositol Nutritional Supplement Uses
Velositol is typically added to protein sports nutrition products, since it works by enhancing the muscle-building effects of eating protein and exercising. These supplements can include whole protein or only branched-chain amino acids (BCAAs), alongside other ingredients such as creatine. Products with Velositol are usually taken after a workout, but can also be used before or even during your workout.
Protein plus Velositol promotes muscle protein synthesis (MPS), which builds new muscle and enhances recovery. Velositol has been demonstrated to increase the MPS effects of exercise plus 6g of protein by two-fold.
Read more: Protein Supplementation Guide
<
Velositol Advantages
Velositol enhances generic protein supplements thanks to several unique qualities:
Unique effects: Velositol's mechanism of action and resulting muscle growth benefits are unique and difficult to replicate, making it an excellent addition to any protein supplement.
Patents: Velositol uses proprietary compositions and technology from multiple U.S. patents for its unique ingredients, including two different forms of chromium.
Clinical research: Velositol's muscle-building benefits are backed by a clinical study.
Safety: Velositol is Generally Recognized as Safe (GRAS) by the FDA.
Velositol Research
3>Human Research
Velositol (2 g) may improve the muscle protein synthesis effects of protein
This randomized, double-blind, crossover study examined the benefits of velositol (amylopectin/chromium complex, ACr) on muscle protein synthesis (MPS). Ten men took a single dose of 6 g whey protein with or without 2 g ACr after fasting overnight, and then did 8 sets of leg extensions at 80% of estimated 1-RM (one-rep maximum). The MPS increase after protein + ACr (+48%) was two times higher than protein alone (+24%).
The researchers concluded that "…the addition of ACr to a 6 g dose of whey protein (WPACr) increases the FSR response beyond what is seen with a suboptimal dose of whey protein alone." 1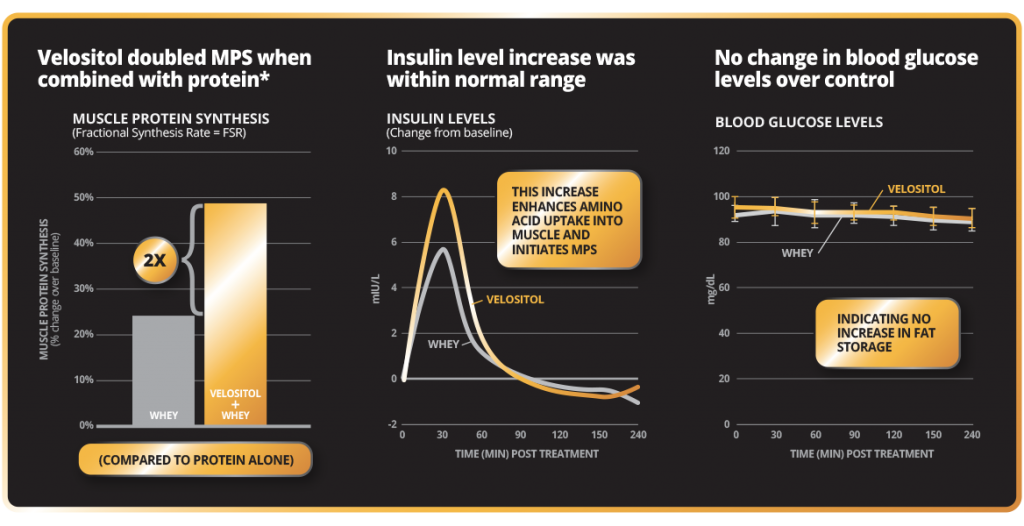 V
Velositol Dosage
The only successful study of Velositol used 2 g dosages
Multi-ingredient pre, intra, and post-workout protein formulas typically include 2 g of Velositol per serving
<Supplements in Review Recommendation
Velositol®, 2 g per serving.
Velositol may be an effective ingredient in protein supplements. The effectiveness of protein supplements for promoting muscle growth after exercise is well-established, but there haven't been many other ingredients that can claim to enhance this. Velositol may be one such ingredient.
Dosages of 2 g are ideal. Velositol is used in dosages of 2 grams per serving in both clinical studies and supplements.