Human Research
-section" id="joint-health-supplements">Joint Health Supplements>
WokVel® is a potent Boswellia serrata extract proven to relieve arthritis.

WokVel is an extract of Indian medicinal tree Boswellia serrata. Boswellia's resin is known for its anti-inflammatory & joint-protective effects. In this review, we look WokVel's advantages over plain boswellia supplements:
Clinically Researched. The joint health benefits of WokVel are supported by multiple clinical studies.
Standardized. WokVel is standardized to 40% boswellic acids in naturally-occurring ratios to ensure efficacy.
Potent. Wokvel's high bioavailability solves the absorption problems of plain boswellia extracts.
<
Overview
WokVel is a proprietary extract of medicinal herb Boswellia serrata made by American company Verdure Sciences. Boswellia serrata is an Indian tree whose resin is used by traditional Ayurvedic medicine to treat inflammation. Today, Boswellia extracts remain popular for relieving arthritis and other muskuloskeletal concerns such as lower back pain.
Like most boswellia extracts, WokVel is standardized to a certain amount of bio-active boswellic acids (40%). However, it maintains the natural ratios of these acids to provide an extract that is as close to its natural form as possible. More importantly, WokVel's high bioavailability ensures that boswellic acids reach the bloodstream in high enough concentrations to provide their joint health benefits. By contrast, generic boswellia extracts have a well-documented problem of poor absorption. 1
In addition to this, WokVel's anti-arthritis and joint health benefits are backed by human studies.
<
How does WokVel work?
Boswellia resin—known as frankincense—contains active ingredients called boswellic acids. These acids support joint health by reducing inflammation, particularly through suppressing the pro-inflammatory signaling pathway known as nF-κβ, and blocking 5-lipoxygenase, an enzyme implicated in arthritis.
Did you know? In India, boswellia is known as Gajabhaksha—'Elephant Tree'—because elephants prefer to eat its sap.
Wok
WokVel Patents

dure Sciences is currently working on combining WokVel with their high-absorption Solid Lipid Particle (SLP) technology to further enhance its potency.
Sol
Solid Lipid Particle (SLP) Technology

s pending patent describes the Solid Lipid Particle (SLP) delivery system that improves the stability, solubility, and absorption of bio-active ingredients, including WokVel, Longvida (curcumin), and others. This system is based on a carrier particle comprising of a lipids (fats) that encloses the biologically-active compound in order to protect it and enhance its effectiveness (U.S. Patent 20170333362).
Wok
WokVel Nutritional Supplement Uses

int Health Supplements

WokVel is mainly used in joint health supplements, and can either be sold as a standalone product, or incorporated into multi-ingredient formulas. Its anti-arthritic benefits are backed by multiple clinical studies, which suggest that WokVel is as effective as pharmaceutical drugs, but without their associated side effects. In addition, WokVel has been demonstrated to continue working for as long as 1 month after supplementation is stopped.

Read more: Boswellia serrata and joint health

WokVel also has the potential to be used for other inflammatory conditions such as asthma and IBD, but these uses are not currently backed by research.
Wok
WokVel Advantages

kVel has several key advantages over generic boswellia serrata extracts:
Potency: Basic boswellia extracts are known for poor absorption, which reduces their effectiveness. By comparison, Wokvel has high bioavailability, ensuring that it is well-absorbed and reaches the bloodstream in sufficient quantities.
Standardization: WokVel is standardized to 40% boswellic acids in naturally-occurring ratios, to provide an effective product that is as close to its natural form as possible.
Clinical research: WokVel's joint health benefits are supported by multiple human studies. Moreover, it appears to be as effective as pharmaceutical arthritis drugs (NSAIDs).
Safety: WokVel has been demonstrated to be safe and well-tolerated. 2
Wok
WokVel Research

man Research

Human studies of WokVel report improvements of pain, stiffness, and mobility in individuals with osteoarthritis.

WokVel (999 mg) appears to be as effective as prescription drugs for osteoarthritis, and has longer-lasting benefits

This randomized study compared the effectiveness of WokVel (Boswellia serrata extract, BSE) with valdecoxib, a pharmaceutical NSAID used to treat arthritis. A total of 66 people with knee osteoarthritis (OA) were given BSE (333 mg) three times daily or valdecoxib (10 mg) for 6 months. BSE was as effective as valdecoxib at improving pain, stiffness, and difficulty performing daily activities. However, the key difference was that BSE took 2 months to work and its effects persisted for a month after supplementation ended, whereas valdecoxib worked within 1 month but only as long as it was taken.
The researchers concluded that "BSE showed a slower onset of action but the effect persisted even after stopping therapy while the action of valdecoxib became evident faster but waned rapidly after stopping the treatment." 3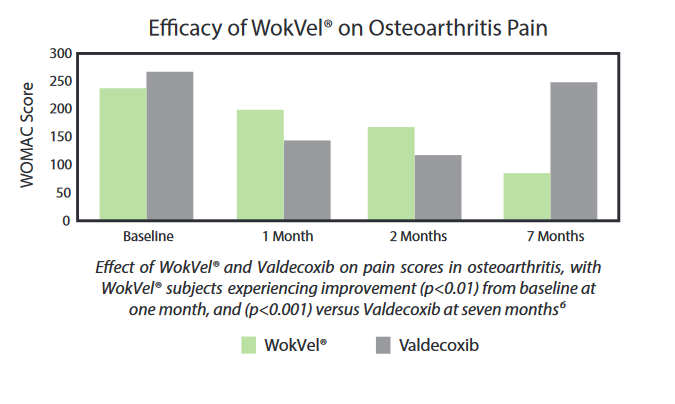 WokVel (999 mg) may relieve osteoarthritis of the knee
This randomized, double-blind, placebo-controlled, crossover study evaluated the effects of WokVel (BSE) on osteoarthiritis (OA). Thirty people with knee OA were given placebo or BSE (333 mg) capsules three times daily for 8 weeks, and later switched groups for another 8 weeks. All participants reported improvements in knee pain, knee flexion, knee swelling, and ability to walk after taking BSE.
The researchers concluded that "BSE is recommended in the patients of osteoarthritis of the knee with possible therapeutic use in other arthritis." 4
Enhanced WokVel (SLP) formula appears to improve osteoarthritis
This study evaluated the efficacy of an improved WokVel extract that uses Solid Lipid Particle (SLP) technology. People with knee osteoarthritis were given Solid Lipid Boswellia serrata Particles (SLBSP) capsules daily for 2 months. The supplementation improved scores of arthritis pain and function, and reduced the need for pain medication by 76% by month 2.
The researchers concluded that "SLBSP may be a safe and effective alternative to NSAIDs for symptomatic treatment of OA knee." 5
Wok
WokVel Dosage

li>Positive clinical studies use 999 mg WokVel dosages
In both standalone and complex supplements, WokVel is usually presented in 333 mg capsules taken thrice daily
Supplements in Review Recommendation
li>
WokVel®, 333-999 mg.
WokVel is the best boswellia serrata extract available. WokVel's high-bioavailability formula and clinical research evidence make it superior to generic boswellia extracts for fighting arthritis.
Research suggests 333 mg doses taken 3 times daily. Successful human studies of WokVel's use for arthritis used 333 mg doses taken 3 times daily for a total of 999 mg.