HMB may help bodybuilders and athletes lose fat and gain muscle, but current research findings are inconclusive.



Naturally produced from leucine in the body, HMB is compound that appears to reduce muscle breakdown. The potential body composition benefits of HMB include:
Decreased body fat. There is some evidence that HMB promotes fat loss when combined with exercise, through protecting muscle and possibly enhancing fat oxidation.
Increased lean body mass. HMB may help increase muscle gains from resistance training by reducing muscle protein breakdown and boosting protein synthesis.
Overview
Beta hydroxy-beta-methylbutyrate (HMB) is a metabolite of leucine, one of the three branched-chain amino acids (BCAAs). About 5% of the leucine consumed through diet is converted into HMB as part of normal metabolism. HMB's main effect seems to be the reduction of muscle protein breakdown, suggesting that it is the compound responsible for the muscle-protective effects of leucine.
Because of this, HMB is sometimes used to help people afflicted with muscle wasting, such as HIV/AIDS patients. However, HMB is far better known as a workout supplement used by bodybuilders and strength athletes looking to improve workout performance & recovery and maximize muscle growth. In particular, HMB is widely used during fasted training and calorie-restricted diets because these situations can promote muscle loss. In addition, there have also been claims that HMB can increase exercise-induced fat loss.
Current clinical research evidence for HMB's effects on body composition is mixed, with some studies showing increased lean mass and reduced fat mass, and others reporting no effect.
Small amounts of HMB are found in grapefruit,
alfalfa
, and catfish, but most of the HMB we get naturally is metabolized from leucine.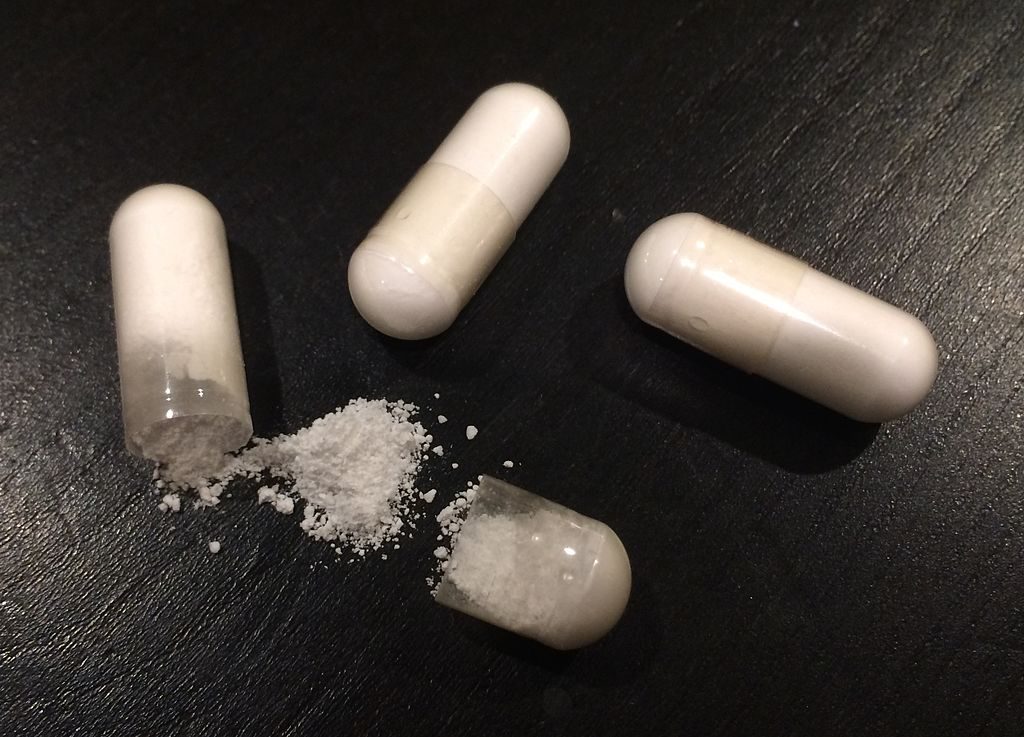 How HMB Might Help With Fat Loss
Reducing protein breakdown and increasing synthesis
All of the biological mechanisms of HMB's effects on muscle and fat mass (body composition) are not yet entirely understood. Having said that, it seems to work primarily through reducing proteolysis (protein breakdown) and increasing protein synthesis via the mTOR pathway – effects that ultimately protect muscle tissue, minimizing muscle loss and improving muscle growth. These mechanisms may indirectly promote fat loss during caloric restriction or fasting by promoting the use of stored body fat to meet the body's energy needs instead of the protein found in muscle and other tissues.
Potential improvement of fat oxidation
There is some limited evidence that HMB may improve fatty acid oxidation by influencing proteins that affect energy metabolism, such as adenosine mono-phosphate protein kinase (AMPK), resulting in more fat being burned for energy. However, this mechanism requires more evidence. 1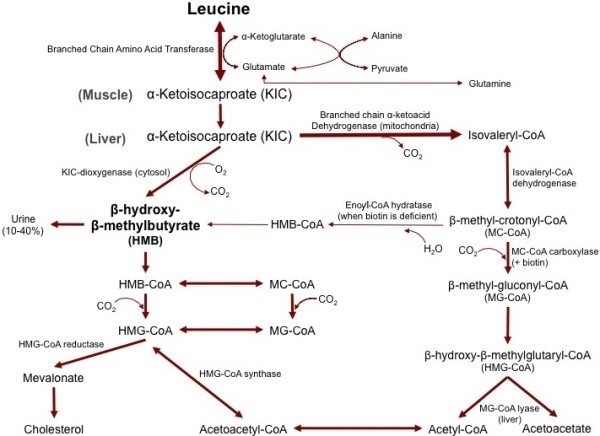 HMB Uses & Benefits for Fat Loss
As a supplement, HMB is frequently utilized by bodybuilders and strength athletes as a way to maximize muscle hypertrophy and fat loss in conjunction with resistance training. HMB is particularly popular for fasted training – exercising when you haven't eaten in 12 hours or more – because this type of training is believed to increase fat loss, but at the same time can also increase muscle catabolism (breakdown), ultimately leading to loss of lean mass. In addition, HMB is also frequently taken by athletes during a calorie-restricted (cutting) diet – another common dietary tactic that can increase muscle catabolism.
However, research findings on HMB's body composition effects are mixed and inconclusive. More importantly, there are currently no studies looking at the use of HMB in the context of fasted training or without exercise. As one recent review paper summarizes: "HMB may assist athletes in preventing loss of lean body mass in catabolic situations such as caloric restriction. HMB may also be beneficial for augmenting body composition and physical performance in master's level athletes, or aging individuals in general." 2
HMB is somewhat similar to
conjugated linoleic acid
(CLA), another workout supplement used to enhance exercise-induced muscle gain and fat loss.
Research
Animal Research
A study of exercising mice demonstrated that HMB supplementation may improve lean mass gains and reduce muscle loss during caloric restriction.3
Human Research
Clinical trials of HMB are restricted to the context of exercise, with most studies looking at the combination of resistance training and HMB supplementation, and a few studies looking at endurance training. Thus far, findings on HMB's effects on lean and fat body mass are inconclusive.
HMB may decrease fat mass in rowers
This randomized, placebo controlled, double-blind, crossover study tested the effects of HMB on body composition and exercise performance in rowers. A total of 16 elite male rowers were given placebo or HMB (3 g) daily for 12 weeks while following their usual training, and switched groups after a 10 day washout period. HMB supplementation was found to improve measures of performance, but more importantly resulted in an average fat loss of – 0.9 kg compared to a gain of +0.8 kg for placebo.
The researchers concluded that "HMB intake in endurance training has an advantageous effect on the increase in aerobic capacity and the reduction of fat mass."4
HMB does not seem to have any significant effect on body composition in previously trained men
This randomized, double-blind, placebo-controlled study examined whether HMB can increase strength and lean mass while decreasing body fat when combined with resistance training. A total of 22 resistance-trained men were given placebo or HMB (3 g) daily for 9 weeks and followed a resistance training regimen.
Compared to placebo, HMB was found to increase measures of strength by an average of 1.6%, but led to only small improvements in fat mass and fat-free mass.
The researchers concluded that "In previously trained men, supplementation of HMB in conjunction with resistance training provides a substantial benefit to lower-body strength, but it has negligible effects on body composition." 5
HMB does not appear to affect body composition in experienced resistance-trained athletes
This randomized, double-blind, placebo-controlled study examined the effects of HMB on body composition in trained resistance athletes. Forty experienced athletes were supplemented with placebo, 3, or 6 grams of HMB while undergoing resistance training for 28 days. There were no significant differences in body composition or strength between any of the groups.
The researchers concluded that "HMB supplementation (3 to 6 g x d(-1)) during resistance-training does not reduce catabolism or affect training-induced changes in body composition and strength in experienced resistance-trained males."6
HMB may improve lean mass gains in resistance-trained men
In this study, men were given HMB at doses of 0, 38, or 76 mg/kg body weight (corresponding roughly to 0, 3, and 6 g of HMB daily) while undergoing resistance training for 8 weeks. The 38 and 76 mg/kg groups showed greater improvements in peak muscle torque values. More importantly, the 38 mg group showed a greater increase in lean body mass.
The researchers concluded that "HMB supplementation appears to increase peak isometric and various isokinetic torque values, and increase FFM…"7
HMB seems to improve muscle gains and fat loss in resistance-training 70-year-old adults
This randomized, double-blind, placebo-controlled study examined the use of HMB on body composition in 70-year-old adults undergoing resistance training. A total of 31 participants were given placebo or HMB capsules (3 g) daily for 8 weeks while undergoing resistance exercise 5 days a week. The HMB group had larger lean mass gains and body fat loss compared to placebo.
The researchers concluded that "changes in body composition can be accomplished in 70-y-old adults participating in a strength training program, as previously demonstrated in young adults, when HMB is supplemented daily."8
Dosage for Fat Loss
Research suggests that the ideal dosage for improving body composition is 3 g daily
Most HMB supplements suggest a total dosage of 3 g
If taken for training purposes, HMB is best supplemented around workout time
Available Forms
HMB is mostly sold in two main forms: Calcium HMB, and free acid HMB
Free acid HMB has been suggested to have better absorption and retention, but there isn't yet enough research to say that it is superior
Supplements in Review Says
HMB may help bodybuilders and athletes preserve muscle and increase fat loss. There is some evidence that HMB can promote fat loss and muscle gain in conjunction with exercise with or without caloric restriction (dieting). However, given the mixed findings of current studies, it's far too early to recommend it outright.
Researchers agree on a 3 g dose. The large majority of clinical studies employ a 3 g dose of HMB for improving body composition.