Amino acid L-phenylalanine may help with mood-enhancing brain chemicals.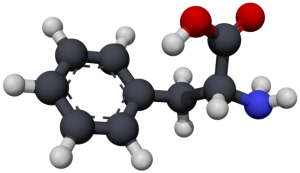 L-phenylalanine is an amino acid naturally found in food protein. Studies show that phenylalanine may be able to:
Improve mood. Phenylalanine is needed to synthesize a number of important brain chemicals that can affect mood.
Overview
L-phenylalanine is an essential amino acid found in food protein, while its twin D-phenylalanine is a mirror-image compound made in a laboratory. These two forms can also be combined into DL-phenylalanine (DLPA), a 50/50 combination of L-and D-phenylalanine.
Phenylalanine is considered essential because it helps the body work properly, but is not produced by the body so it must come from food. The human body converts phenylalanine into tyrosine, another amino acid required to make proteins and various brain chemicals including dopamine and norepinephrine.
Because of this phenylalanine has been suggested to have nootropic effects such as improved mood. In addition, phenylalanine is also often used in a stack together with more powerful nootropics such as piracetam.
How Phenylalanine Might Help the Brain
Acting as a precursor to dopamine, epinephrine, and norepinephrine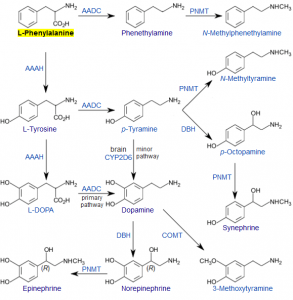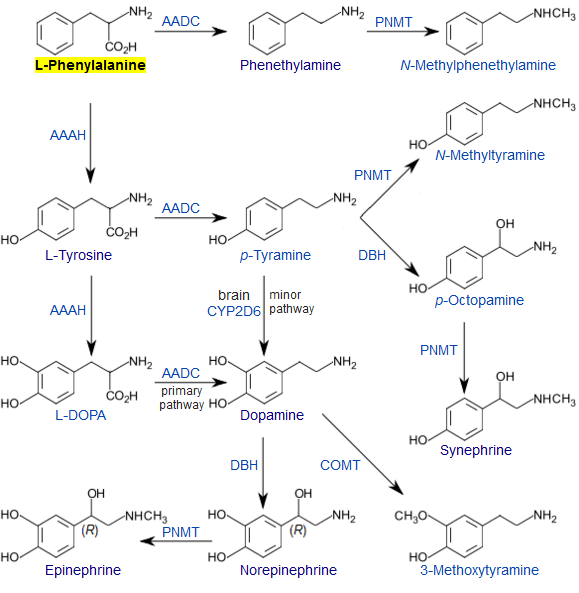 Once ingested, phenylalanine is converted by the body into tyrosine, another amino acid. In turn, tyrosine is used in the series of reactions that produce dopamine, an important neurotransmitter that is involved in many aspects of cognition, including mood, reward, memory, and more.
In addition, dopamine is also used to synthesize the neurotransmitters epinephrine and norepinephrine.1
Phenylalanine's Possible Nootropic Benefits
As a dietary supplement, phenylalanine is primarily advertised as a mood-booster. Given its role in the synthesis of a number of brain chemicals and successful clinical trials in patients with depression, there is evidence to back up this nootropic benefit.
Some studies also suggest that low levels of L-phenylalanine in children may be implicated in ADD and ADHD, since both dopamine and norepinephrine are closely linked with attention and focus. Thus far however, research has not found phenylalanine supplementation to help with these disorders.
Research
Human Research
A number of studies have tested phenylalanine's efficacy in attention disorders and depression. While phenylalanine has not been proven to help with ADHD, it has been reported to be about as effective as pharmaceutical anti-depressants at improving mood and symptoms of depression.
L-phenylalanine (250 mg) combined with l-deprenyl may help with depression
In this (fairly weak) study, 155 patients with depression were administered both oral and intravenous doses of 250 mg phenylalanine along with 5-10 grams of the drug deprenyl per day. Some 80-90 percent of the patients showed improvement.
The researchers concluded that "this combined treatment has a potent antidepressive action based on the accumulation of 1-phenylethylamine in the brain"2
Dl-phenylalanine (150-200 mg) may be as effective as standard antidepressants
In this double-blind study, 40 people with depression were given 150-200 mg phenylalanine or 150-200 mg imipramine (an antidepressant drug) daily for 30 days. Both treatments resulted in a similar improvement of depression as gauged by the Hamilton Depression Scale and the Bf-S self rating questionnaire.
The researchers concluded, "DL-phenylalanine might have substantial antidepressant properties"3
20 mg d-phenylalanine did not improve behavior in hyperactive boys
In this double-blind, crossover study, 11 hyperactive boys were given D-phenylalanine or placebo for two weeks. Results were gauged according to parent and teacher behavior ratings, cognitive functions, and blood and urine samples that measured levels of norepinephrine and amino acids. Neither significant improvement nor deterioration in behavior or side effects were apparent.
The researchers concluded that "This provides reassurance about the toxicity of aspartame, a food additive that contains phenylalanine, but argues against precursor loading treatment of hyperactivity"4
Nootropic Dosage

>
Most clinical trials seem to use 150-250 mg doses of phenylalanine
Most single and multi-ingredient supplements come in 500 mg doses
50-100 mg is recommended when stacking with other ingredients (usually racetams)
Supplements in Review Says>
Phenylalanine, 150-250 mg per day, powder.
We recommend L-phenylalanine for a mild mood boost. L-phenylalanine has a proven role in the synthesis of a number of important brain chemicals, and has performed well in clinical trials of depression.
We recommend L-phenylalanine in low doses. Medical research has shown that lower doses (150 – 250 mg) are effective. We recommend a powder supplement so you can control your dosage more easily than with premeasured capsules or tablets.