Pterostilbene is a neuroprotective antioxidant that may help protect the aging brain.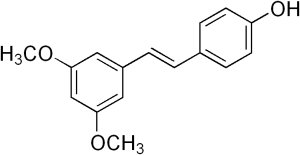 The plant compound pterostilbene is a powerful antioxidant believed to have nootropic bio-activities that may help:
Ward off cognitive decline. Pterostilbene may help fight age-related cognitive decline and related neurodegenerative conditions such as Alzheimer's.
Overview
Pterostilbene is a polyphenol compound sourced from various types of berries that is believed to have brain-protective, nootropic qualities. Scientists widely recognize polyphenol antioxidants – which fight the "age-accelerating" effects of free radicals within the brain's delicate tissues – as major protectors of brain function. Pterostilbene's proposed brain benefits include:
Protection of neurons from degeneration
Reduction of plaques associated with Alzheimer's
Supporting the integrity of cerebral blood vessels
Supporting BDNF, a "brain fertilizer" that promotes neurogenesis1
Given these effects, pterostilbene's main potential nootropic use is the alleviation age-related cognitive decline and related conditions such as Alzheimer's and Parkinson's.
Pterostilbene is 4X more bioavailable than resveratrol
Pterostilbene is an "analogue" of resveratrol, another nootropic. It is in the same antioxidant family (both are stilbenes), has a similar chemical structure, and is believed to exert many of the same beneficial biological activities. Pterostilbene has a big advantage over resveratrol, however:
Resveratrol is roughly 20% bioavailable, while pterostilbene is 80% bioavailable—potentially making it about 4X as effective for brain health.2
In addition, pterostilbene is sustained longer in the blood, more easily utilized by brain cells, and more physiologically stable than resveratrol.3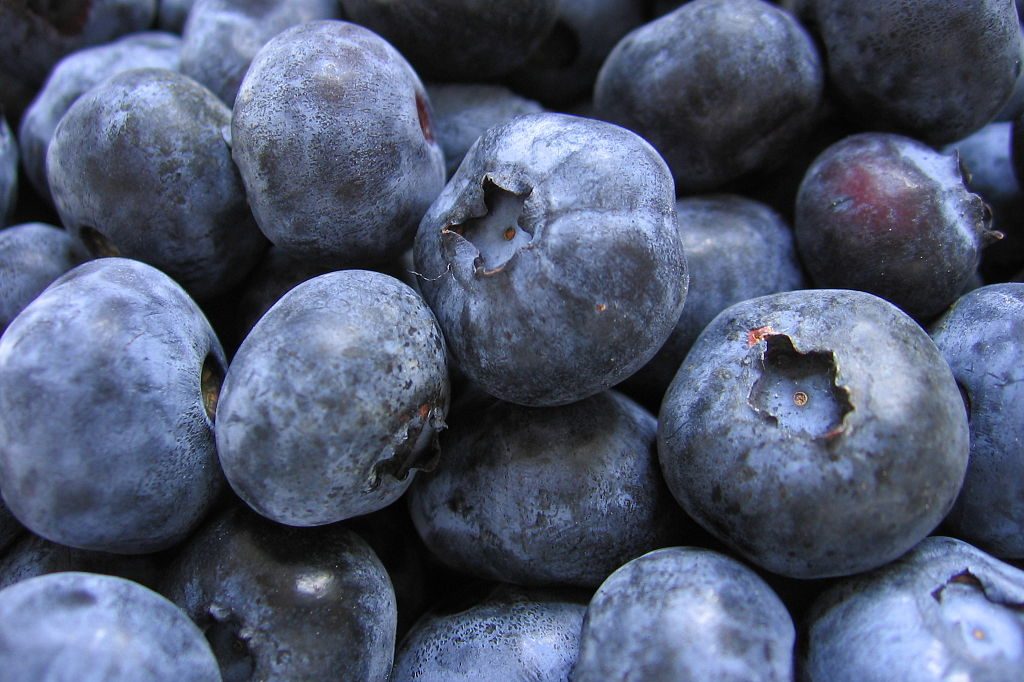 How Pterostilbene Might Help the Brain
Antioxidant activity
Pterostilbene has not only been shown to act as a potent antioxidant, but also boost the activity of other antioxidants, including superoxide dismutase (SOD) and glutathione (GSH).4 The strong antioxidant activity of pterostilbene is believed to have a neuroprotective effect.
Regulating dopamine release
Pterostilbene was found to mitigate neuronal aging triggered by irregular dopamine release.5
Enhancing GABA activity
The high supply of pterostilbene is blueberries was also found to significantly improve the activity of gamma-aminobutyric acid (GABA), a calming neurotransmitter. This effect has been associated with improved motor learning and memory processing.6 7
Pterostilbene Potential Nootropic Benefits & Uses
As a brain supplement, pterostilbene's major potential benefit is to help fight age-related cognitive decline and related issues such as Alzheimer's and Parkinson's.8 Some research also suggests it may help ease anxiety, but this effect requires further study.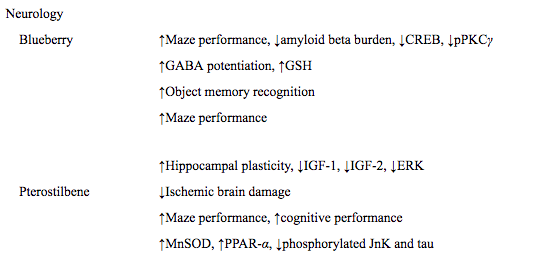 Blueberries May Boost Brain Plasticity
A red-hot area of brain research, "neuroplasticity" refers to neurons' ability to shift around, reorganize, and create new neural pathways. This happens when people learn, memorize, or go through new experiences. Neuroplasticity is the driving force behind brain development in childhood, and also powers neurogenesis and brain repair after injury. With age, plasticity is reduced and consequently results in foggy memory, slower mental processing, and other symptoms of age-related cognitive decline.9
Research
Animal Research
Animal studies indicate that pterostilbene has neuroprotective properties that can help protect the aging brain against cognitive decline.
Pterostilbene may help alleviate cognitive decline
This study evaluated how six resveratrol analogues might improve the brain health of rats. Pterostilbene was found to be the most effective of all these compounds. Deeper study revealed that it helped reverse cognitive decline and regulate the release of dopamine.
Researchers concluded that "pterostilbene was effective in reversing cognitive behavioral deficits, as well as dopamine release, and working memory was correlated with pterostilbene levels in the hippocampus."10
Pterostilbene appears to fight cognitive impairment
In this study, cognitively-deficient mice were given either pterostilbene or resveratrol for 2 months, and were then tested with the "radial arm water maze" that evaluates working memory and spatial learning. Pterostilbene significantly improved mental performance in the test, as well as helped with oxidative stress, inflammation, and other contributors to brain degeneration, whereas resveratrol had no such effects.
Researchers concluded that "pterostilbene is a more potent modulator of cognition and cellular stress than resveratrol."11
Pterostilbene seems to have neuroprotective qualities
In this study, mice with induced brain injury were administered pterostilbene right after blood flow was restored to the brain, and then again 1 hour and 3 hours afterwards. Pterostilbene was found to significantly increase brain cell survival, improve motor function, and lessen blood-brain barrier disruption.
Researchers concluded that "pterostilbene dose- and time-dependently exerts a neuroprotective effect."12
Pterostilbene may ease anxiety without sedating the mind
In this investigation, adult male mice were given pterostilbene and run through the Elevated Plus Maze (EPM), a protocol that measures anxiety. Pterostilbene was shown to exert anti-anxiety effects without the sedating side effects common to other anxiety drugs. Lower pterostilbene dosage seemed more effective than bigger doses.
Researchers concluded that "pterostilbene has the potential for therapeutic drug development for anxiety disorders.."13
Nootropic Dosage
No successful clinical studies have identified ideal doses for pterostilbene.
Retail pterostilbene supplements supply from 5 – 300mg of the active ingredient, with 50 mg being the most popular dosage.
Pterostilbene is well-tolerated and has no significant side effects.
Available Forms
Pterostilbene: It is available to buy as a straight-up antioxidant, which may be presented in standalone capsules or in complex brain-booster formulas.
pTeroPure®: This branded pterostilbene from blueberries is made with patented technology that yields 99.9% purity. It has undergone some clinical testing, and is more expensive.
Blueberries. You have to eat a large amount blueberries to get significant quantities pterostilbene.
In addition to these forms, some products will combine pterostilbene in a stack with its nutritional "cousin," resveratrol. This is based on the theory these two similar nutrients may complement each other.
Supplements in Review Says
Pterostilbene 10 mg as a nootropic.
Pterostilbene may fight age-related cognitive decline. Pterostilbene may help protect the aging brain against Alzheimer's and general cognitive decline, but human studies are needed for a conclusive recommendation.
Start with 10 mg of pterostilbene. Early evidence suggests pterostilbene may be a "less is more" nutrient; some also advocate taking it at the natural levels found in blueberries, which tend to be lower. We recommend taking a 10 mg dosage of pterostilbene. Pterostilbene is well-suited for complex brain enhancer formulas because it may deliver brain benefits while taking up little space in a tablet or capsule.