Sweet amino acid glycine may reduce sleep latency and improve drowsiness by promoting hearty sleep.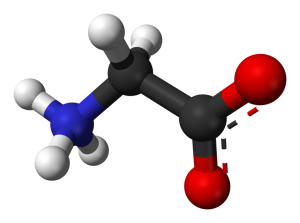 Glycine is a nonessential amino acid that is not only made within the body, but also routinely manufactured for sweetening and additive purposes. Although it is most commonly used in medicine for schizophrenia, it also has potential benefits for sleep such as:
Improving subjective sleep quality. Glycine may increase sleep efficiency and decrease sleep onset latency.
Supporting deep sleep. Reduced drowsiness and enhanced cognitive performance with glycine point to solid rest.
Reducing insomnia. The amino acid reportedly boosts serotonin levels and accordingly reduces insomnia.
Overview
Glycine, abbreviated Gly or just G, is a sweet and yet colorless crystal that is one of several amino acids readily produced within the body. About 2 grams of the amino acid is what people additionally eat in the standard diet since it's contained in a bunch of protein-rich foods, including meats, fish, legumes, and dairy.
Since it's discovery in 1820 by Henri Braconnot after boiling gelatin with sulfuric acid, it has been manufactured and distributed commercially as a sweetener, as a buffering agent for cosmetics and antacids, and in a number of pharmaceutical applications, like IVs.
Did you know? The NASA spacecraft, Stardust, discovered glycine on a comet in 2004, which exploded support for the theory that the "building-blocks" of life are spread all throughout the universe.
In medicine, glycine has a few purported health benefits. It's most common use is to help manage schizophrenia, but it's also been used to protect kidneys from hazardous side effects of certain drugs and mend leg ulcers. Recent studies have also demonstrated glycine's bursting potential as a sleep aid in no small part due to its involvement in the transmission of chemical signals in the brain.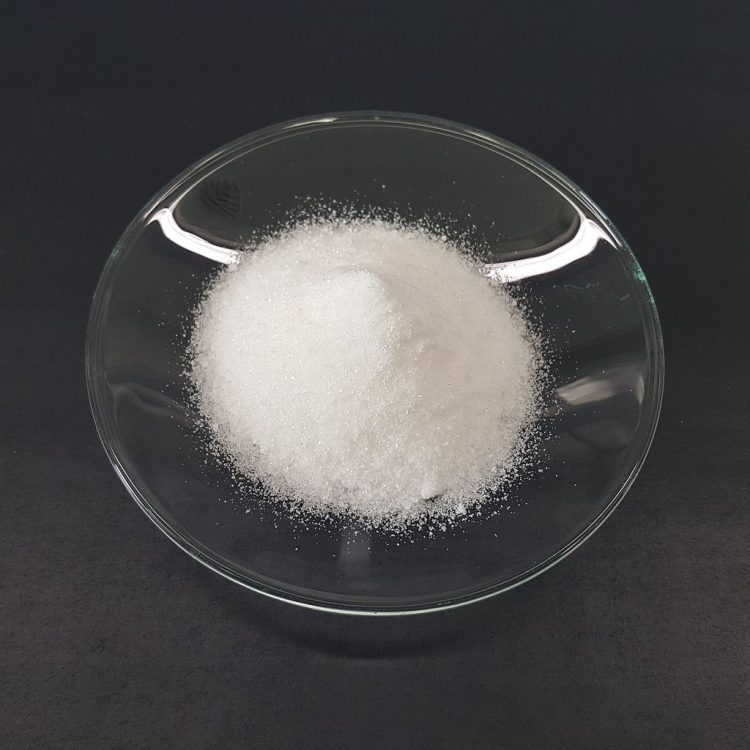 How Glycine May Help With Sleep
Reducing Core Body Temperature
When glycine is taken, it has the capacity to flow in the bloodstream all throughout the body and even enter the cerebrospinal fluid (CSF) through passive diffusion, which allows it to play a part in neurotransmission much like other nootropics do. It's particular affinity for N-methyl-D-aspartate type (NMDA) glutamate receptors and glycine receptors increases peripheral blood flow, which results in significant drops in core body temperature.
By binding to NMDA receptors in the suprachiasmatic nucleus (SCN), glycine is able to modulate circadian rhythm genes other than melatonin. It then triggers sleep in part by increasing levels of the neuropeptides arginine vasopressin and vasoactive intestinal polypeptide, which reduces core body temperature.1
The decrease in body temperature may be a critical part of sleep induction since sleep onset is associated with lowered body temperature, which is then maintained during normal sleep cycles.2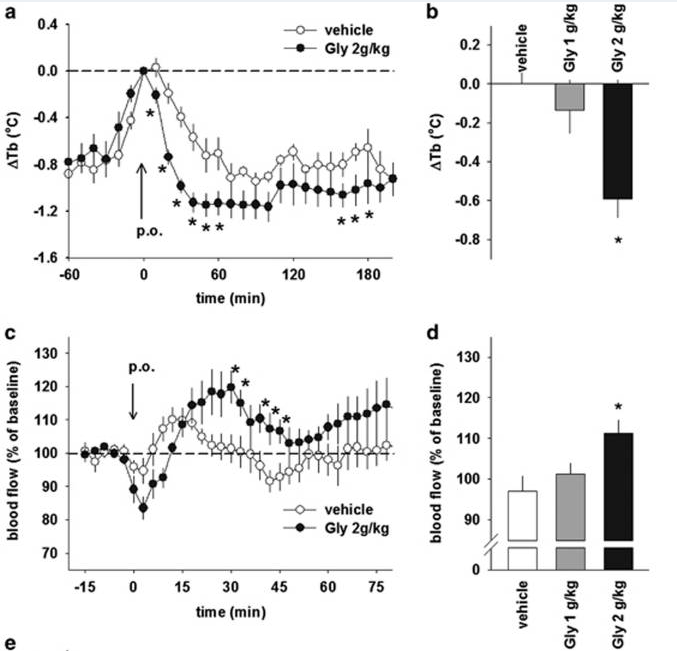 Increasing Serotonin Levels
High serotonin levels are generally associated with being awake, but erratic sleep and stress can disrupt serotonin production and cause sleep disorders, like insomnia and apnea. Serotonin boosts may make up for that loss and help people with a sleep disorder get more sleep. To be more specific, when serotonin accesses the dorsal raphe nucleus (DRN) part of the brain, it's able to activate its receptors and increase rapid-eye-movement (REM) sleep.3
Glycine has been found to increase serotonin levels in the prefrontal cortex4, which may help to alleviate sleep issues and maintain behavioral sleep.5
Glycine may even be safe for a toddler with sleep issues. 
One clinical trial treated children under 6 years old who had sleep disorders with either glycine or a homeopathic product, ZinCyp-3-02, for 28 days. Sleep-related complaints – including difficulties falling and maintaining sleep, somniloquism, and restlessness – severity scores dropped in both groups from an average of 7 (out of maximum 11.0) points to 4 (glycine) and 2 (ZinCyp-3-02).
6
Glycine Benefits & Uses for Sleep
The main use of glycine in regards to sleep seems to be as a kind of recuperation of healthy sleep for people who experience sleep deprivation or a variety of sleep disorders, especially insomnia.
People who are stressed out or repeatedly have their sleep cycle disrupted are liable to develop inadequate amounts of serotonin, the consequences of which may include increased sleep onset latency, interrupted sleep, feelings of drowsiness after waking up, and inferior sleep efficiency.
Glycine's role appears to be to ward off such symptoms and thus improve overall sleep quality.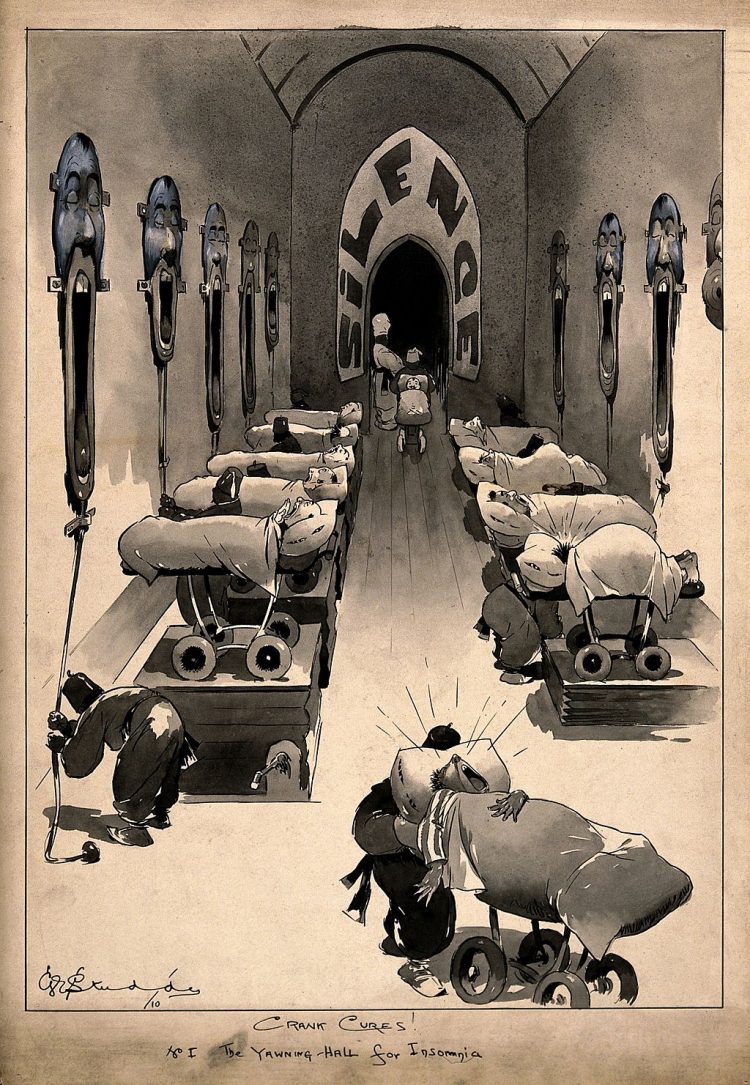 Research
Animal Research
Research indicates that glycine may:
Restore healthy rest after sleep deprivation. Glycine is believed to activate NMDA receptors in the brain and restore serotonin levels that are often diminished in cases of sleep deprivation, including insomnia. The proper amount of serotonin is vital to sustaining healthy sleep cycles and may also help to reduce sleep onset latency.7
Human Research
Clinical studies are few in number and mostly hinge on subjective results but the trend seems to favor glycine as one of several natural aids to sleep.
Glycine (3 g) may improve subjective feeling in women after waking up 
In this double-blind, placebo-controlled cross-over trial, 15 adult females were given either a placebo or 3 grams of glycine before going to bed. Glycine was connected to improved subjective sleep quality based on St. Mary's Hospital Sleep Questionnaire and the Space-Aeromedicine Fatigue Checklist.
The study concluded that "glycine ingestion significantly improved the following elements: "fatigue", "liveliness and peppiness", and "clear-headedness". These results suggest that glycine produced a good subjective feeling after awakening from sleep."8
Glycine (3 g) may improve sleep efficacy while reducing sleep latency and daytime sleepiness
In this randomized, double-blind, placebo-controlled investigation, 11 healthy adults were given either 3 grams of glycine or a placebo 1 hour before bedtime for a period of 2 days on 2 different occasions. St. Mary's Hospital (SMH) Sleep Questionnaire showed improvements in subjective sleep quality and awakening, and polysomnography (PSG) revealed shortened latency to sleep onset and to slow wave sleep (SWS)
The study concluded that "ingestion of 3 g of glycine before bedtime significantly shortened the latency to sleep onset and latency to SWS emergence without changes in the sleep architecture. These objective PSG data correlated with the subjectively observed improved sleep qualities such as satisfaction with sleep, a shortened latency to falling asleep, and sleep efficacy."9
Glycine (3 g) may reduce sleepiness and fatigue in sleep-deprived adults
In this placebo-controlled investigation, healthy adults who were restricted to 25% less sleep than normal were given either a placebo or 3 grams of glycine before bedtime. Glycine demonstrated a significant reduction in sleepiness and fatigue according to a visual analog scale (VAS) and a questionnaire. It also resulted in signficant improvements in psychomotor vigilance estimated by a personal computer (PC) performance test program. Moreover, glycine increased the neuropeptides arginine vasopressin and vasoactive intestinal polypeptide by modulating the rat suprachiasmatic nucleus (SCN).
The study concluded that "glycine modulates certain neuropeptides in the SCN and this phenomenon may indirectly contribute to improving the occasional sleepiness and fatigue induced by sleep restriction."10
Dosage for Sleep
Glycine may be taken as:
A supplemental capsule, 500 – 1000 mg
Most glycine supplements should be taken on an empty stomach in the evening for maximum effect.
Supplements in Review Says
Glycine may improve sleep quality and drowsiness after waking up. We recommend glycine supplementation for the elderly, people who have sleep disorders, and those who are experiencing sleep deprivation, particularly in scenarios of reduced serotonin. Glycine seems to reduce sleep onset latency and enhance overall sleep quality when taken in sufficient doses with few next to no side effects. It also appears to have the added effect of promoting subjectively good feelings upon waking up.
Take 3 grams of standardized glycine tablets before bed.  Glycine tablets generally come in 500 mg – 1000 mg tablets. Since the most effective dose looks to be 3 grams, 3 glycine tablets at 1000 mg at night is the current recommended way to take it. A popular natural glycine supplement worth checking out is Glysom®.