Amino acid ornithine may help reduce stress, particularly through lowering cortisol levels.

The amino acid ornithine has demonstrated a variety of potential health benefits. It may particularly help relieve stress by:
Regulating stress hormones. Ornithine may minimize stress by decreasing cortisol and  corticosterone levels.
Overview
Ornithine, or L-ornithine to be precise, is a naturally occurring amino acid that is essential to the urea cycle rather than being used to build proteins. The main role of ornithine is to convert toxic ammonia in the body into urea so that it can safely be removed through urine.1
In the field of medicine, ornithine is used for reducing the risk of health complications related to ammonia buildup, including hepatic encephalopathy and muscle fatigue. It might also be capable of enhancing exercise performance, which makes it a candidate for pre-workout supplementation. Furthermore, its widespread use has been growing in recent years due findings demonstrating its ability to temporarily increase levels of growth hormone.
Ornithine should not be confused with ornithine alpha ketoglutarate, which is a protein-synthesizing mixture made up of ornithine, 
glutamine
, and salts.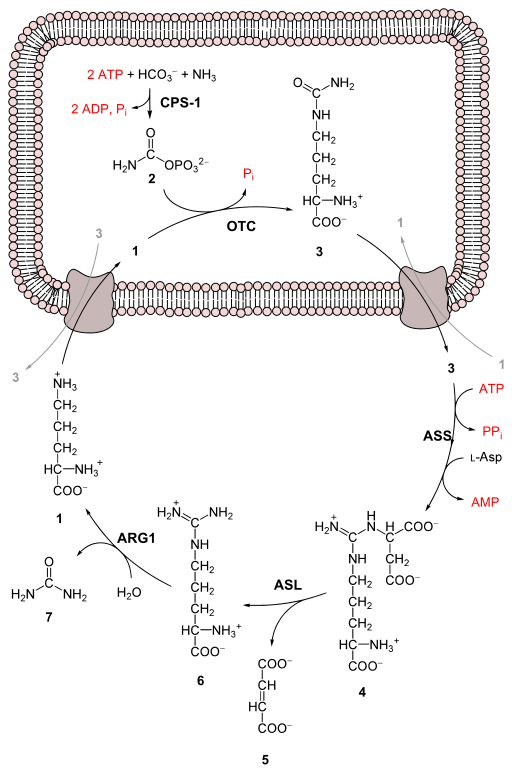 How Ornithine Might Help With Stress
Regulating stress hormones
Cortisol and corticosterone are widely recognized as markers of physiological stress.2 3 Ornithine appears to act on the hypothalamic-pituitary-adrenal (HPA) axis and reduce stress as confirmed by decreased levels of cortisol and corticosterone.4
Activating GABA
Ornithine was also shown to attenuate stress behaviors by acting on GABA receptors, which is known to counter anxiety and promote relaxation.5 6
Ornithine Benefits & Uses for Stress
Ornithine has only very recently been considered as a potential stress reliever. Although a handful of studies have shown ornithine capable of reducing stress hormone levels, the extent and duration of the effect are still being investigated. Its stress-relieving properties may lead to several health benefits, including:
Mood enhancement
Reduced anxiety
Diminished fatigue
Improved sleep
Ornithine might best be taken as a
supplemental stack
in conjunction with other natural stress relievers. It seems to enhance mood particularly well when taken with
caffeine
.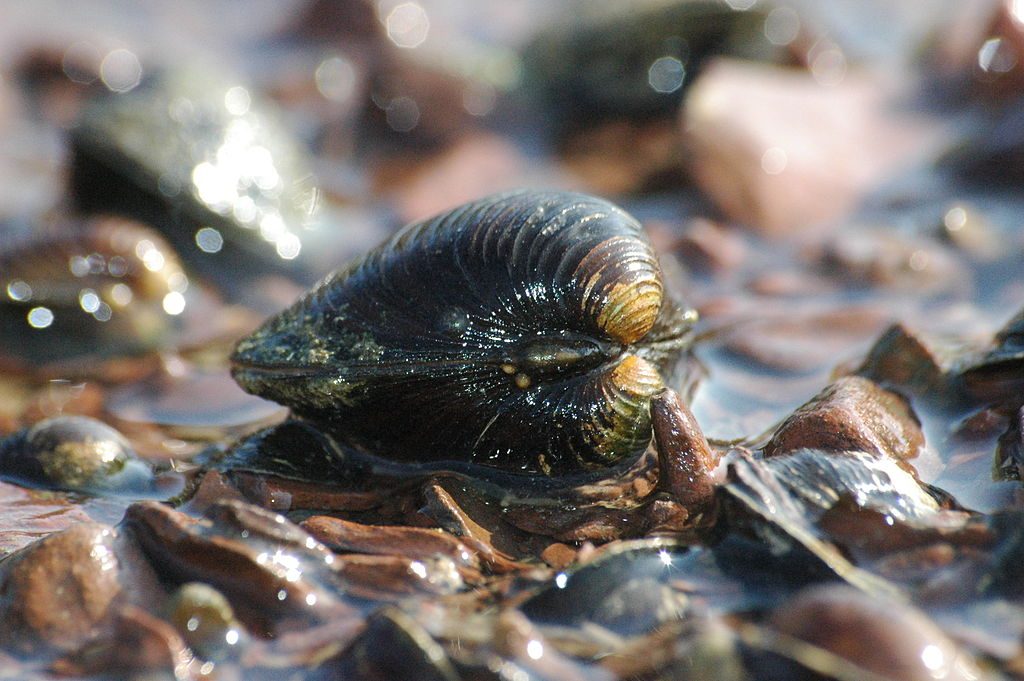 Research
Animal Research
Research performed on animals illustrate that ornithine may be capable of:
Reducing anxiety and associated behavior in mice7
Calming the body during conditions of stress in chicks8
Human Research
Clinical studies, albeit few in number, have displayed ornithine's potential to positively influence stress and related factors.
Ornithine (400 mg) seems to have a positive effect on stress and sleep
In this randomized, double-blind, placebo-controlled trial, 52 Japanese workers engaged in shift work or physical work with irregular schedules took either a placebo or 500 milligrams of L-ornithine monohydrochloride (containing 400 mg of ornithine) capsules every day before going to bed for 8 weeks. Compared to the placebo, L-ornithine was found to reduce levels of the stress markers cortisol and corticosterone, improve subjective mood ratings, especially in anger and hostility, as well as improve sleep quality and duration.
The study concluded that "L-ornithine has a positive effect on stress and sleep in healthy workers. L-ornithine might be beneficial for people who live a stressful life."9

Ornithine (400 mg) may improve mood and reduce cortisol levels after alcohol consumption
In this randomized, placebo-controlled, double-blind investigation, 11 Japanese adults were orally administered a placebo or 400 mg of ornithine 30 minutes after taking 0.4 grams of alcohol per kilogram of body weight around bedtime. The ornithine group reported significant decreases in feelings of fatigue, anger-hostility, and confusion on subjective mood tests, as well as reduced cortisol concentrations, compared to the placebo group.
The study concluded that "taking 400 mg ornithine after alcohol consumption improved various negative feelings and decreased the salivary stress marker cortisol the next morning. These effects were not caused by an increase in acute alcohol metabolism."10
Ornithine (2 g) and ornithine hydrochloride (6 g) may reduce physical fatigue
In this randomized, double-blind, placebo controlled investigation, 17 adults were put in a physically stressful scenario (intense biking) and then given either a placebo for 8 days or L-ornithine at 2 g per day for 7 days and then L-ornithine hydrochloride at 6 g for 1 day. The participants taking ornithine had significantly attenuated feelings of fatigue post-workout.
The study concluded that "L-ornithine has an antifatigue effect by increasing the efficiency of energy consumption and promoting the excretion of ammonia."11
Ornithine (200 mg) with caffeine may improve subjective ratings of mood 
In this randomized, placebo-controlled, double-blind investigation, 19 Japanese office workers were given a placebo, 100 mg of caffeine, or 100 mg of caffeine with 200 mg of ornithine every morning before individually rating their mood. The ornithine and caffeine groups had much higher mood ratings 8 hours after consumption compared to the 2 other groups.
The study concluded that "the VAS score was significantly improved by the combination of caffeine and ornithine compared with caffeine alone."12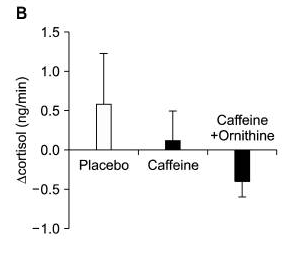 Dosage for Stress
Successful clinical studies have used from 200 mg – 6 g of ornithine, most frequently as ornithine hydrochloride.
Typical supplemental capsules range from 500 – 1000 mg doses, with serving sizes of 2 – 6 g.
Available Forms
Ornithine hydrochloride (Ornithine Hcl) is 78% ornithine by weight and available as powder or in a capsule.
Free form ornithine is less common but also available as powder or in a capsule.
Supplements in Review Says
Ornithine 400 mg for stress.

Ornithine may help manage stress. Ornithine seems capable of helping with stress through multiple ways, including lowering stress hormone levels, reducing physical fatigue, and improving mood. However, there is too little research to recommend it outright.
Take ornithine hydrochloride at 500 mg (400 mg of ornithine) per day. The safest and most easily accessible ornithine supplements are available as ornithine hydrochloride, 500 mg of which contains 400 mg of ornithine.