DHAid® is a patented vegetarian, environmentally-friendly, high-quality source of omega-3 fatty acid DHA.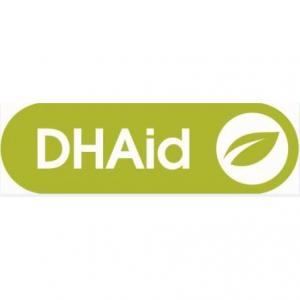 DHAid is a vegetarian form of omega-3 fatty acid DHA. DHA has a wide range of health benefits and is a major component of fish oil and other omega-3 fatty acid supplements. This DHAid review details its advantages over plain DHA supplements:
Eco-friendly. DHAid is made in a sustainable, environmentally-friendly way with no negative impact on the marine environment.

Patented. DHAid's unique algae fermentation  production method is protected by multiple patents.
Vegetarian. Sourced from microalgae, DHAid is 100% vegetarian-friendly.
Established. DHAid is made by Lonza, a century-old Swiss company known for producing high-quality ingredients for the pharmaceutical and healthcare industries.
Overview
DHAid is a patented, branded form of the omega-3 fatty acid docosahexaenoic acid (DHA). Alongside eicosapentaenoic acid (EPA) and alpha-linolenic acid (ALA), DHA is considered an important nutrient with key roles in virtually all aspects of human health. EPA and DHA are abundant in marine sources, and typically supplemented in the form of fish, krill, and calamari oil.
Produced by Swiss biotech giant Lonza from microalgae, DHAid is a vegetarian source of DHA that is free of allergens and contaminants associated with seafood. In addition, DHAid is manufactured in an environmentally-friendly, sustainable way because it does not use any marine sources (such as fish or krill). This ensures the availability of marine resources for coming generations.
Like other omega-3 supplements, DHAid is used to maintain optimal DHA levels in the body, especially for vegans & vegetarians since they lack marine food sources in their diet. DHAid's ability to raise DHA levels in vegetarians is backed by a clinical study.
Did you know?
DHA is the most abundant omega-3 fatty acid in the brain, which explains why it is
so important
to healthy brain function.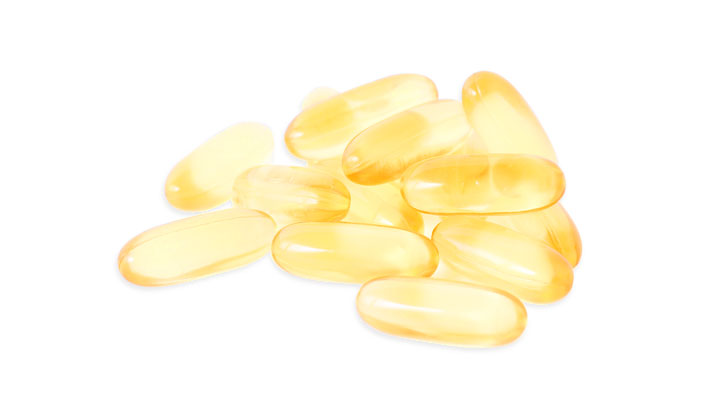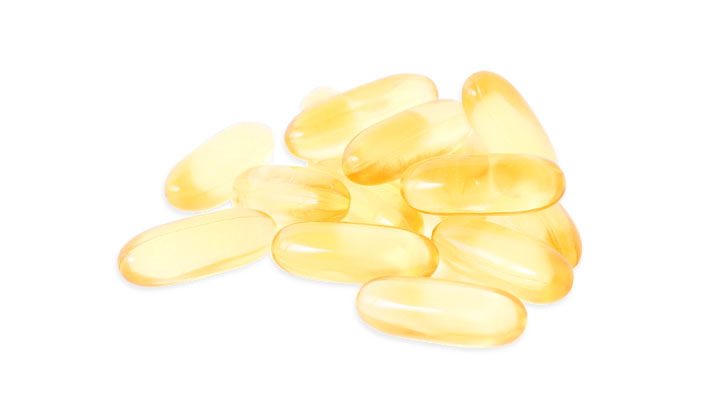 Common DHA Sources

Food
DHA amount (mg/100 g)
Atlantic salmon
1457
Pacific mackerel
1195
Atlantic herring
1105
Tuna
223
Haddock
162
Shrimps
144
Alaska king crab
118
DHAid Patents
DHAid is produced through a unique, patented method (U.S. patent 20100086979). This process uses a proprietary strain of microalgae (Ulkenia, Thraustochytrium and/or Schizochytrium) which are grown in special fermentation containers to accumulate a large amount of DHA. Next, this DHA is extracted and refined without the use of solvents to produce a vegetarian, contaminant and allergen-free omega-3 ingredient.
DHAid Nutritional Supplement Uses
DHAid is typically used in supplements as a vegetarian source of DHA. Like other omega-3 supplements and products, DHAid has a wide range of research-backed health benefits:
Supporting cardiovascular health
Reducing inflammation
Supporting joint health
Supporting healthy vision
Supporting brain health
Improving exercise recovery
Supporting the immune system
Maintaining optimal DHA levels during pregnancy (recommended to be 300 mg/day by health experts)
DHAid Advantages
DHAid has several notable advantages compared to generic DHA omega-3 ingredients:
Eco-friendly: DHAid is environmentally-friendly and sustainable thanks to being sourced from microalgae rather than fish and other marine sources.
Trusted: Established in 1897, Lonza is one of the world leaders in producing pharmaceutical and supplement ingredients. It is also a member of the non-profit Global Organization for EPA and DHA (GOED), with a commitment to strict quality guidelines and ethical business practices.
Clinically-researched: DHA's ability to raise DHA levels is backed by a randomized, controlled trial (RCT) – the gold standard of human research.
Safe: Because it is not sourced from seafood, DHAid does not contain any potential contaminants and allergens associated with fish oil and other marine omega-3 sources. In addition, it is produced without the use of chemical solvents, Generally Recognized as Safe (GRAS) by the FDA, and GMO-free.
DHAid Research
Human Research
There is currently only one published human clinical study of DHAid. However, omega-3s are one of the most widely studied nutrients in the world, and their essential role in human development and overall health is well-established. In particular, sufficient intake of omega-3s has been associated with reduced inflammation, and improved immune function, joint, cardiovascular, and cognitive health.
DHAid may help increase DHA levels in vegetarians, improving cardiovascular health
This randomized, double-blind, placebo-controlled study evaluated the cardiovascular & heart health benefits of DHAid supplementation in vegetarians. A total of 104 vegetarians were given placebo oil or DHAid daily for 8 weeks. The DHAid group experienced a significant increase in DHA levels in red blood cells and the omega-3 index (4.8% to 8.4%), an indicator of cardiovascular health health. In total, 69% of people given DHAid reached the desired omega-3 index level of 8% or above.
The researchers concluded that "We conclude that an 8-wk supplementation with 0.94 g DHA/d from microalgae oil achieves a beneficial omega-3 index of > or =8% in most subjects with low basal EPA + DHA status." 1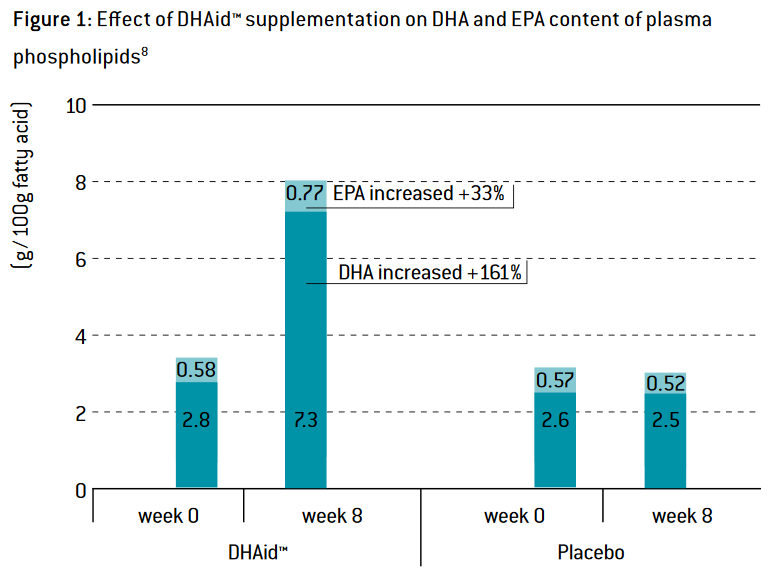 Did you know? The human body can convert ALA into EPA and EPA into DHA. However, these processes are not very efficient, and a diet high in ALA cannot make up for low intake of DHA-containing foods.
DHAid Dosage
There is no research-supported dosage of DHAid
Supplements in Review Recommendation
DHAid® as part of a supplement.



We recommend DHAid as a vegetarian & environment-friendly omega-3 source. DHAid is the ideal choice for environmentally-conscious, vegetarian individuals looking for a high-quality omega-3 product.
Follow supplement-recommended dosages. There isn't enough research to suggest the optimal dosage of DHAid. As such, it's best to follow individual supplement recommendations.