Niagen® is a revolutionary form of vitamin B3 with potential to boost energy levels and increase longevity.


Niagen is a new form of vitamin B3 used to increase energy and slow down aging by replenishing NAD+. This Niagen review details its advantages over generic vitamin B3 supplements:
Unique Benefits. Niagen shows real promise as an anti-aging and energy-boosting compound in healthy individuals.
Superior Activity. Niagen has been demonstrated to increase NAD+ levels far more effectively than generic vitamin B3.
Patents. Niagen's production from yeast, and its use supplements for boosting NAD+ is protected by multiple U.S. patents.
Overview
Niagen is a special, patented form of vitamin B3 called nicotinamide riboside (NR) made by American supplement company ChromaDex. By contrast, most vitamin B3 in food and supplements comes in the form of nicotinamide (niacinamide) or niacin (nicotinic acid). Niagen's health benefits result from its conversion into Nicotinamide Adenine Dinucleotide (NAD+), a molecule with several essential functions, such as producing food from energy.
In addition, recent research suggests that NAD+ plays a role in regulating the lifespan. In fact, NAD+ levels are known to decrease as we age, and increasing NAD+ in older adults may be a possible anti-aging strategy. Although all three forms of vitamin B3 increase NAD+ production, NR—and by extent, Niagen—has been shown to be the most effective.
As a supplement, Niagen is used mainly by adults over 40 to increase energy levels and promote longevity. Early research evidence is supportive of Niagen's potential as an anti-aging compound.
Did you know? Nicotinamide riboside requires only two steps to convert into NAD+ and is not limited by the activity of the NAMPT enzyme, which is one of the major reasons why it is more effective at raising NAD+ levels than other forms of vitamin B3.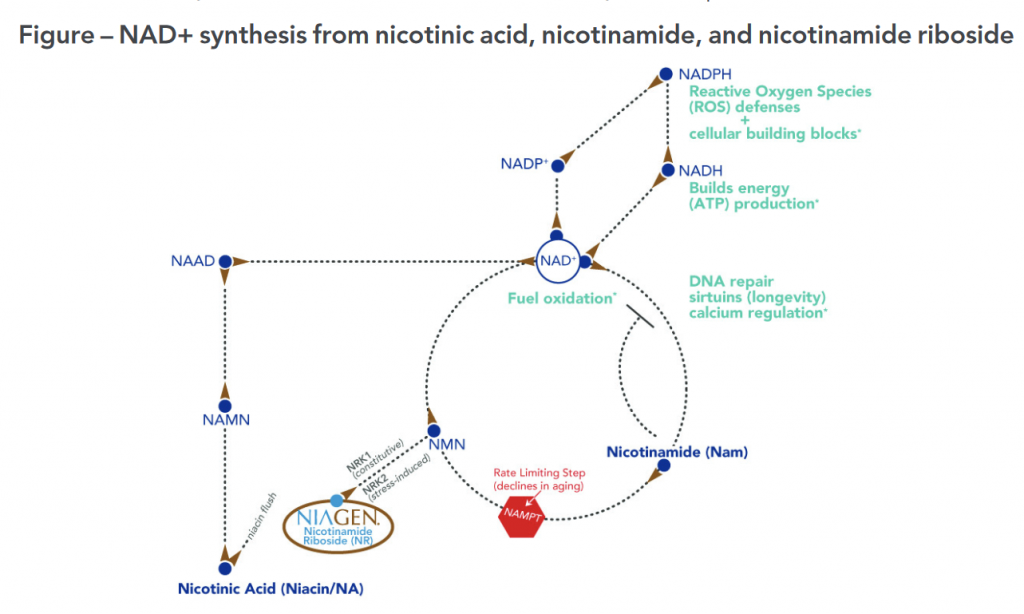 How does Niagen work?
Nicotinamide riboside (Niagen) increases NAD+ levels. In turn, research suggests that NAD+ plays a role in multiple important biological processes, most notably energy production (metabolism), which is the proposed mechanism for how it increases energy levels.
More importantly, NAD+ is known to activate so-called sirtuin enzymes, which regulate DNA repair, stress resistance, metabolism, cell death, and other processes involved in aging. It is these effects that have led researchers (and supplement manufacturers) to propose that nicotinamide riboside can be used to slow down aging and ward off age-related functional decline and health disorders. 1
Did you know? Damage to DNA is one of the most popular theories for why we age. This explains how boosting sirtuin activity to promote DNA repair may be able to slow down the aging process.
Niagen Patents
Niagen is currently covered by several U.S. patents.
Niagen production, composition, and uses
These patents cover the production of nicotinamide riboside, where safe strains of yeast (fungus) such as Saccharomyces (Baker's yeast) are cultured in a medium to produce nicotinamide riboside (NR), which is then recovered. These patents also cover the use of the resulting NR in supplements and foods to increase NAD+ levels to promote cell and tissue survival (U.S. Patents 8114626, 8106184 & 8197807).
Niagen Nutritional Supplement Uses
Niagen can be sold in capsules, tablets, melts, or powder form in supplements or incorporated into functional foods and beverages. It is most commonly sold as a standalone product with two major uses:
Energy Supplements
Generic vitamin B3 as known for its roles in energy production. However, it is unlikely to do much for energy in people who aren't deficient. Niagen differs from this, because it can be successfully used to increase NAD+ production and energy levels even in healthy individuals. The only caveat is that it only seems to work for middle-aged and older adults, since younger individuals already have maximal NAD+ levels.
Read more: Energy supplements guide
Anti-aging Supplements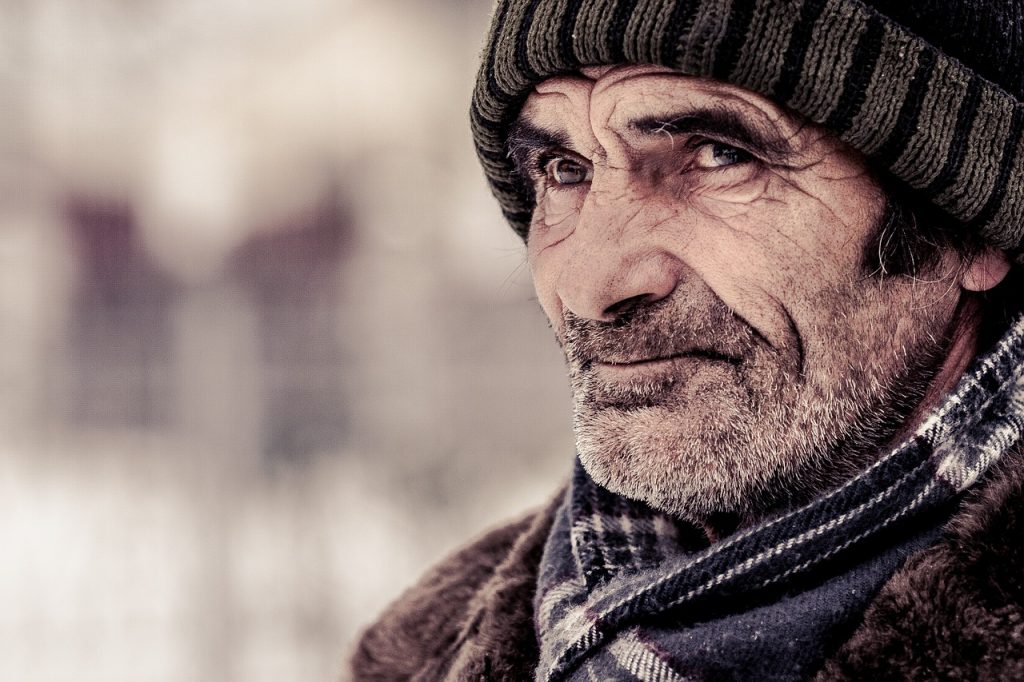 Niagen's second major use as an anti-aging supplement that increases longevity and protects the body from age-related decline and disorders such as Alzheimer's. This novel application of Niagen is supported by a growing body of scientific research highlighting the effects of NAD+ and sirtuin enzymes on aging and related processes. 2 Many researchers are rightfully excited about the potential of nicotinamide riboside as anti-aging drug.
Read more: NAD+, sirtuin enzymes, and aging
Niagen Advantages
Compared to generic vitamin B3, Niagen is a truly unique, revolutionary natural compound, recognized for:
Unique benefits: Unlike niacin and niacinamide, Niagen holds real promise as an energy-boosting and longevity-promoting supplement.
Superior activity: Niagen's ability to enhance NAD+ levels and sirtuin activity more effectively than generic vitamin B3 is backed by clinical studies.
Patent protection: Niagen's unique production from safe yeast species and its use in foods and supplements for the purpose of increasing NAD+ levels is protected by multiple U.S. patents.
Lack of side effects: Niagen does not cause flushing – a red, warm, tingling, and burning skin sensation caused by taking large doses of niacin.
Niagen Research
Animal & Petri Dish Research
Animal and isolated cell culture studies of nicotinamide riboside (NR) report promising findings, including:
Activation of sirtuin enzymes—popularly known as anti-aging proteins—and protection against metabolic (e.g. obesity) and age-related disorders, particularly when they are related to mitochondria dysfunction 3
Enhanced lifespan in mice by 5%, alongside improved stem cell function 4
Human Research
Human studies of Niagen prove that it boosts NAD+ levels and sirtuin activity in middle-aged and older adults, and does so more effectively than niacin and nicotinamide.
Niagen (100-1000 mg) boosts NAD+ levels and sirtuin activity more effectively than niacin and nicotinamide
This three-part study examined the effects of nicotinamide riboside (NR) on NAD+. In part one, a 52-year-old man was given NR (1000 mg) daily for a week; in part two, the effects of NR were compared to other forms of B3 (niacin and nicotinamide) in mice; and finally, in the part three randomized, double-blind crossover study, 12 participants were given single doses of 100, 300, or 1000 mg and repeated the experiment so that everyone tried all three doses.
In the first part of the study, NR was found to increase blood NAD+ levels by 270% after a single dose. Meanwhile in part two, researchers confirmed that NR raises NAD+ levels and associated sirtuin enzyme activity more effectively than niacin and nicotinamide. In part three, a single dose of NR resulted in dose-dependant increase in NAD+.
The researchers concluded that "We report that human blood NAD+ can rise as much as 2.7-fold with a single oral dose of NR… single doses of 100, 300 and 1,000 mg of NR produce dose-dependent increases in the blood NAD+…"5
Niagen supplementation (1000 mg) raises NAD+ levels in healthy adults
This randomized, double-blind, placebo-controlled, crossover trial tested the ability of nicotinamide riboside (NR) to increase NAD+. Twenty-four middle-aged and older adults were given placebo or Niagen (500 mg) twice daily for 6 weeks, and later switched groups so that everyone tried the supplement. Niagen was shown to cause no side effects and effectively raise NAD+ levels.
The researchers concluded that "…chronic NR supplementation is well-tolerated in healthy middle-aged and older adults…acute supplementation with NR is effective for stimulating NAD+ metabolism in humans." 6
In addition to the above studies, Niagen is currently being investigated in multiple clinical trials to examine its effects and benefits for: 7
Function of the mitochondria – the energy-generating centers of cells
Systolic heart failure
Improving physiological function in middle-aged and older adults
Obesity & insulin resistance
Immune system function
Niagen Dosage
Positive clinical studies have used 100-1000 mg doses, with 1000 mg appearing to be the most effective
Niagen supplements typically supply 500 mg dosages of nicotinamide riboside chloride taken in two daily doses
Supplements in Review Recommendation
Niagen is a promising anti-aging and energy supplement. Although it's too early to recommend it outright, current research suggests that Niagen is one of, if not the most promising compound for extending the human lifespan. In addition to this, it may also increase energy levels in adults over 40.
Research suggests 1000 mg doses. The most common dosage used in successful studies is 1000 mg, which is close to the 500 mg dosage suggested by supplements. As such, you can consider using 500-1000 mg daily.