Svetol is the only patented green coffee bean extract to propose a unique blood sugar-balancing mechanism for controlling body weight.

Svetol® is a green coffee bean extract that supplies increased levels of chlorogenic acids, including caffeoylquinic and dicaffeoylquinic acids. It is used in supplements to increase fat burning and weight loss. By regulating blood glucose levels, it may benefit other areas of wellness, as well. This Svetol review notes its advantages over regular weight loss supplements.
Patented. Svetol is a patented method of weight loss management using an effective composition of caffeoylquinic and dicaffeoylquinic acids from green coffee beans, recorded under US Patent No 9358264.
Clinically Researched. Human studies validate this green coffee bean extract's weight management benefits.
Natural. Svetol is 100% natural plant concentrate of green coffee beans, with well-known active ingredients: Chlorogenic acids, or CGAs.
Overview
Naturex Svetol is a branded, patented green coffee bean extract introduced in 2006. Since then, multiple clinical studies have demonstrated its safety, quality and efficacy.
Green coffee beans are unroasted coffee beans which contain an increased level of chlorogenic acid in comparison to regular coffee beans and may provide a wealth of health benefits. Dr. Oz famously mentioned green coffee beans on his show.
Svetol upgrades green coffee bean extract by utilizing premium Robusta beans. Using patented technology, the beans are processed to supply high chlorogenic acid levels. Hence, the extract is standardized to a minimum of 45% Chlorogenic Acids. Overall, its profile supplies:
45% Chlorogenic acids, of which 10% is 5-caffeoylquinic acid
50% polyphenol antioxidants
Did you know?
Despite its high concentration of active CGAs for fat loss,
Svetol caffeine content
is relatively low: This green coffee bean extract boasts less
caffeine
than quarter of a cup of coffee per 400 mg serving.
Because of its highly bioavailable chlorogenic acid profile, this extract may deliver the best green coffee bean benefits.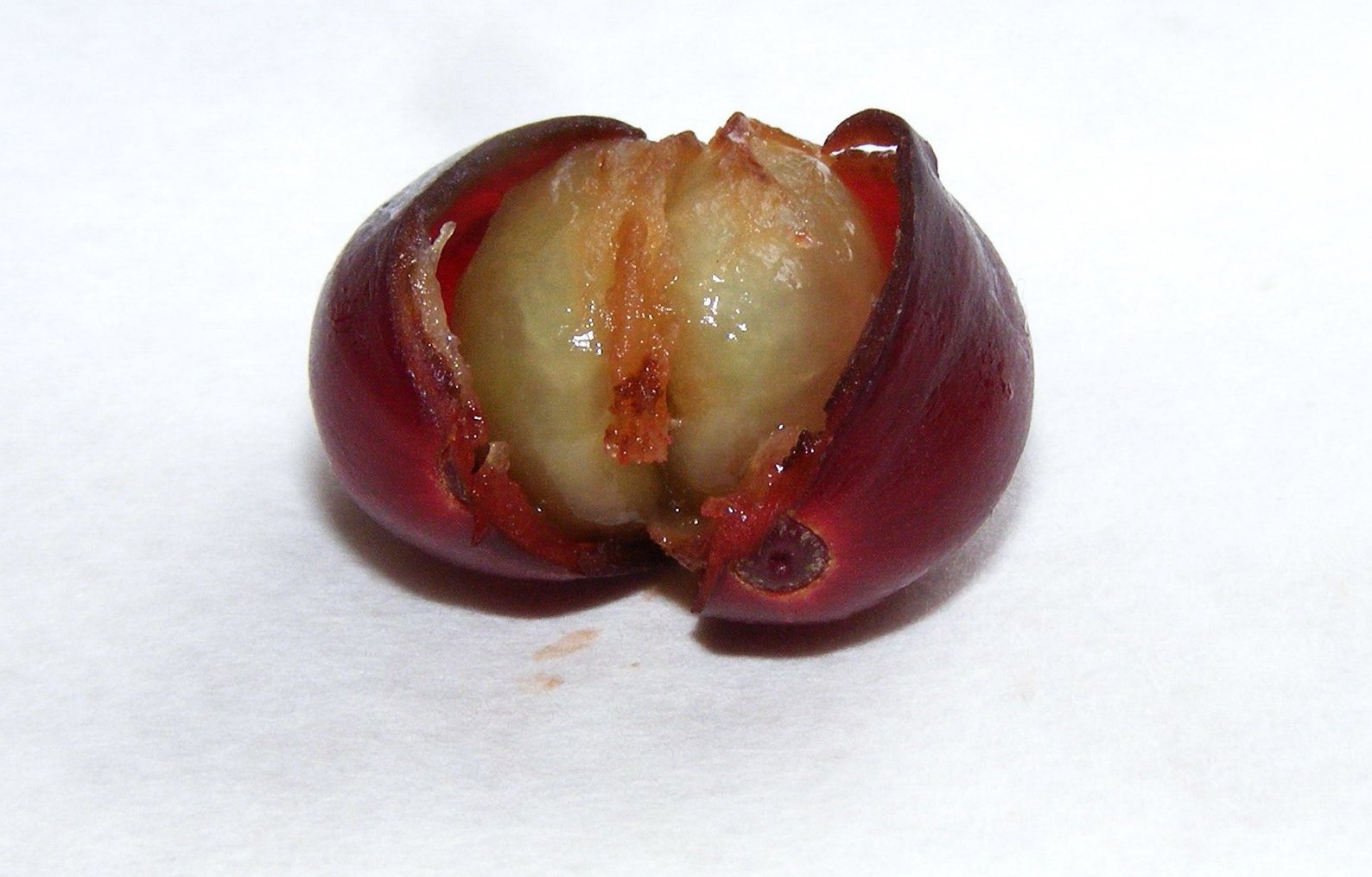 Naturex Svetol benefits include support for:
Fat loss: Svetol's chlorogenic acids are suggested to help balance blood sugar levels. The extract slows glucose production, blocks glucose absorption, and encourages the body to burn fat for energy — thereby helping fat loss efforts
Body toning: Svetol's suppoort for fat metabolism and blood sugar regulation seems to help lean body composition. Svetol highlights this benefit for sports and fitness buffs, who may use it as a fat burner for shredding/cutting phases
Overall health: Its blood sugar balance and weight management benefits help support an overall healthy lifestyle. Most of all, this works in combination with good diet and exercise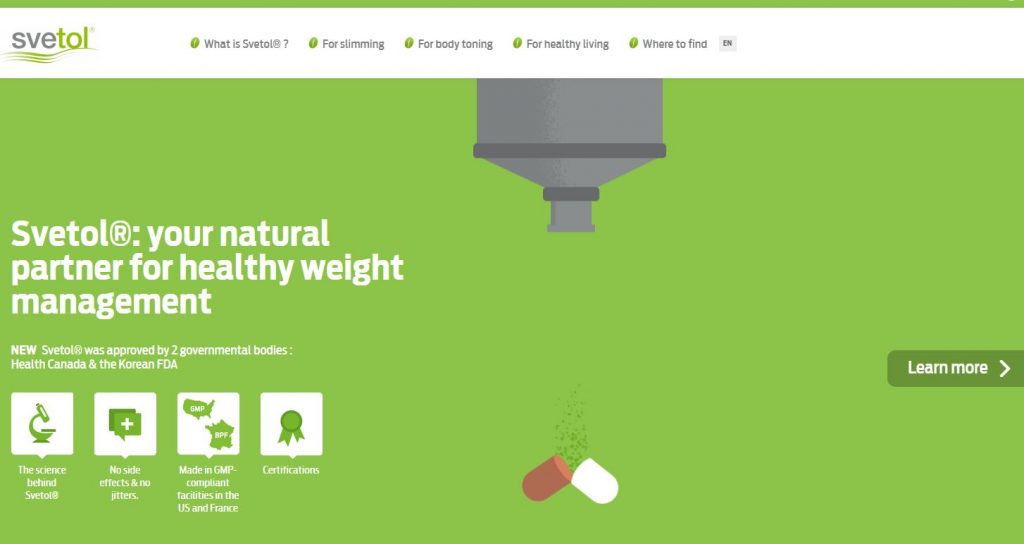 Svetol Patents
Svetol has a patented method (U.S Patent No. 9358264) for controlling body weight with an administered amount of decaffeinated green coffee extract.
The patent refers to a method of inhibiting human liver glucose-6-phosphatase system activity. Specifically, it works by administering the following CGAs to adults who are overweight or have blood sugar problems:
4-caffeoylquinic acid
5-caffeoylquinic acid
3,4-dicaffeoylquinic acid
4,5-dicaffeoylquinic acid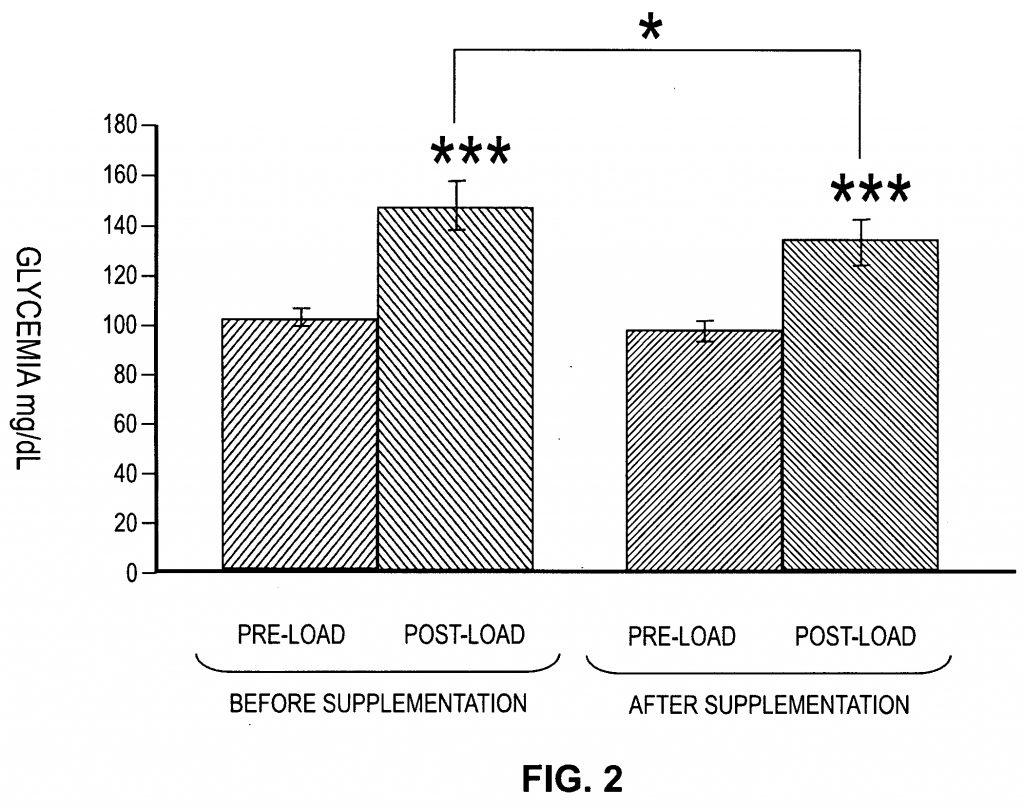 The same patent also notes that this branded green coffee extract is 6 – 8% of 4-caffeoylquinic acid, with a complete chlorogenic acid concentration of over 45%.
Naturex received another patent in 2016. A previous application clamed methods for reducing glycemia and improving the muscle mass/fat mass ratio in humans via administering green coffee extract from Coffea robusta:
US patent No. 20100112098: Use of green coffee extract from Coffea robusta to reduce glycemia and improve the muscle mass/fat mass ratio.
Svetol linked to 124% increase in fat-breakdown activity
In addition, according to Naturex, the latest in-vitro study on this patented green coffee bean extract found that it increased lipolytic (a term for breaking down fat) activity.
Svetol Nutritional Supplement Uses
Since its green coffee bean extract comprises a higher amount of chlorogenic acids, Svetol is often used in weight regulating or weight loss supplements. First off, green bean extract has positive effects on regulating blood sugar, making it an effective addition in slimming dietary supplements and workout supplements. In addition, it may have body composition benefits. As a result, Svetol is most often seen in:
Svetol Fat Loss Supplements
This extract naturally helps you to lose weight by helping the body to burn fat. Chlorogenic acids reduce blood glucose levels to promote fat burning for energy, block fat absorption and elevate fat metabolism in the liver.1
The use of green coffee bean extract and its higher levels of chlorogenic acid promote the release of fat from fat cells. As a result, weight loss may be easier. Furthermore, it inhibits glucose absorption in the small intestine, leading to lower blood glucose levels and fat burning. Svetol has a direct fat burning effect on humans. Hence, two main fat loss supplement classes use Svetol:
Fat burners. Fitness buffs favor these stacks. Svetol's multi-layered fat loss support seems like it s well suited for complexes. Combine it with other fat-loss ingredients, including other herbal fat burners like Garcinia Cambogia or Cayenne pepper extract.
General weight loss supplements. Furthermore, it balances blood sugar. Healthy blood sugar is key for overall health. The chlorogenic acids in green coffee bean extract inhibits glucose-6-phosphatase. This enzyme plays a part in blood glucose regulation.
Overall Health Supplements
This branded green coffee bean extract appears in single-ingredient procuts. However, it may also appear in complex supplements that emphasize overall wellness in addition to weight loss.
Naturex Svetol Brand Advantages
By utilizing the benefits of chlorogenic acids on weight management, Svetol provides multiple advantages for both supplement manufacturers and consumers:
Greater effectiveness: Its chlorogenic acid profile is highly bioavailable. As a result, its active ingredient reaches the bloodstream quickly. The body absorbs it more easily.
Contributes to weight management: By reducing glucose production and the absorption of glucose in the intestine, the body has to use stored fat for energy, which moderates BMI or body mass index.
Fewer effects: It comprises of less caffeine than a quarter cup of coffee. Therefore, it is absent the side effects that excess caffeine can produce, including increased anxiety, jitters, and insomnia.
Formula flexibility: Because it is used in various food and supplement applications
Certified: It is Kosher and Halal certified, as well as being recognized for its health advantages by the Korean Minister of Food & Drug Safety and Canadian Health Authorities.
Sourced from natural ingredients: This premium ingredient is sourced from premium beans of coffee canephora robusta pierre. Furthermore, the extraction process preserves the beans' identity.
Thorough quality testing: This extract is thoroughly tested for maximum quality, consistency and safety. As a result, consumers and manufacturers are ensured a pure, premium green coffee bean product.
Svetol Research
Human Research
Chlorogenic acids from green coffee bean extract are highly bioavailable in humans
In this study, researchers evaluated the bioavailability of Svetol chlorogenic acids in 10 healthy subjects. Researchers found that humans can easily absorb the major chlorogenic acid compounds, including caffeoylquinic acids and dicaffeoylquinic acids present in green coffee.
Therefore, researchers suggested that "the present study confirms that CQA and diCQA, which are major CGA compounds in coffee, are absorbed in the human body, being differentially absorbed and/or metabolized throughout the whole gastrointestinal tract".2
Svetol's bioavailability is higher than other green coffee bean extracts. As a result, it may have amplifed weight loss benefits.
Svetol 400 mg dose seems to help with weight loss and lean body mass composition
In this placebo controlled double-blind clinical study, researchers administered 30 overweight subjects 200 mg capsule of Svetol twice per day. In addition, 20 subjects received a placebo. Researchers reported a mean weight loss of 5.7 percent and an increase of 4 percent in lean to fat mass ratio in comparison to the placebo group. The placebo group had a reduction of 2.9 percent and an increase of 1.5 percent respectively.
In conclusion, researchers said that "due to its specific mechanism of action, Svetol® works as a fat burner".3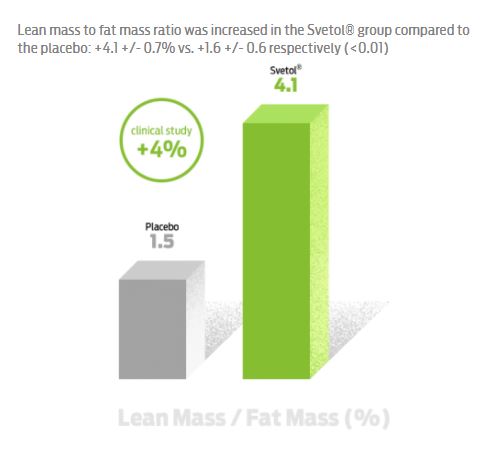 The inhibition of glucose-6-phosaphate by Svetol contributes to lowering glucose production
In this in vitro structure-activity relationship study, researchers studied the extract's CGAs' impact on blood glucose. In conclusion, researchers found that Svetol's caffeoylquinic and dicaffeoylquinic acids significantly inhibited glucose-6-phosphate hydrolysis in the liver.
As a result, rsearchers also suggested that "this inhibition by Svetol contributes to its anti-diabetic, glucose-lowering effects by reducing hepatic glucose production."4
Svetol Dosage
This extract comes in capsules or softgels; as a standalone supplement or as part of a larger stack.
400 mg dosage is ideal. Take daily for 2 months to achieve optimal results.
Standalone supplements may also supply lower dosages, such as 200 mg Svetol per serving
Complex weight loss supplements may supply Svetol at dosages ranging from 50 mg to 400 mg
Some weight loss supplements may use Svetol as part of a larger proprietary blend. However, these hide exact dosage from the consumer
Naturex says Svetol works best with healthy diet and exercise .
Svetol Side Effects
Multiple human studies have demonstrated Svetol's safety and tolerabiilty. This is especially relevant. Many other weight loss products have side effects.
Supplements in Review Recommendation
Svetol® 400mg, as part of a healthy weight management program
This weight management supplement is unique because it supplies an active chlorogenic acid complex. Look to buy it in general weight loss supplements and more intensive fat-burner style supplements. Here, it optimizes blood sugar for fat loss and lean body composition.
Does Svetol work? It does get some positive reviews from consumers, and has positive results from Naturex-funded studies. In conclusion, it seems like it may support weight loss. However, if it doesn't, at least you are taking a fat loss herb with a good safety and quality profile.