Animal Research
section" id="reducing-cholesterol-digestion-and-absorption">Reducing cholesterol digestion and absorption may be a cardiovascular and vegan-friendly alternative to animal protein supplements.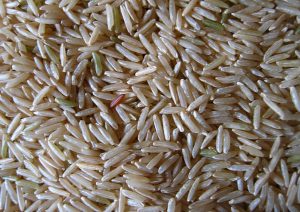 Rice protein is drawn from one of the most widely consumed foods in the world—brown rice. Although not a complete protein source, it offers such potential benefits as:
Supporting cardiovascular health. Rice protein has been found to reduce cholesterol levels in the blood.
O
Overview

ice is not only a staple cereal food, but also a major natural supplier of protein. Drawn from sprouted brown rice, rice protein is considered a rather niche source of protein.

Extracted rice protein contains a high amount of the amino acids cysteine and methionine, but is low in lysine and threonine.1 Pea protein, on the other hand, has the opposite concentrations of these amino acids, which is why pea and rice protein are frequently combined in supplements.

One of the advantageous characteristics of rice protein is its hypoallergenic nature.2 Unlike many other protein sources it carries no soy, gluten, or animal products, which makes it an ideal option both for vegetarians and people susceptible to food allergies. Finally, early research indicates that rice protein supplements may be as effective as whey at promoting muscle growth in conjunction with resistance training.

There are two principal methods for extracting rice protein: 3
Classical extraction with an alkaline followed by an acidic solution
Heating and degrading the starch portion with an enzyme known as α-amylase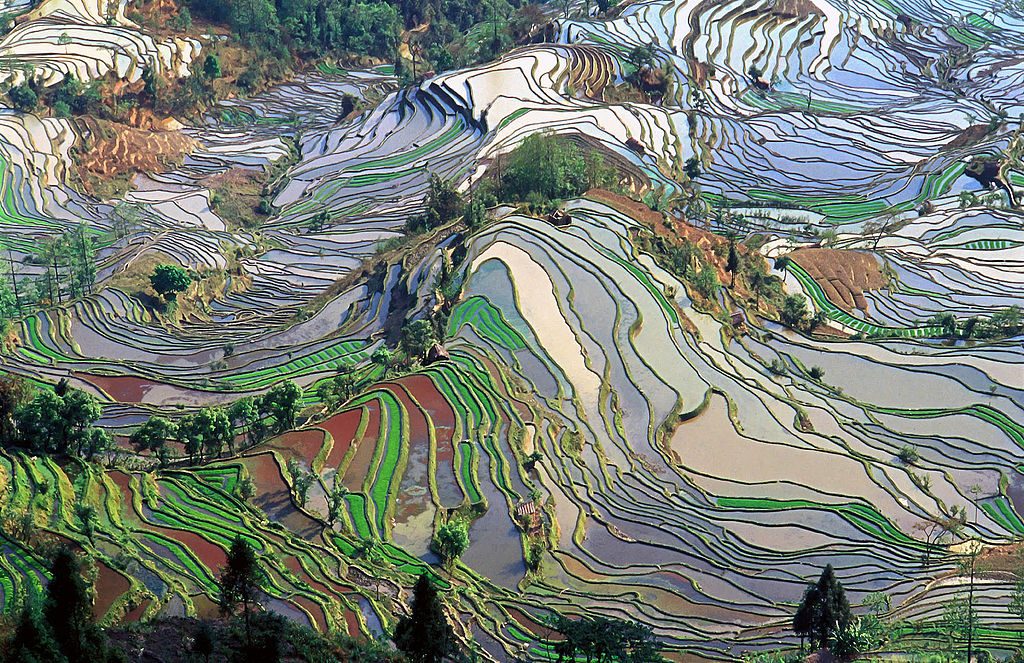 Rice Pr
Rice Protein's Beneficial Bio-Activities

ng cholesterol digestion and absorption

One of the major advantages of rice protein supplementation is its ability to lower cholesterol levels.4 Rice protein does so by adjusting the activity and gene expression of enzymes involved in cholesterol absorption in the small intestine:5
Increasing cholesterol 7α-hydroxylase, which minimizes cholesterol absorption
Decreasing cholesterol acyltransferase, which increases cholesterol absorption
Rice Prote
Rice Protein's Reputation & Benefits

ce protein is an alternative to animal-based protein supplements. Similar to pea, hemp, and soy protein, rice protein is vegetarian and vegan-friendly. In addition, it is considered hypoallergenic.6 7 Furthermore, rice protein may also be a good option for cardiovascular health because of its ability to lower blood cholesterol levels.8

Finally, research suggests that rice protein's amino acid profile is comparable to that of soy and whey – the two most popular protein supplement sources. This means that rice protein supplements may be effectively used as an alternative to these more popular proteins, especially in the context of maximizing muscle growth from resistance training.9 More on protein supplements.
Research
Research

search

Animal research highlights the capacity of rice protein to promote cardiovascular health.

Rice protein seems to reduce high levels of cholesterol

In this investigation, rats were fed a high-cholesterol diet containing either casein protein or rice protein for a period of 4 weeks. Indigestible protein and peptides formed by rice protein were found to bind to cholesterol, reduce its absorption, and increase its excretion. Thus, rats in the rice protein group had significantly lower total cholesterol compared to the casein protein group.
The study concluded that "the cholesterol-lowering action of rice protein was associated with increased fecal excretion of cholesterol and bile acids…"10
Rice protein may reduce body weight and fat levels
In this investigation, rats on a standard diet were supplemented with casein protein, rice protein extracted with alkaline, or rice protein extracted with α-amylase for 2 weeks. Compared to the casein group, rats in both rice groups had significantly reduced levels of glucose and lipids (fat) in the blood and liver, along with subsequent improvements in body weight and adiposity.
The study concluded that "the inhibition of cholesterol absorption, which is closely associated with the digestibility and the ratio of Arg/Lys, may be the main modulator responsible for the cholesterol-lowering action of rice protein."11
Human Research
Human Research0pt;">Early clinical research on rice protein, albeit limited, has demonstrated positive results.
Rice protein (48 g) may improve body composition and strength as effectively as whey
In this randomized, double-blind investigation, 24 males took either 48 grams of rice or whey protein isolate after resistance training 3 days a week for a total of 8 weeks. Similar improvements in lean body mass, strength, and power, as well as reductions in fat mass were observed in both the rice and whey protein groups.
The study concluded that "rice protein isolate consumption post resistance exercise decreases fat-mass and increases lean body mass, skeletal muscle hypertrophy, power and strength comparable to whey protein isolate."12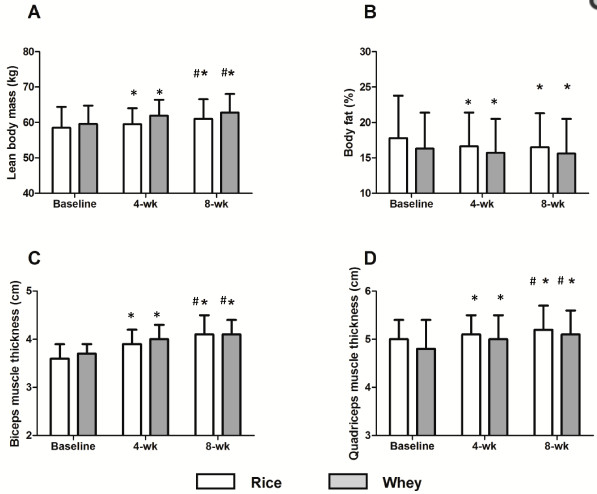 Rice Protein Dosage
Rice Protein Dosage

dies have used 10 – 50 g doses of rice protein
Rice protein powders provide approximately 8 – 20 g protein per scoop and are often fortified with the amino acids lysine and threonine
For sedentary individuals, consuming 0.8 g/kg protein body weight is recommended
For resistance training, 1.2- 1.5 g/kg is ideal for maximizing muscle growth
Supplements in Review SSupplements in Review Says-size: 14pt;">Rice protein powder containing 10 – 15 g protein, taken daily.

Rice protein is an effective vegetarian protein source. Rice protein seems to be an effective alternative to more popular protein sources given its cardiovascular and vegetarian-friendly benefits, as well as the ability to support muscle growth at levels comparable to whey.
Start with 10 – 15 g protein per scoop.  The ideal dose depends on your personal goals and needs, but 10 – 15 g is a good place to start.