Human Research
-section" id="vision-supplements">Vision Supplementstion" id="floraglo-preparation">FloraGLO preparationpt;">
FloraGLO® is the most clinically researched lutein supplement for increasing protective macular pigment in the eye.


FloraGLO is a lutein supplement extracted from marigold flowers. The supplement is highly regarded for the plethora of advantages it holds over other lutein supplements:
Patents. The preparation of FloraGLO relies on a proprietary method proven to make its bioavailability match that of natural lutein sources.
Clinical research. Nearly 100 clinical trials have demonstrated the effectiveness of FloraGLO supplementation for visual and cognitive health.
Safety. It is one of the most widely recommended lutein supplements in medical practices because of its potency and safety, including backing by the U.S. Food and Drug Administration (FDA).
Overview

FloraGLO is one of the most popular branded lutein supplements in the world. It was manufactured by Kemin Foods and has been widely considered the gold standard among similar vision supplements since its introduction into the global marketplace in the 1990s.

Lutein, along with zeaxanthin, are normally present in a layer of the eye known as macular pigment, which protects the rest of the eye from harmful blue light and oxidative stress. These carotenoids gradually deplete with age, so regular nourishment with sufficient amounts of lutein and zeaxanthin is critical. Lutein is easily accessible in everyday fruits and vegetables, especially dark, leafy greens such as kale and spinach.

In a similar fashion, FloraGLO offers a way to consume precise quantities of lutein with the same bioavailability as natural sources. A myriad of clinical studies have highlighted the capacity of FloraGLO to benefit eye health and improve vision. The U.S. National Eye Institute chose the supplement as its ingredient of choice in the largest lutein supplementation trial — the Age-Related Eye Disease Study 2 (AREDS2).

Beyond enhancing vision, FloraGLO has been associated with several other health benefits, ranging from supporting cognitive health and neural development to promoting healthy skin.
How Flora
How FloraGLO Works

ble and artificial light contain short wavelength, high-energy blue light that can pass through outer structures of the eye, contact the inner layer of the eye, and generate reactive oxygen species that may impair vision. FloraGLO can protect the retina from this type of damage through two mechanisms:
Absorbing blue light
Acting as an antioxidant to neutralize free radicals
Through these processes, FloraGLO serves as "internal sunglasses" that shields the eye from the negative consequences of excessive exposure to blue light and similar environmental pollutants.
Recent findings have also suggested that lutein may play a crucial role in cognitive development during childhood by increasing macular pigment optical density (MPOD) —  the measure of lutein status in the eye. Adequate MPOD has been tied to cognitive performance, memory, and academic performance. This benefit can further apply to older adults whose MPOD inherently falls with age and are thus more likely to experience declines in mental processing speed and working memory.
Did you know? FloraGLO is a purified form of marigold oleoresin, which is extracted from marigold flowers that are cultivated, handpicked, dried, and pelleted under Good Agricultural Practices (GAPs) in farms throughout India.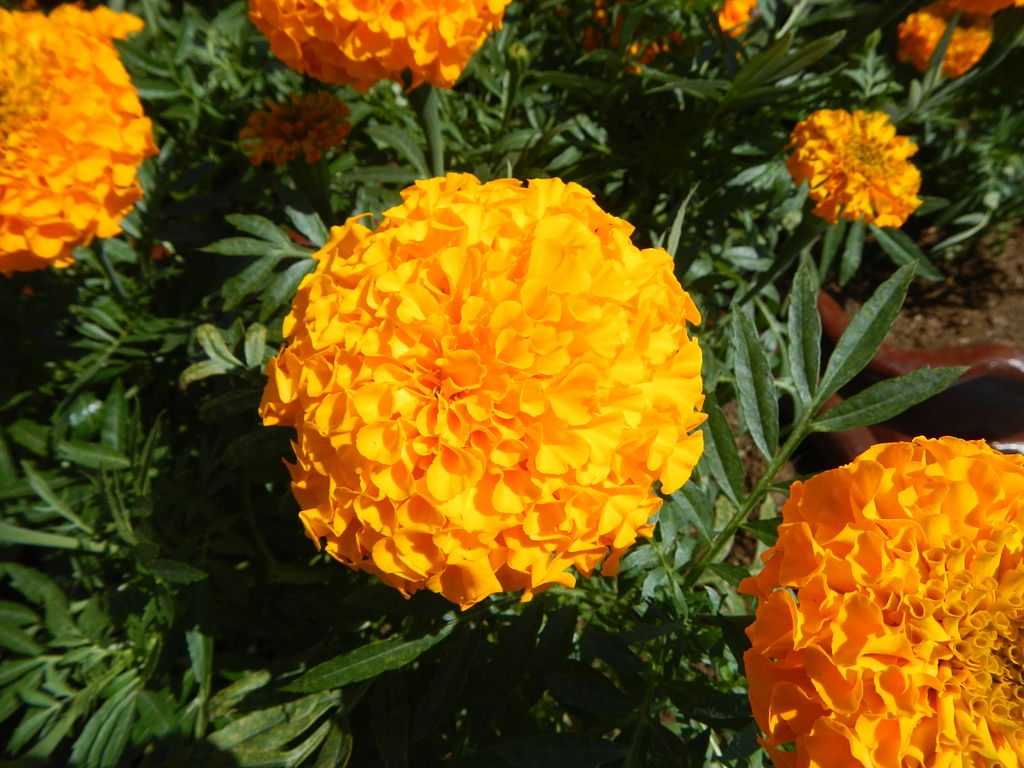 FloraGLO Patents
FloraGLO Patents

ation

The preparation of FloraGLO falls under U.S. Patent 6635293B2. Specifically, it involves a series of steps to form a stable composition of carotenoids in a liquid substance for use in foods, beverages, and personal care products.

A related patent (U.S. Patent 6663900B2) allows for the use of FloraGLO in the form of small tablets or capsules through proprietary microencapsulation technology. This process results in superior bioavailabity, stability, and very low extrusion losses. Kemin Foods has also submitted an application for another U.S. patent (20050037115A1) covering their method for preparing supplements by adding extremely small, scattered carotenoids to water in a process called nanodispersion.

FloraGLO for skin health.

Research has shown that taking 10 mg of FloraGLO per day can help improve skin elasticity by enhancing hydration and increasing the presence of lipids in the skin.

1
FloraGLO Nutritional
FloraGLO Nutritional Supplement Uses

h3>

FloraGLO is most commonly taken as a vision supplement. It boasts many benefits for eye health:
Helps prolong healthy vision with age
Improves vision sharpness
Mitigates eye fatigue
Promotes eye recovery after exposure to intense light
Shields eyes from blue light
These effects, among others, have backing from clinical research.
Nootropic Supplements
Nootropic Supplements

ry, FloraGLO may function like a nootropic for children, elderly, and adults who have a low dietary intake of lutein. For infant, the supplement may facilitate neural development and protection through its anti-inflammatory and antioxidant properties. For older adults with a low lutein intake, FloraGLO may support brain functions like processing speed and working memory, as well as safeguard the brain from oxidative stress and inflammation.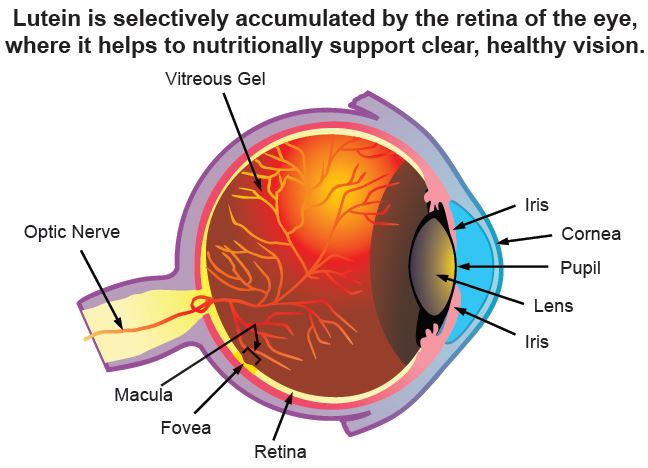 FloraGLO Advantages
FloraGLO Advantages
ange of advantages compared with other lutein supplements:
Clinical backing: Numerous studies have repeatedly verified the varied health benefits of FloraGLO.
Patents: Its preparation as both a liquid and a solid is patented.
Safety: FloraGLO is the only lutein brand with Generally Recognized as Safe (GRAS) FDA approval for use in food and drink as well as for use in prenatal and infant formulas.
Naturally sourced: FloraGLO is a purified form of lutein extracted from the marigold flower, unlike various other supplements that come as esterified lutein. This purified lutein matches the bioavailability of natural lutein.
Wholesome: The supplement is kosher, halal, non-allergenic, gluten-free, and contains no genetically modified organisms (GMOs).
FloraGLO Research
Huma
FloraGLO Research

re approximately 100 clinical trials that have evaluated the potential health benefits of FloraGLO, from improving vision, cognitive function, and skin health, to combating oxidative stress. The majority of these studies have demonstrated the positive effects of FloraGLO on eye health, including a large-scale, randomized, controlled study led by the U.S. National Institute of Health (NIH). A small selection from this collection of clinical research is detailed below.

FloraGLO lutein appears to reduce risk of progression of age-related macular degeneration

This highly-cited randomized, double-blind, placebo-controlled study was a follow-up to the Age-Related Eye Disease Study (AREDS). The original AREDS formula (vitamin C & E, beta carotene, zinc) was demonstrated to reduce the risk of age-related macular degeneration (AMD), and the researchers tested the effects of adding lutein (FloraGLO) and zeaxanthin and other nutrients to the formula, particularly as a replacement for beta carotene.

A total of 4203 people with AMD aged 50 to 85 were given the original or one of four modified AREDS formulations, demonstrating that the addition of lutein and zeaxanthin did not further increase the effectiveness of the formula.
The researchers concluded that "Addition of lutein + zeaxanthin, DHA + EPA, or both to the AREDS formulation in primary analyses did not further reduce risk of progression to advanced AMD." 2
FloraGLO (10 mg) may enhance visual acuity, contrast sensitivity, and glare recovery
In this double-blinded, randomized, placebo-controlled study, 90 patients with age-related macular degeneration (ARMD) took 10 mg of lutein, 10 mg of lutein plus vitamins and minerals, or a placebo every day for 12 months. Compared with the placebo, lutein alone or when combined with vitamins and minerals led to increases in eye macular pigment optical density, visual acuity, contrast sensitivity, and glare recovery.
The researchers concluded that "visual function is improved with lutein alone or lutein together with other nutrients."3
FLoraGLO lutein plus zeaxanthin (12 mg) supplementation may improve cognitive function in older adults
This randomized, double-blind, placebo-controlled study evaluated the brain benefits of supplementing lutein (FloraGLO) and zeaxanthin in the elderly. A total of 62 older adults were given placebo or lutein and zeaxanthin (12 mg). Compared to placebo, L+Z supplementation significantly improved attention and other cognitive flexibility, and also enhanced MPOD.
The researchers concluded that "Supplementation with L+Z improved cognitive function in community-dwelling, older men and women." 4
FloraGLO (3, 10, 20 mg) may improve visual function
This study compared the effect of various combinations of carotenoids on vision. The 52 participants took one of several multi-ingredient supplements including lutein every day for 12 months: 20 mg of lutein and 2 mg of zeaxanthin; 10 mg of meso-zeaxanthin, 10 mg of lutein, and 2 mg of zeaxathin; or 17 mg of meso-zeaxanthin, 3 mg of lutein, and 2 mg of zeaxanthin. There were increases in macular pigment optical density in all groups. There were also statistically significant improvements in letter contrast sensitivity.
The researchers concluded that "augmentation of the macular pigment optical density across its spatial profile and enhancements in contrast sensitivity were best achieved after supplementation with a formulation containing high doses of meso-zeaxanthin in combination with lutein and zeaxanthin."5
FloraGLO (12 mg) may minimize vision loss in people with retinitis pigmentosa
In this double-blinded, randomized, placebo-controlled study, 225 patients with retinitis pigmentosa took either a placebo or 12 mg of lutein every day throughout a 4-year period. All of the patients also received 15,000 International Units of vitamin A per day. The lutein group experienced less vision sensitivity loss and a greater increase in macular pigment optical density than the control group did. The differences were statistically significant.
The researchers concluded that "lutein supplementation of 12 mg/d slowed loss of midperipheral visual field on average among nonsmoking adults with retinitis pigmentosa."6
FloraGLO may protect newborns against oxidative stress
In this randomized, double-blinded, placebo-controlled study, 20 healthy newborns received either a placebo or lutein at 12 and 25 hours after birth. There was a significantly higher amount of total hydroperoxides (a marker of oxidative stress) in the control group compared with the lutein group. In addition, the lutein group had a statistically significant increase in antioxidant potential compared with the control group at 48 hours after birth.
The researchers concluded that "lutein administration in newborns increases the levels of biological antioxidant potential decreasing total hydroperoxides. The enhancement of antioxidant activity in plasma clearly results in protecting newborn from perinatal oxidative stress."7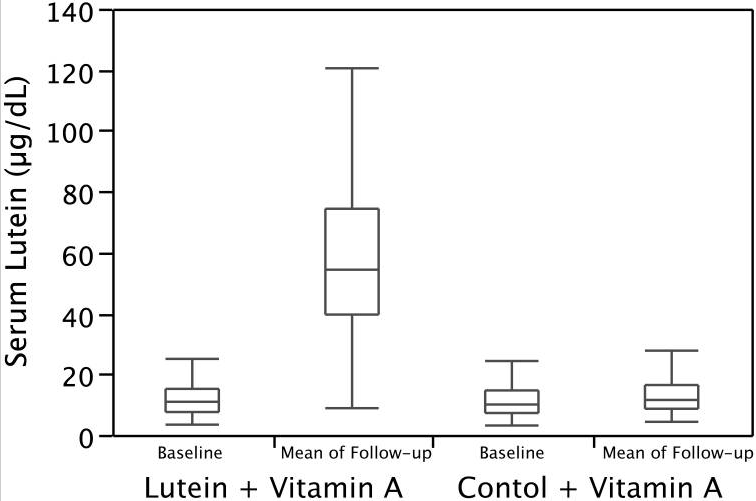 FloraGLO (12 mg) may help improve verbal fluency, memory, and learning in older adults
In this randomized, double-blinded, placebo-controlled investigation, 49 women between 60 and 80 years old took 800 mg of docosahexaenoic acid (DHA), 12 mg of lutein, a combination of DHA and lutein, or a placebo every day for 4 months. The DHA, lutein, and combined supplement groups all demonstrated statistically significant increases in verbal fluency scores compared with the placebo. The combined group also demonstrated statistically significant improvements in memory scores and rate of learning.
The researchers concluded that "lutein supplementation may have cognitive benefit for older adults."8
FloraGLO Dosage
Cli

FloraGLO Dosage

daily serving sizes ranging from 1.7 – 40 mg.
Most standalone FloraGLO supplements are available in 20 mg doses.
Multi-ingredient formulas also provide 20 mg daily doses of FloraGLO with varying amounts of zeaxanthin.
Supplements in Review RecommSupplements in Review Recommendation>
FloraGLO is the most clinically supported lutein supplement. We recommend FloraGLO as the premier lutein supplement because of the extensive amount of research backing its efficacy. Its primary use as a vision supplement has been corroborated by large-scale clinical trial that included participants from medical centers all throughout the U.S. The supplement has also shown to be capable of benefitting cognitive function and skin health.
Take 20 mg of FloraGLO daily. Clinical studies have used serving sizes as low as 1.7 mg of FloraGLO, but the general consensus among suppliers is to use 20 mg of the supplement per day in order to maximize its ability to protect the eye from harmful blue light and free radicals.