L-OptiZinc® is a patented zinc ingredient with superior absorption.


L-OptiZinc (zinc mono-L-methionine) is a branded form of zinc, a mineral needed to maintain good health. This OptiZinc review details its advantages over plain zinc supplements:
Patented. OptiZinc's 1:1 combination of zinc and amino acid l-methionine is protected by multiple patents.
Bioavailable. OptiZinc has superior absorption and retention to other forms of zinc, which is the most important consideration when supplementing this mineral.
Potent. Research suggests that zinc methionine has stronger antioxidant activity than other forms of zinc.
Overview
L-OptiZinc (zinc mono-L-methionine) is a patented, chelated form of trace mineral zinc made by InterHealth. Zinc is an essential nutrient used by over 300 different enzymes and is particularly recognized for its role in antioxidant protection, immunity, testosterone production, vision, and brain health.
L-OptiZinc's key feature is that it combines zinc with the amino acid L-methionine in a 1:1 complex to enhance absorption. This not only allows the zinc to enter the bloodstream in higher concentrations, but also be retained for longer.
These effects of zinc methionine are backed by scientific research demonstrating better bioavailability and antioxidant activity compared to forms used by most zinc supplements, such as zinc oxide, zinc polyascorbate, and zinc sulfate. As one review of zinc methionine concluded, "Zn-Met possesses a wide range of antioxidant and immune-enhancing properties with superior bioavailability." 1
OptiZinc contains 20% elemental zinc, which is a measure of how much zinc is present by weight.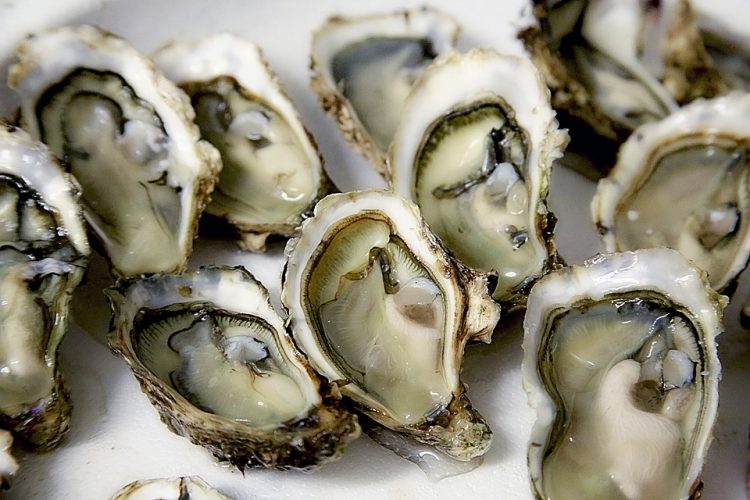 L-OptiZinc Patents
Optizinc is protected by U.S. and worldwide patents:
Formula patents describing the preparation of OptiZinc's 1:1 zinc methionine complex, where zinc sulfate and methionine are heated in a reaction mixture to create a chelated mineral form of zinc (U.S. Patent 3941818, 5278329)
A patent covering the use of OptiZinc in dietary supplements for improving health through providing a readily absorbed form of zinc (U.S. Patent 4021569)
L-OptiZinc Nutritional Supplement Uses
L-OptiZinc is most commonly used in standalone supplements as a means to increase zinc levels and avoid deficiency, especially in older adults. Because zinc has many different roles in the human body, OptiZinc can be utilized in:
Immune System Supplements
One of the most common reasons people supplement zinc is to enhance immune system function. It is a well-established fact that zinc is required for optimal immune function, and clinical research indicates that supplementing with zinc can reduce the duration of cold infections and boost immunity in older adults. In addition,  OptiZinc is also sometimes combined with other immunity-boosting ingredients such as vitamin D and AHCC.
Multivitamin Supplements
Because vitamins and minerals are usually taken as part of a multivitamin—the most popular type of dietary supplement worldwide—OptiZinc is frequently found in such products.
Read more: Zinc in multivitamins
In addition to the above, OptiZinc can also be used in:
Testosterone boosters, because zinc is required to produce testosterone and plays other roles in male reproductive health
Nootropics, because zinc is involved in brain function and has neuroprotective qualities
Vision supplements, because zinc is highly concentrated in the eyes and known to help protect them from age-related disorders such as macular degeneration
Skin health supplements, because zinc helps repair tissue, and may be effective for common skin concerns such as acne
Read more: Zinc as a testosterone booster
L-OptiZinc Advantages
L-Optizinc is superior to generic forms of zinc, such as zinc oxide, polyascorbate, sulfate, gluconate, citrate, and oxide, thanks to several advantages:
Patents: OptiZinc is a proprietary ingredient protected by multiple patents, which cover its unique formula, preparation, and use in dietary supplements.
Absorption: Research studies have shown that zinc monomethionine is better absorbed than generic forms of zinc such as zinc oxide, zinc polyascorbate, and zinc sulfate. In addition, it may also be retained in the body longer.
Antioxidant potency: Zinc mono-methionine displayed the strongest antioxidant activity of all tested zinc forms in cell culture and animal studies.
L-OptiZinc Research
Animal & Petri Dish Research
Zinc methionine – the same form of zinc used by OptiZinc – has been documented to have:
Superior bioavailability to zinc sulfate in chicks, with as much as 208% better absorption 2
Human Research
Zinc methionine appears to be better absorbed than zinc sulfate or polyascorbate
This study compared the absorption zinc methionine with two other forms commonly found in supplements – zinc sulfate and zinc polyascorbate. Nine people were given one of the 3 zinc forms (each containing 25 mg of elemental zinc) without food. The methionine form was found to be the most effective, resulting in 16% higher blood zinc levels than zinc polyascorbate and 25% higher than zinc sulfate 4 hours after ingestion.
The researchers concluded that "In the absence of a meal there was a greater plasma AUC with zinc methionine than with zinc sulfate, suggesting a better absorption of the former under those circumstances." 5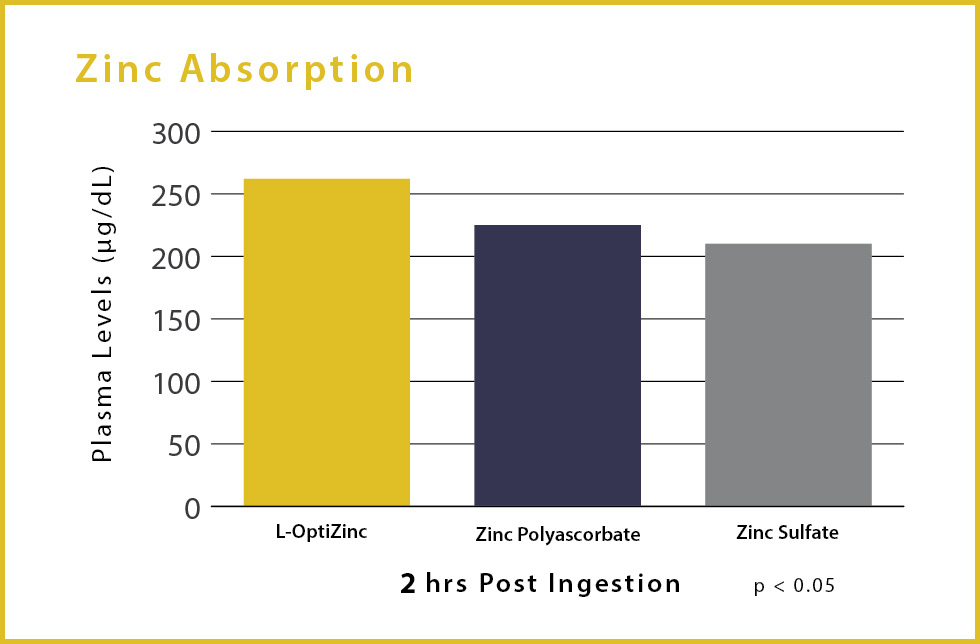 L-OptiZinc Dosage
The recommended daily intake of zinc is 8 mg for women and 11 mg for men
L-OptiZinc as a standalone supplement is usually presented in tablet or capsule dosages containing 30-50 mg zinc
Multivitamins and other multi-ingredient supplements typically contain Optizinc dosages of 12-15 mg
Did you know?
Zinc is a key component of the research-backed
AREDS formula
, which is used to protect the eyes from age-related macular degeneration (AMD).
Supplements in Review Recommendation
L-OptiZinc is the superior form of zinc for absorption. If you want to be absolutely sure the zinc supplement you're taking effectively raises your zinc levels, then OptiZinc is a good choice, as it is backed by patents and scientific research suggesting superior zinc absorption and retention.
Doses of up to 30 mg should be sufficient. If you're concerned about your zinc levels, then the 30 mg dose is enough to be absolutely sure you're getting enough. Otherwise, you should consider taking lower amounts, especially when combined with other ingredients.