Human Research
ze: 18pt;">
Superba Krill® is an environmentally-friendly, high-quality, clinically-researched krill oil ingredient.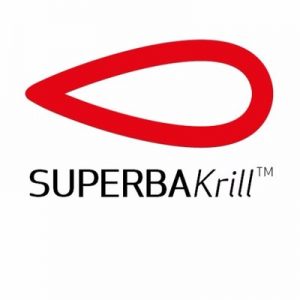 Superba Krill is a patented type of krill oil. Similar to fish oil, krill oil is used as a source of omega 3 fatty acids that play an essential role in human health. This Superba Krill review details its advantages over plain omega-3 supplements:
Eco-friendly. Superba uses sustainable krill harvesting practices that help protect the planet and preserve natural resources for future generations.
Clinically-backed. Superba's benefits and efficacy are supported by multiple clinical studies.
High quality. Aker BioMarine is the world leader in krill harvesting and ingredients, known for innovative technology and a commitment to sustainability.
<
Overview
Superba Krill is a branded type of krill oil, a popular source of omega-3 fatty acids, made by Norwegian company Aker BioMarine. Omega-3s – most notably eicosapentaenoic acid (EPA) and docosahexanoic acid (DHA) – are essential nutrients with important roles in our health. Omega-3 fatty acids are abundant in seafood, and are typically sourced from fish and krill oil.
Like all krill oil supplements, Superba Krill is sourced from Antarctic krill (Euphausia superba) found in the Southern Ocean, and contains phospholipids, choline and astaxanthin – important compounds not present in fish oil. Astaxanthin is an antioxidant carotenoid widely recognized for its vision benefits.
Meanwhile, the phospholipids are particularly important because they enhance the absorption of Superba, making it more effective than fish oil. Furthermore, Superba also stands out from generic krill oil supplements because it is harvested in an environmentally-friendly way, highlighted by:
Patented Eco-Harvesting technology that reduces by-catch to almost zero
Partnership with WWF Norway and WWF Australia to further improve krill harvesting practices
Marine Stewardship Council (MSC) certification demonstrating 100% sustainability and traceability
"A" rating for krill fishery by the Sustainable Fisheries Partnership

Superba Krill comes in two specialized forms: Superba 2, and Superba Boost. Superba 2 represents the next generation of krill oil supplements with improved taste and smell. Meanwhile, Superba Boost is a krill oil concentrate that uses patented Flexitech technology to filter out more of the unwanted compounds such as salts, and increase the levels of omega-3s and choline, resulting in smaller, yet more potent capsules.
Did you know?
One of the main type of phospholipid present in krill oil is called
phosphatidylcholine
, which is recognized for its nootropic effects.
1
S
Superba Krill Patents

uperba Krill is protected by dozens of worldwide and U.S. patents,  highlighting its innovative technology.
Su
Superba Krill oil production

ese four patents (U.S. patents 9034388, 9028877, 9072752, and 9078905) cover the processes through which Superba is harvested, manufactured, and processed. These patents describe the general process of making Superba:
Antarctic krill (Euphausia superba) is denatured to inactivate enzymes
Cooked and dried krill is used to produce krill meal
Next, the neutral lipids (fats) are removed
Finally, the krill oil is extracted and ready to be used in supplements
These patents also describe Aker's proprietary Flexitech™ technology, which increases the concentration of omega-3s and other beneficial compounds in krill oil, while removing salts that can lead to poor odor and taste.
Use
Use of Superba for risk factors of health disorders

patent protects the uses of Superba krill oil to alleviate risk factors of metabolic, cardiovascular, and inflammatory disorders, such as reducing elevated triglycerides and other lipids (fats), improving EPA and DHA levels, reducing inflammation, improving fatty liver, and more. (U.S. Patent 9220735).

Did you know? Calamarine

is another prominent example of a high-quality, sustainable omega-3 ingredient produced by a Norwegian company.
Supe
Superba Krill Nutritional Supplement Uses

rba Krill can be sold by itself as a standalone krill oil supplement, or incorporated as an ingredient in complex formulas. Similar to other sources of omega-3 fatty acids, Superba has a wide range of research-backed uses: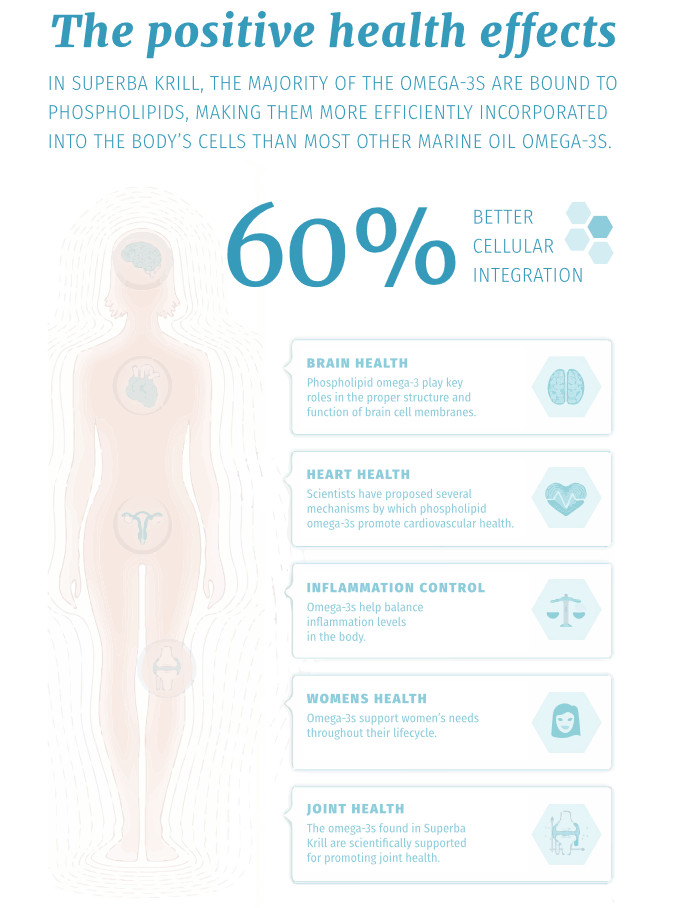 Did you know? Aker BioMarine's commitment to the environment is highlighted by their participation in a recent study examining the environmental impacts of krill fishing. 2
Supe
Superba Krill Advantages

rba Krill has numerous advantages over generic fish oil & krill oil supplements:
Eco-friendly: Superba is ideal for environmentally-conscious consumers because it is  harvested in a way that minimizes environmental impact and promotes sustainability.
Clinical Research: Superba Krill has been examined in several clinical studies, confirming that it effectively raises the body's omega-3 levels.
High quality: Aker BioMarine is known for its innovation and quality, highlighted by achievements such as receiving the prestigious 19th annual (2017) NutrAward for best new ingredient for Superba Boost.
Better than fish oil: Superba Krill has better absorption than fish oil because its delivery ingredient (phospholipids) is more effective at delivering omega-3s than fish oil's triglycerides. This also means that you can use smaller doses of krill oil to get the same benefits as fish oil.
Side-effect free: Superba does not cause the digestive side effects associated with fish and krill oil, such as acid reflux and burps.
Super
Superba Krill Research

n Research

Human studies of Superba Krill confirm that it has the same benefits as other sources of omega-3s, and that it effectively raises blood omega-3 levels, with better absorption than fish oil. For more information on the research-backed benefits of omega 3 fatty acids, check out this NIH page.

Superba krill oil (0.5-4 g) appears to reduce blood triglyceride levels

This double-blind, randomized, placebo-controlled study examined the effects of Superba krill oil on blood triglyceride (TG) levels, a risk factor for cardiovascular health. A total of 300 people with high blood TG were given placebo placebo oil, or 0.5, 1, 2, or 4 g krill oil daily. Compared to placebo, people given krill oil experienced an average 10.2% reduction of blood TG levels.
The researchers concluded that "…krill oil is effective in reducing a cardiovascular risk factor." 3
Superba krill oil (2 g) is a safe and effective way to raise omega-3 levels
This randomized, double-blind study tested the ability of Superba krill to increase omega-3 (EPA & DHA) levels in 76 obese people. They were given krill oil (2 g), fish oil, or control (olive) oil daily for 4 weeks. Both krill oil and fish oil resulted in significant increases in blood EPA and DHA levels, whereas olive oil had no effect. In addition, the study did not find any side effects with krill oil supplementation.
The researchers concluded that "…4 weeks of krill oil supplementation increased plasma EPA and DHA and was well tolerated…" 4
Superba krill oil has similar efficacy to fish oil, but requires smaller doses
This study compared the effectiveness of Superba krill oil with fish oil. A total of 113 people were divided into 3 groups: control (no supplement),  krill oil (543 mg EPA + DHA total) or fish oil (864 mg mg EPA + DHA total) daily for 7 weeks. Both oil groups resulted in similar increases in blood EPA and DHA levels, suggesting that krill oil has better absorption and bioavailability than fish oil.
The researchers concluded that "Krill oil and fish oil thus represent comparable dietary sources of n-3 PUFAs, even if the EPA + DHA dose in the krill oil was 62.8% of that in the fish oil." 5
Krill
Krill oil, endocannabinoids, and obesity

nt study of Superba krill oil in overweight & obese individuals showed that it can reduce the levels of 2-AG – one of the main endocannabinoids naturally produced in the human body. 6

Cutting edge research suggests that an overactive endocannabinoid system – marked by increased levels of endocannabinoids – can play a part in fat gain and the development of obesity. As such, reducing the body's production of encocannabinoids such as 2-AG may be a novel way to help fight obesity and its related complications, such as high blood pressure.
Superb
Superba Krill Dosage

Positive clinical research has used Superba Krill in a variety of dosages, although 2 g is the most common
Standalone krill oil supplements usually supply 1 g dosages of Superba
Supplements in Review Recommendation
Superba Krill® Oil, 1-2 g.

Superba Krill is one of the best best options for krill and omega-3 supplements. Superba is widely recognized for its sustainable, environmentally-friendly harvesting and production, advanced technology, clinical research, and high quality.
Dosages of 1-2 g are ideal. Two grams of Superba Krill oil is the most common dosage used in research, and most supplements suggest taking 1-2 g daily.