Vitamin C is present in multivitamins for its roles in immune function and helping maintain healthy bones, teeth, and skin.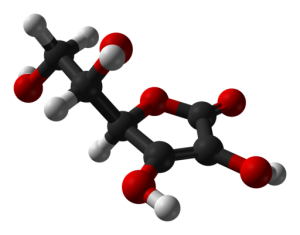 Vitamin C is a water-soluble nutrient that assists a wide variety of fundamental processes in the body. It is best recognized for its roles in:
Collagen production. Vitamin C is needed for the production of collagen, a key component of connective tissue.
Antioxidant activity. Vitamin C helps protect the body from oxidative stress.
Immunity. Vitamin C's antioxidant qualities are particularly important for proper immune cell function.
Overview
Vitamin C, also referred to as ascorbic acid, is an essential nutrient because unlike most animals, humans are not able to produce it. The vitamin is readily available in large quantities in citrus fruits, sweet red peppers, tomatoes, and many other fruits and vegetables.
Although scientific research has yet to validate the overwhelmingly popular belief that vitamin C is a great way to fight colds, is it known for having a wide range of critical biological functions related to the well-being of the skin, bones, teeth, heart, and immune system.
Its critical importance has led to the widespread enrichment and fortification of foods with vitamin C. The vitamin is also commonly sold as a dietary supplement and frequently added as a boost to drinks, juices, and multivitamin formulations.
Did you know?
 In centuries past, citrus fruits were needed for people embarking on long sea voyages in order to prevent 
scurvy
 – a condition caused by vitamin C deficiency.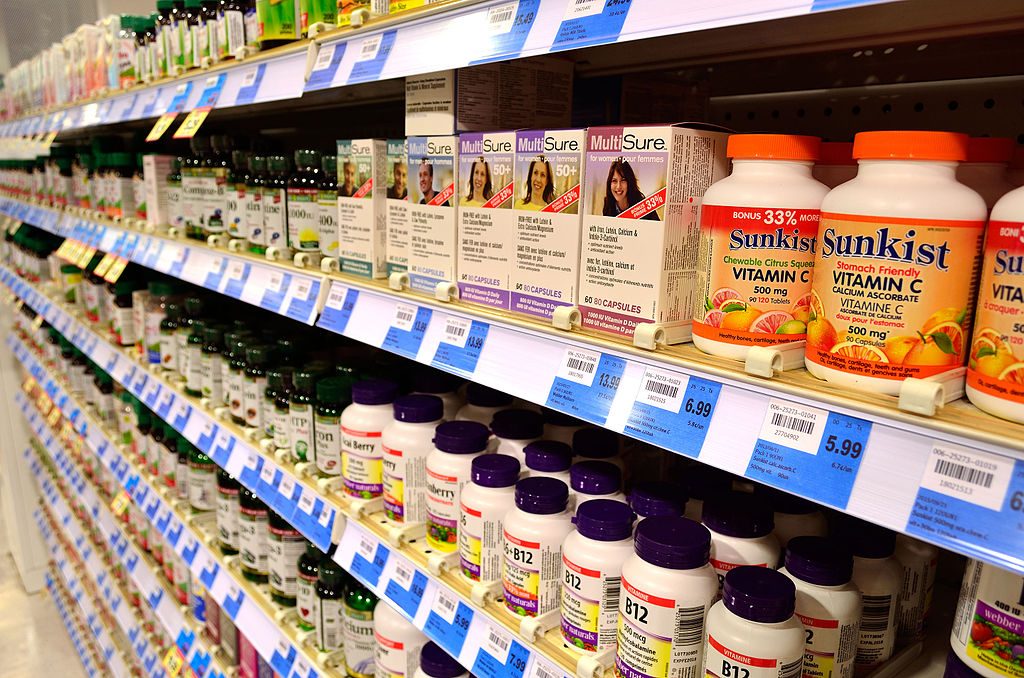 Recommended Dietary Allowances (RDAs) for Vitamin C
| | | |
| --- | --- | --- |
| Age | Males | Females |
| 0 – 12 months | 40 – 50 mg | 40 – 50 mg |
| 1 – 8 years | 15 – 25 mg | 15 – 25 mg |
| 9 – 13 years | 45 mg | 45 mg |
| 14 – 18 years | 75 mg | 65 mg (80 mg for pregnancy, 115 mg for breast-feeding) |
| 19+ | 90 mg | 75 mg (85 mg for pregnancy, 120 mg for breast-feeding) |
Foods High in Vitamin C
| | | |
| --- | --- | --- |
| Food | Serving Size | Amount per serving (mg) |
| Sweet red peppers (raw) | ½ cup | 95 |
| Orange juice | ¾ cup | 93 |
| Kiwi (gold) | 6 ounces | 91 |
| Strawberries | 1 cup | 85 |
|  Broccoli (cooked) |  ½ cup | 51 |
|  Potato | 1 medium | 17 |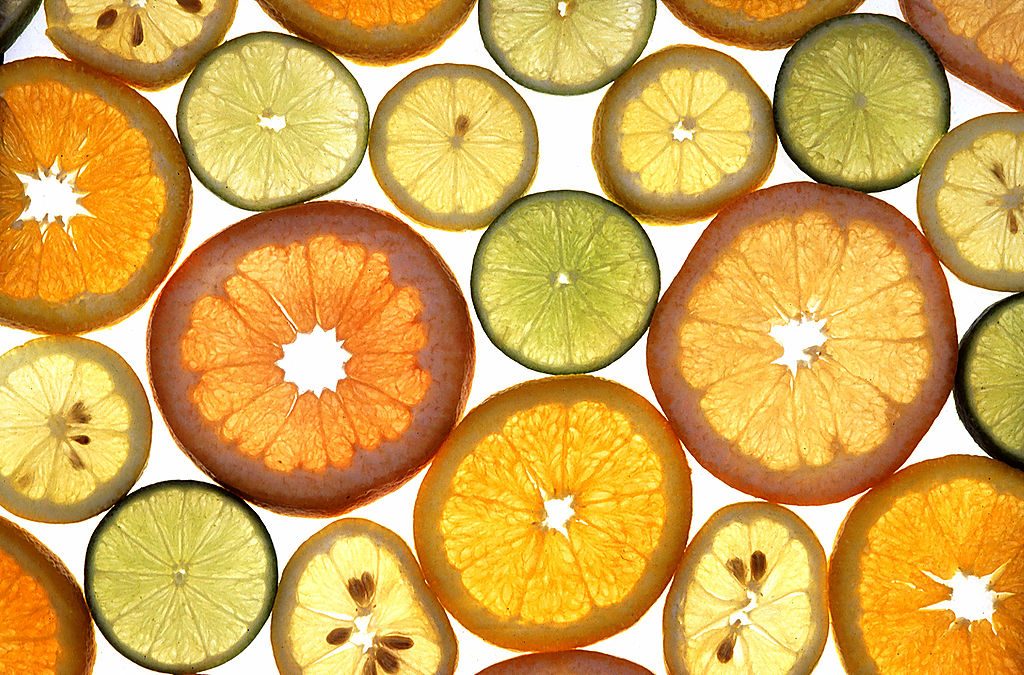 How Vitamin C Supports General Health
Biomolecule synthesis
Vitamin C facilitates the synthesis of several core biomolecules1:
Collagen is central structural piece of connective tissue (ligaments, tendons, cartilage, bone) and plays a principal role in wound healing.2
L-carnitine is an amino acid that converts fat into energy for the body. Beyond energy production, L-carnitine has been purported to boost testosterone levels and have nootropic effects.
Neurotransmitters, including epinephrine, norepinephrine, and dopamine, require vitamin C for synthesis.
Antioxidant activity
As a potent antioxidant, vitamin C exerts a protective effect on proteins, carbohydrates, lipids, and nucleic acids (DNA and RNA) from harmful free radicals and other toxins.3 Furthermore, it's antioxidant qualities are essential to the proper functioning of the immune system. In addition, vitamin C has been demonstrated to help regenerate other natural antioxidants, notably vitamin E.4
Vitamin C's Benefits as a Multivitamin
Although deficiency in vitamin C is extremely rare today, especially due to food enrichment, one study suggests that its intake in the U.S. is still roughly 25% below the recommended daily requirement.5 As such, taking a multivitamin with vitamin C is a good way to make sure that your intake is sufficient to support its essential roles in tissue health, immunity, and more.
In addition, vitamin C supplementation may have additional benefits such as:
Reduced risk of coronary problems6
Shorter duration of colds, although it may not necessarily prevent them7
Vitamin C enhances iron absorption. The intestines are best able to absorb iron from food when combined with vitamin C.
Multivitamin Dosage
Multivitamins typically provide at least 60 mg doses of vitamin C.
As much as 10 g (10,000 mg) of vitamin C per day may be taken with little risk of adverse side effects.
Supplements in Review Says
Vitamin C 400 mg as part of a multivitamin.

Vitamin C is essential to good health. Vitamin C is needed for the growth and repair of bones, teeth, and skin, and its antioxidant qualities help protect the body from oxidative stress and keep the immune system working properly.
Take 400 mg of vitamin C daily. This dose has been shown to maximally saturate the body's vitamin C levels, ensuring that you get the maximum effect out of this vital nutrient.
Erdman JW, et al. International Life Sciences Institute. Present knowledge in nutrition. 10th ed. Ames, Iowa: International Life Sciences Institute; 2012. ↩
Li Y, et al. New developments and novel therapeutic perspectives for vitamin C. J Nutr 2007;137:2171-84. ↩
Frei B, et al. Ascorbate is an outstanding antioxidant in human blood plasma. Proc Natl Acad Sci U S A 1989;86:6377-81. ↩
Jacob RA, et al. Vitamin C function and status in chronic disease. Nutr Clin Care 2002;5:66-74. ↩
Fulgoni VL, et al. Foods, Fortificants, and Supplements: Where Do Americans Get Their Nutrients? J Nutr. 2011 Oct;141(10):1847-54. ↩
Gokce N, et al. Long-term ascorbic acid administration reverses endothelial vasomotor dysfunction in patients with coronary artery disease. Circulation. 1999;99(25):3234-40. ↩
Hemila H, et al. Vitamin C for preventing and treating the common cold. Cochrane database of systematic reviews. 2013;1:CD000980. ↩