Bark from the Magnolia officinalis tree may help relieve stress, particularly through lowering anxiety.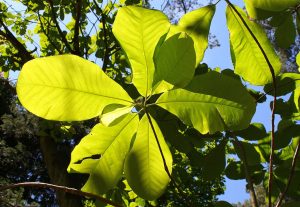 The bark of Magnolia officinalis trees has long been used for its medicinal qualities. It may assist stress relief by:
Reducing anxiety. The anxiolytic effects of magnolia stem from its stimulation of GABA neurotransmission.
Activating cannabinoid receptors. Magnolia is capable of triggering cannabinoid receptors, which may reduce pain and enhance mood.
Overview
Native to the mountains and valleys of China, Magnolia officinalis is a deciduous tree known for its fragrant white flowers and thick bark.
In traditional Chinese medicine, magnolia is used for its antibacterial, anti-inflammatory, and anti-allergic properties, as well as its potential nootropic effects (more on magnolia as a nootropic).
Medical research is now beginning to unveil magnolia's capacity to reduce anxiety, combat depression, and even curb memory impairment, which collectively, may help alleviate stress.
Did you know?
The antioxidant activity of honokiol and magnolol – two of the main active ingredients in magnolia – is suggested to be several times more potent than that of
vitamin E
.
1
How Magnolia Officinalis Might Help With Stress
Two of the most prominent bioactive ingredients in magnolia are magnolol and honokiol, both of which are believed to facilitate stress relief to varying degrees by:
Promoting GABA neurotransmission
Magnolol and honokiol are capable of increasing GABA neurotransmission as well as enhancing the activity of GABAA receptors.2 GABA activation has been well-documented as an effective way to reduce anxiety.
Activating cannabinoid receptors
Acting on cannabinoid (CB) receptors is another means by which magnolol and honokiol may potentially help reduce stress.3
Magnolol is a potent partial agonist for CB2 receptors, which promote analgesic effects.5
Check out our CBD page for more information on how cannabinoids may alleviate stress.

Magnolia Officinalis Benefits & Uses for Stress
Magnolia officinalis seems to be an effective stress reliever, specifically by:
Reducing anxiety6
Enhancing mood
Important to mention, however, is that most clinical studies base their results on the impact of magnolia combined with other supplements.
Research
Animal Research
Research on rodents has demonstrated magnolia's potential to combat anxiety and depression.
4-O-methylhonokiol from magnolia may have anxiolytic effects on mice
In this study, mice were treated with 4-O-methylhonokiol, an ingredient in magnolia, at 0.1, 0.2, and 0.5 mg per kg of bodyweight every day for 1 week. The mice demonstrated improved performance on anxiety tests, and an increased expression of GABAA receptors was noted.
The study concluded that "4-O-methylhonokiol may have anxiolytic-like effects."9
Honokiol and magnolol from magnolia seems to reduce stress and depression in mice
In this study, mice were given a mixture of honokiol and magnolol and observed throughout a series of conditions that simulate stress and depression, including the chronic mild stress (CST) model. Mice taking honokiol and magnolol improved performance on the tests as well as reduced the concentration of the previously elevated stress hormone, corticosterone. The ingredients were also found to influence serotonin levels.
The study concluded that "the mixture of honokiol and magnolol possessed potent antidepressant-like properties."10
Honokiol from magnolia may reduce anxiety without inducing sedation in mice
In this study, mice were given a honokiol at 0.2, 0.5, or 20 mg per kg of bodyweight for 7 days while undergoing a stress test. Honokiol administration at all of the doses was found to instill an anxiolytic effect.
The study concluded that "honokiol selectively induces an anxiolytic effect"11
Human Research
Practically all of the clinical studies conducted thus far use Magnolia officinalis in conjunction with other ingredients, which makes it a challenge to evaluate its true, isolated effects.
Magnolia as Relora® (500 mg) seems to reduce stress and related symptoms
In this randomized placebo-controlled, double-blind design investigation, 56 adults were given either a placebo or 250 mg Relora®—a combination of magnolia and phellodendron standardized to 1.5% honokiol produced by Next Pharmaceuticals—with both breakfast and dinner every day for 4 weeks. The Relora® group was found to have significantly lower cortisol exposure (−18%), overall stress (−11%), tension (−13%), depression (−20%), anger (−42%), fatigue (−31%), and confusion (−27%), as well as a higher mood state (+11%) and vigor (+18%) compared to the placebo group.
The study concluded that "the present study indicates a significant "anti-stress" benefit of magnolia/phellodendron bark (Relora) supplementation in moderately stressed non-athletes, and suggests a possible benefit for athletes to recover from "training stress" induced by the physical and psychological demands of competition and training."12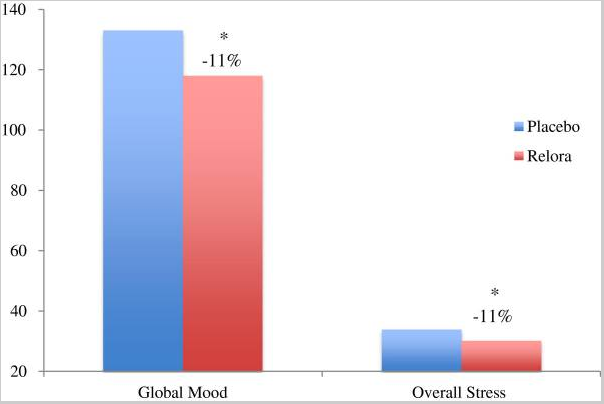 Magnolia as Relora® (750 mg) may reduce short-term anxiety in overweight, premenopausal women
In this randomized, placebo-controlled study, 26 overweight (BMI 25 to 34.9), premenopausal females were given either a placebo or 250 mg Relora® capsules 3 times a day for 6 weeks. Relora® was shown to effectively reduce temporary, transitory anxiety but not long-standing anxiety or depression. No significant adverse side effects were observed.
The study concluded that "Relora may offer some relief for premenopausal women experiencing mild transitory anxiety. There were no safety concerns or significant adverse events observed in this study."13
Magnolia bark extract may reduce anxiety, irritability, and depression
In this randomized, placebo-controlled investigation, 634 females were given either Estromineral (E) containing isoflavones 60 mg, Lactobacillus sporogenes, calcium, and vitamin D3, or Estromineral serena (ES), a magnolia bark extract, once a night for 12 weeks. Wellbeing were improved in both groups, although ES was found to have a stronger effect on irritability, anxiety, depression, and asthenia compared to E.
The study concluded that "the clinical activity of magnolia bark extract on the relevant psycho-affective symptoms, particularly anxiety, irritability and insomnia, was evident."14
Magnolia as Relora® (750 mg) may limit increases in perceived stress in overweight, premenopausal women
In this randomized, double-blind, placebo-controlled investigation, 28 overweight (BMI 25 to 34.9), premenopausal females who typically end up eating more in response to stressful situations were given either a placebo or 250 mg of Relora® 3 times a day for 6 weeks. Unlike the placebo group, the Relora® group resulted in no significant increase in weight or perceived stress. This outcome aligned with the notable drop in cortisol levels in the Relora®, but not the placebo group.
The study concluded that "obese subjects who eat in response to stress may benefit from taking a dietary supplement ingredient containing proprietary extracts of M officinalis and P amurense."15
Dosage for Stress
The limited number of clinical research using pure magnolia makes it tricky to suggest an optimal dosage
Typical supplement capsules come in serving sizes of 200 – 800 mg
Most magnolia bark extracts are standardized to 1 – 10% neolignans
Magnolia is best taken with meals due to the fat-solubility of its active ingredients
Available Forms
Magnolia supplements typically come in a capsule or pill blend with phellodendron
Magnolia tea, known as Saiboku-to
Relora®, a patented blend of extracts from the bark of Magnolia officinalis and Phellodendron amurense
Supplements in Review Says
Magnolia officinalis as Relora® 250 mg, 1 – 3 times daily for stress.

Magnolia officinalis may help lessen stress. Although more research is needed, current evidence suggests that Magnolia officinalis is a potential stress and anxiety reliever, especially when combined with phellodendron.
Stick to clinically tested Relora®. We recommend taking 1 – 3 daily servings of 250 mg of Magnolia officinalis as Relora® since it is the only currently available supplemental form with clinical research backing.