BioPerine® is the only black pepper extract that is patented for increasing bioavailability of nutrients.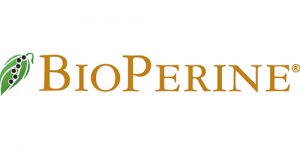 BioPerine is a black pepper extract standardized to 95% active piperine. BioPerine is used in supplements primarily to improve nutrient absorption and potency. Its thermogenic activity may also benefit fat loss supplements. This BioPerine review details its advantages over plain black pepper supplements:
Patented. The only piperine on the market that is patented for enhancing nutrient bioavailability, recorded under US Patent Number 5972382.
Clinically Researched. BioPerine standardized black pepper extract is science backed by clinical research, including human studies.
Established. BioPerine is made by a globally recognized company, and has been used to enhance bioavailability of nutritional supplements for over 20 years.
Overview
BioPerine is a branded, patented black pepper extract introduced and manufactured by Sabinsa – a manufacturer, supplier and marketer of herbal extracts and dietary supplements – over 20 years ago.
Black pepper has a long history of use in Ayurveda and other traditional health practices. BioPerine modernizes black pepper extract by presenting it as a highly purified and concentrated extract that is standardized to 95% piperine, its most active therapeutic compound. Raw black pepper in nature, on the other hand, only supplies about 3% to 9% piperine.
BioPerine's active ingredient Piperine is a Thermonutrient® and bioavailability enhancer.
Effectiveness of nutritional supplements depends on how efficiently their nutrients are absorbed, transported and distributed to target organs and systems – a subset of absorption that is collectively known as bioavailability.
BioPerine is an important branded ingredient because it is the most well-established bioavailability enhancer on the market.
In general, BioPerine is suggested by Sabinsa to enhance nutrient bioavailability by a minimum of 30%: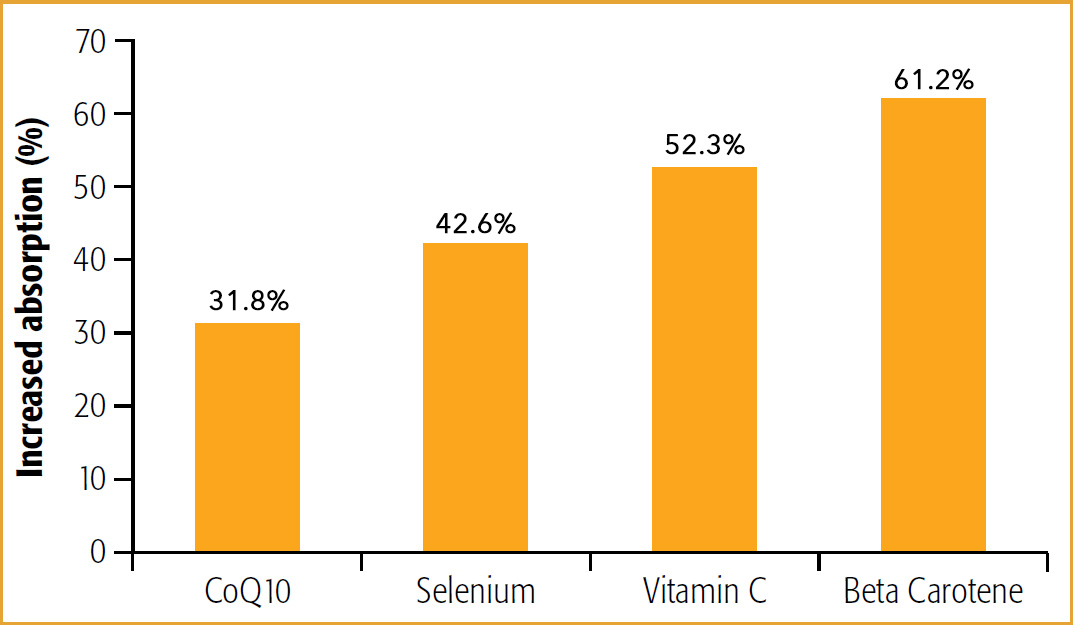 BioPerine Patents
BioPerine has a patented process (U.S. Patent No. 6054585) for extracting piperine from it original source: black pepper.
The proprietary process starts with crude natural residue of black pepper fruit (Piper nigrum), and then uses isourea, urea, or urea derivative to remove all organic matter, impurities and organic solvents, yielding a piperine concentration of at least 10% by weight – a piperine recovery rate that is up to 40% more efficient than other black pepper processes such as alcohol extraction. The extract is then standardized to a minimum of 95% piperine, yielding the final BioPerine product.
In 2006, the
US Patent and Trademark Office
issued Sabinsa Corporation Patent No. 5,972,382, "
Use of piperine as a bioavailability enhancer.
" With this patent, Sabinsa's BioPerine became the only black pepper extract that can lawfully be used in nutritional supplements for the purpose of improving nutrient bioavailability.
Additional BioPerine patents that claim improvement in GI tract absorption and whole-body utilization of nutrients and nutritional supplements; increase in nutrient-induced thermogenesis; and increase in lean body mass include: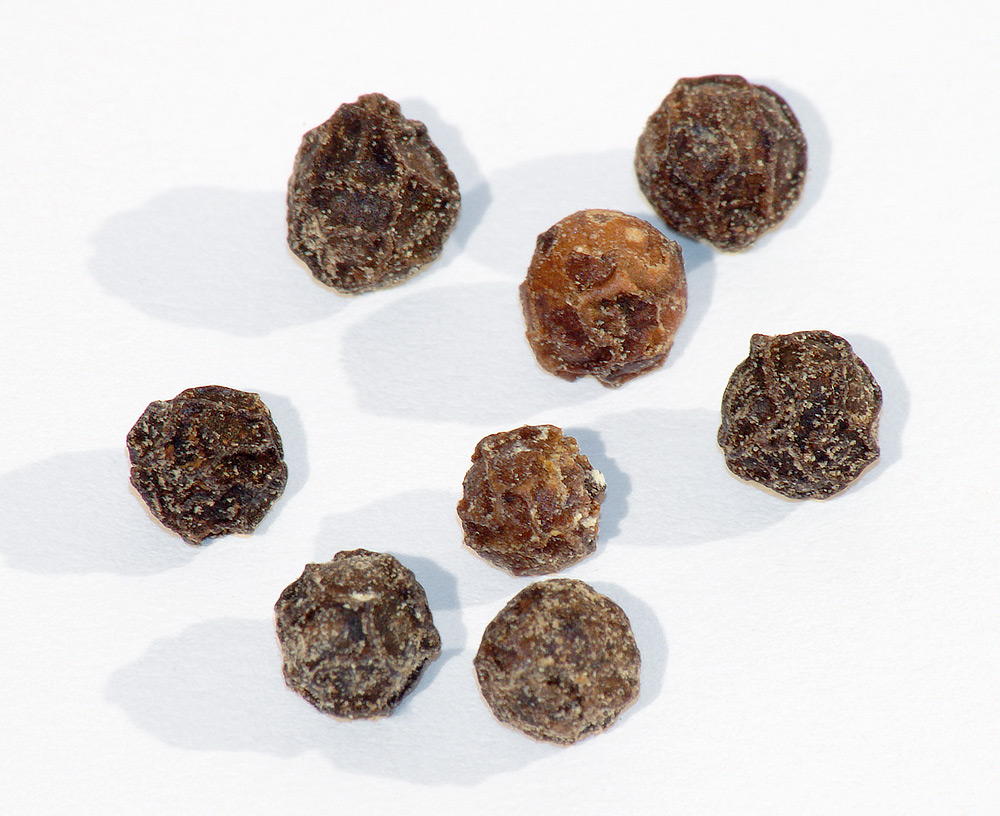 How BioPerine is Used in Supplements
Because piperine's action is short-lasting, BioPerine is either taken at the same time as other supplements where greater bioavailability is desired, or taken in stack supplements that include piperine to optimize overall formula potency.
BioPerine co-administration enhances  bioavailability across the following nutrient classifications:

Herbal extracts
Turmeric, Boswellia serrata, Ashwagandha, Ginko biloba, cayenne pepper, resveratrol
Water-soluble vitamins
B1, B2, Niacinimide, B6, B12, Folic Acid, Vitamin C
Fat-soluble vitamins
Vitamin A, Vitamin D, Vitamin E, Vitamin K, Coenzyme Q10
Antioxidants
Beta carotene, lycopene, lutein, zeaxanthin, pine bark bioflavonoids, selenium, zinc
Amino Acids
Lysine, isoleucine, leucine, valine, tryptophan, phenylalanine, SAMe
Minerals
Iron, zinc, vanadium, chromium, potassium, iodine, manganese, copper, calcium, magnesium
While BioPerine may enhance absorption across a broad range of nutrients, its use in supplements largely focuses on the following three categories:
CoQ10 Supplements
CoQ10 is a dynamic energizing antioxidant that declines and becomes harder to absorb with age. Plain CoQ10 supplements are limited by bioavailability challenges. BioPerine has been shown in research to increase CoQ10 absorption by as much as 30%.
The best CoQ10 supplements on the market will include some type of absorption enhancement, with many manufacturers choosing to pair CoQ10 with BioPerine to improve bioavailability and efficacy.
Turmeric (Curcumin) Supplements
Turmeric's antioxidant and inflammation-modulating activity can help to support joint comfort, brain health and more. Plain powdered turmeric root supplies a relatively low 2%-5% concentration of curcumin, its most active ingredient. Like CoQ10, curcumin is notoriously hard to absorb. Taking higher dosages can help, but the risk of unpleasant digestive side effects increases with larger dosages.
Clinically shown to boost curcumin absorption by up to 2000%, BioPerine helps solve turmeric bioavailability and tolerability challenges. BioPerine become a widely used ingredient in top-shelf turmeric supplements designed for superior bioavailability.
Fat Burner Supplements
As a BioEnhancer, BioPerine helps other nutrients to perform better. But as a standalone nutrient, BioPerine may work in part by exerting thermogenesis on the body's metabolic rate. In optimizing metabolism and increasing body heat energy, BioPerine has a direct fat-burning effect.
Some fat burner supplements supply a high number of ingredients, which may diminish the dosage of each. BioPerine is used in some of these complex stacks to both contribute its own fat-burning activity while optimizing activity of other ingredients in the formula. Read more on black pepper for fat loss
BioPerine Review – Brand Advantages
By enhancing nutrients' bioavailability, BioPerine unlocks multiple formula advantages for both consumers and supplement manufacturers:
Greater effectiveness: More of a supplement's active ingredients reach the bloodstream and target tissues
Fewer side effects and risks: BioPerine-enhanced formulas may use lower doses of other ingredients that may be safer and better tolerated
Complex formula flexibility: BioPerine enables complex supplements to include more ingredients without diluting their potency
Affordability: BioPerine helps consumers to gain more beneficial activity from the supplements they take, improving cost-effectiveness
Convenience: BioPerine may enable smaller supplement serving sizes, which may translate into taking fewer capsules, tablets and pills
BioPerine Research
Human Research
BioPerine 5 mg increases CoQ10 absorption by 30%
In this double-blind study, 90 mg and 120 mg CoQ10 supplements were administered as a single dose, or for 14 or 21 days along with a separate placebo or 5 mg BioPerine supplement. Researchers found that single-dose and 14-day studies with BioPerine were associated with small, non-significant increases in blood concentrations of CoQ10. The 120 mg CoQ10, 21-day study however produced a statistically significant 30% increase in CoQ10 blood levels versus placebo.
Researchers concluded that "the bioenhancing mechanism of piperine to increase plasma levels of supplemental coenzyme Q10 is nonspecific and possibly based on its description in the literature as a thermonutrient" .1
BioPerine 5 mg may help increase beta-carotene absorption by 60%
In this double-blind, crossover study, subjects were given beta carotene 15 mg with 5 mg piperine or placebo during two 14-day supplementation periods. At study's end, researchers reported that significantly greater increases in blood levels of beta-carotene, as much as a 60% increase in absorption versus placebo.
Researchers concluded "the serum response during oral beta-carotene supplementation is improved through the non-specific, thermogenic property(s) of piperine, described in this paper as thermonutrient in action."2
BioPerine 20 mg may increase Curcumin bioavailability by 2000%
Curumin is known for its poor bioavailability. In this study, curcumin absorption was evaluated as a standalone supplement and in combination with BioPerine. In rats, taking 20 mg/k or piperine along with 2g/kg appeared to increase bioavailability by 154%; apparently in part by decreasing time of clearance while accelerating time to maximum. In humans, Curcumin as a standalone supplement yielded very low blood levels; taking piperine 20 mg increased bioavailability by 2000%.
Researchers concluded that piperine "enhances the serum concentration, extent of absorption and bioavailability of curcumin in both rats and humans with no adverse effects."3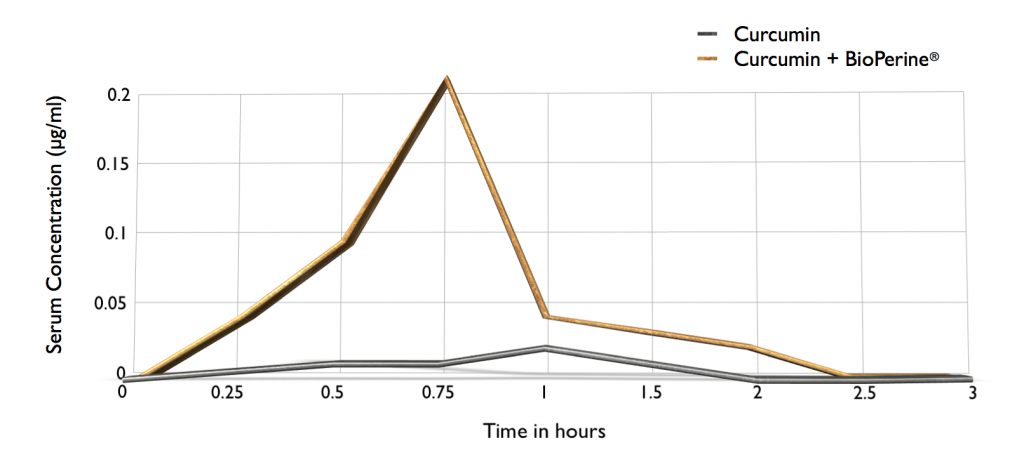 BioPerine 10 mg + Resveratrol 500 mg may enhance mitochondrial capacity in muscle
Sixteen healthy young adults were included in a study testing how resveratrol and piperine might help with skeletal muscle mitochondrial capacity during physical training. Subjects took either placebo or 500 mg resveratrol plus 10 mg BioPerine for 4 weeks. All subjects performed endurance training of wrist flexor muscles on their non-dominant arm; the dominant arm served as a control. Researchers found that the resveratrol plus BioPerine group experienced a 40% increase in mitochondrial capacity (versus 10% increase in placebo).
Researchers concluded that "low-intensity exercise training can increase forearm skeletal muscle mitochondrial capacity when combined with resveratrol and piperine supplementation."4
BioPerine Dosage
BioPerine as a standalone supplement is usually presented in a 10 mg dosage
In complexes and paired with turmeric and COQ10, BioPerine is more commonly seen in a 5 mg dosage
Positive clinical research has used BioPerine in 5 mg, 10 mg and 20 mg dosages
Supplements in Review Recommendation
BioPerine is a unique bioenhancer that works primarily by making other nutrients perform better. Look for it in complex stack supplements with high ingredient counts; it may help lower dosages to be functionally more effective. Alternatively, take a standalone BioPerine supplement at the same time as you take other supplements in your regimen.
Always take CoQ10 and turmeric supplements along with BioPerine, since these supplements are typically difficult to absorb. BioPerine's thermogeneic support may offer additional benefits to supplements for fat-burning and metabolism, so look to buy fat loss supplement products that utilize BioPerine to deliver greater weight management success, as well.