Cognizin® is a patented, clinically-backed brand of citicoline that is primarily used in nootropic brain supplements.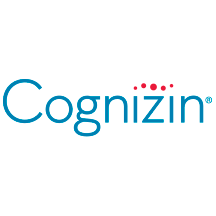 Cognizin is an enhanced, branded form of the choline-donor brain health nutrient citicoline. Cognizin may offer advantages over other supplement forms of citicoline because it is:
Patented. Cognizin is made with a proprietary fermentation process that produces a highly water-soluble citicoline form, recorded under US Patent Number 6057301.
Stabilized.  Because it is pre-hydrated, Cognizin avoids the water-absorbing challenges associated with conventional citicoline, enabling greater stability, a wider range of delivery methods, and a longer shelf life.
Clinically Researched. Cognizin is backed by several human clinical studies published in peer reviewed journals, demonstrating its safety and effectiveness for mental energy, focus, attention and overall brain health.
Overview
Cognizin Citicoline, manufactured by Kyowa Hakko Bio Co., Ltd., is a clinically studied and patented form of Citicoline, a natural substance found in every cell of the body that is especially vital to brain health. Cognizin is approved in the EU as a Novel Food Ingredient, and may be used in both supplement form and as a food additive to confer its nutritional benefits.
Citicoline is known for its neuroprotective potential, especially in the context of age-associated memory impairment, age-related brain degeneration, head trauma and stroke.1 Citicoline has been used in therapeutic brain applications in the past, but usually as an intravenous agent. This IV use was partly because citicoline in supplement form was unstable when exposed to humidity.
Citicoline molecules are hygroscopic, which means they tend to absorb water from the air. During manufacturing, even small amounts of humidity could yield an unstable finished citicoline supplement that would absorb moisture, swell, crack and crumble — significantly shortening its shelf life.
To compensate for Citicoline's water-absorbing challenges, supplement manufacturers must add extra steps and quality control measures, including:
Adding excipients during formulation, such as talc or castor oil, to help limit citicoline's capacity to absorb moisture
Using hard gelatin capsules coated with multiple moisture barriers, such as pharmaceutical glaze, to protect citicoline from unwanted moisture
Using specialized packaging for their citicoline supplements, including dessicant packets to help absorb moisture within the bottle
These extra steps help to protect citicoline from moisture, but may create a new set of challenges for both production and finished supplements.
Capsule and pill glazes and coatings are effective, but may affect absorption, bioavailability and digestive comfort, in addition to using synthetic compounds that may not work for consumers who are following a natural lifestyle. Excipients, meanwhile, take up space in citicoline powder — increasing net citicoline dosage and making it harder to include citicoline in multi-ingredient stack supplements.
All of these safeguard steps used in conventional citicoline manufacturing processes may reduce efficiency and increase production costs, potentially leading to a more expensive finished product.
Cognizin solves Citicoline's water-absorbing production challenges.
Using a proprietary, patented process, Cognizin produces a hyperhydrated, stabilized form of citicoline. This highly crystalline citicoline form ranges from 10% to 12% water by weight, versus conventional citicoline which is no more than 5% water by weight, and therefore highly susceptible to humidity.
According to Cognizin's inventors, when citicoline is intentionally exposed to humidity, it absorbs the moisture until it becomes saturated; a natural equilibrium weight of about 12% water.
This controlled, water-exposed citicoline produces the patented crystalline form of the nutrient described as "tetrahydrate" — also known as CDP-Choline or Cognizin Citicoline.
Using proprietary technology, Cognizin first dehydrates citicoline to an anhydrous state, and then jet sprays the dried power with water, calibrating it for precise moisture levels that enable the formation of citicoline hyperhydrate.
This form is considered to be stabilized — since it is pre-hyperhydrated, Cognizin reduces or eliminates all concerns related to conventional citicoline's water-absorbing properties.
Beyond helping with crumbly pills and short shelf life or typical citicoline supplements, Cognizin's hyperhydrated and water-soluble patented citicoline form is more versatile:
More administration options: Cognizin's water solubility makes it viable across several modes of administration, including intravenous, intamuscular, transdermal, transmucosal, vaginal, rectal and others.
Food and beverage advantages: The Cognizin form can be more effectively incorporated into foods and beverages without altering their structure
Improved formulation freedom: Since Cognizin requires no additives, it can be used in "clean label" supplements that avoid the use of synthetics and unnecessary ingredients
Cognizin is an award-winning ingredient in the nutritional supplements industry: In 2004, it won the NutrAward for best innovative ingredient at Nutracon; in 2011, it received a Product Excellence Award in the cognitive health ingredients category from Frost & Sullivan.
How Cognizin is Used in Supplements
Nootropic Supplements
Cognizin Citicoline is most popular in nootropic stack supplements designed to improve mental performance and overall brain health. Citicoline works to enhance communication between neurons; maintain normal levels of the neurotransmitters acetylcholine, dopamine and norepinephrine; protect neural structures; and enhance health brain activity and energy.
Most importantly, citicoline acts as a choline donor that helps raise brain levels of phosphatidylcholine, an important precursor for the formation of brain cell membranes. More on Citicoline as a Nootropic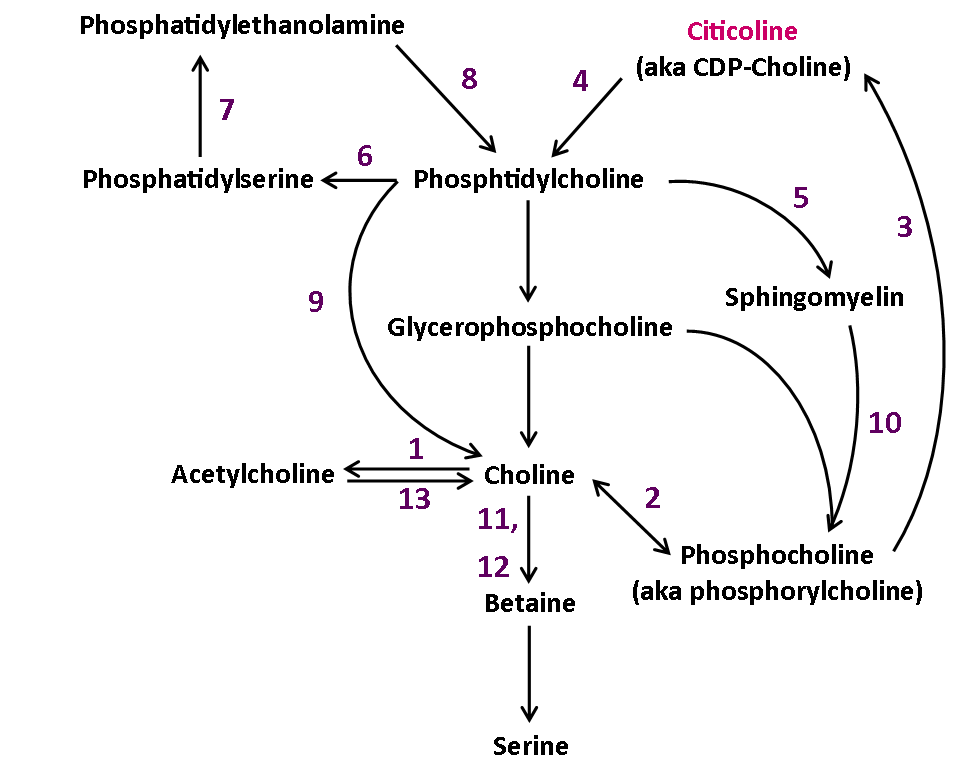 Vision Enhancer Supplements
Cognizin citicoline has been used in some eye health applications and vision supplements, based on early research that its enhancement of phospholipid synthesis may have a neuroprotective effect that extends to support retinal cells; as well as its ability to promote dopamine, a neurotransmitter that helps with signaling in the retina and optical pathways.
Standalone Supplements
In addition to being used in complex multi-ingredient formulas, Cognizin citicoline is found in single-ingredient standalone supplements, some of which allow for higher dosage.
Where to find Cognizin supplements: Cognizin is one of the more popular branded nutritional supplement ingredients on the market, especially in nootropic brain supplements. There are 35 supplement brands that feature Cognizin in North America; 11 in Europe; and one each on Mexico and Malaysia.
Cognizin Research
Human Research
Cognizin (500 mg and 2000 mg) linked to increased ATP energy production and accelerated brain cell membrane formation
In this study, 16 healthy men and women with an average age of 47 took either 500 mg or 2,000 mg Cognizin® Citicoline every day for 6 weeks and were then evaluated for changes to their brains' structure and function, using magnetic resonance spectroscopy that measured metabolites in the frontal lobe, which is associated with attention and focus. Researchers reported that both dosing regimens of Cognizin® Citicoline were associated with significant improvements in brain bioactivities, including a 14% increase in brain ATP energy production and 26% faster brain cell membrane turnover (repair, rejuvenation and replacement, collectively contributing to overall brain regeneration). Researchers suggested the lower 500 mg Cognizin dose appeared to be associated with more pronounced brain structure and function benefits.
While this study did not measure cognitive function, researchers nevertheless suggested that Cognizin supplementation "improves cellular bioenergetics of the anterior cingulate cortex," a finding believed to important implications for Cognizin's neuroprotective potential.2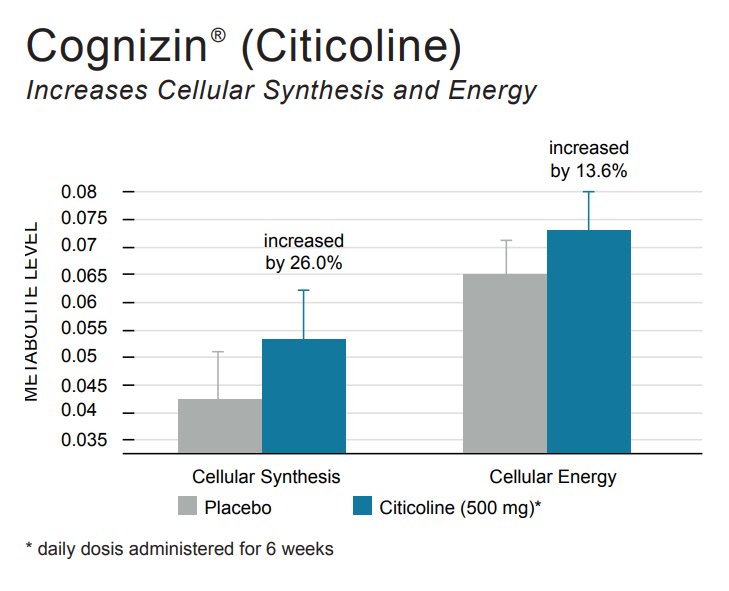 Cognizin (250 mg and 500 mg) enhances cognitive function and attentional performance
60 healthy women between the ages of 40-60 were split into three randomized arms: 250 mg Cognizin, 500 mg Cognizin or placebo, to be taken daily for 28 days. At the study's baseline and conclusion, subjects were tested for attentional function using the Continuous Perfomance Test II (CPT-II). Researchers reported that the testing results demonstrated both doses of Cognizin® were linked to higher test scores, which they attributed to improved cognitive inhibition and dopamine transmission.
Researchers concluded that Cognizin "may improve attentional performance in middle-aged women and ameliorate attentional deficits associated with central nervous system [concerns]".3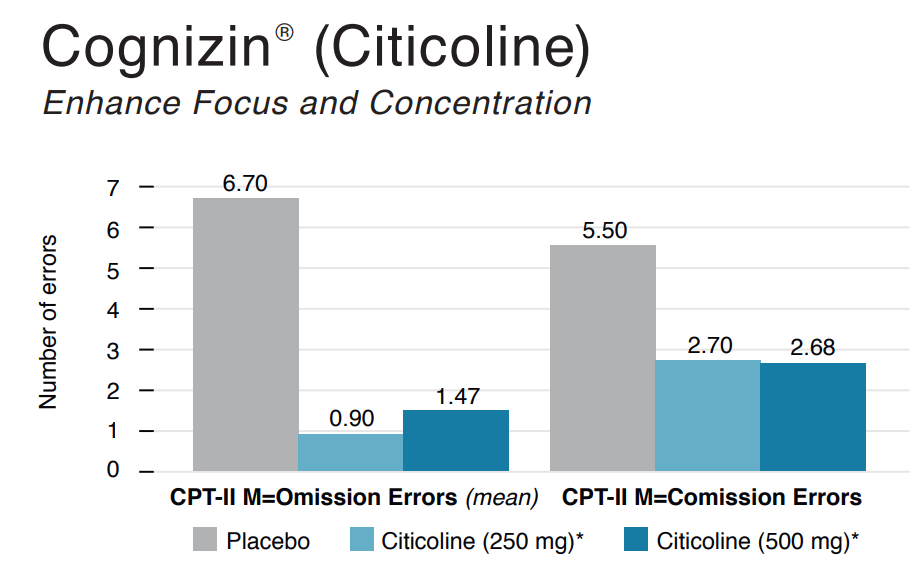 Cognizin may help with attention, psychomotor speed and impulsivity in adolescent males
In this study, 75 healthy male adolescents between the ages of 13 and 18 were split into three groups of roughly the same size and assigned to take Cognizin 250mg, Cognizin 500mg, or placebo daily for 28 days. Neurocognitive assessment was performed at the study's baseline and conclusion, which included the Finger Tap Test to measure motor speed and control; Ruff 2&7 Selective Attention Test to measure sustained and selective attention; and Computerized Performance Test Second Edition (CPT-II) to measure sustained attention and impulsivity. After analyzing test results, researchers reported that Cognizin citicoline supplementation was associated with improved motor function and enhanced attentional abilities when compared to placebo.4
Researchers concluded that "28 days of daily citicoline supplementation enhances motor and attentional abilities and decreases impulsivity in male adolescents" and proposed it may present a low-risk/high-reward therapy for helping this population to enhance normative cognitive function in those with poor attention and impulse control.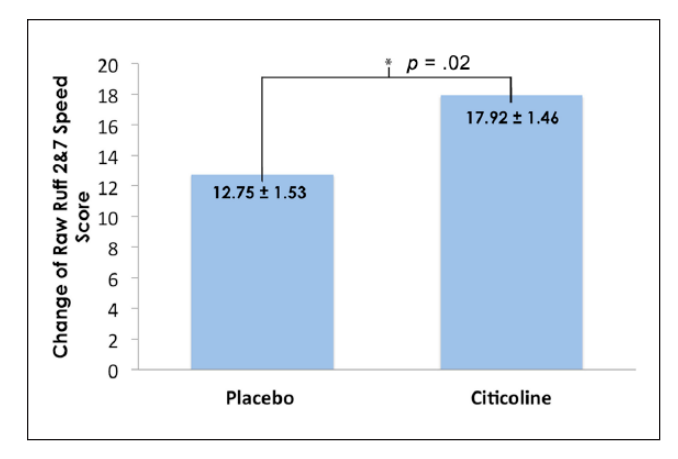 High-dose Cognizin (2000 mg) may influence appetite and perception of high-calorie foods
In this early (and weak) study, 16 healthy adults (men and women) between the ages of 40 and 57 were randomly split into two groups and administered 500 mg or 2000 mg Cognizin daily over the course of six weeks. At the study's baseline and conclusion, participants completed questionnaires related to food and lifestyle preferences along with brain image scanning that evaluated their responses to foods. Preliminary findings suggested that Cognizin supplementation appeared to be associated with a significant decline in appetite in the high-dose (2000 mg) group only; neither group experienced any changes in weight.
Researchers tentatively concluded that the findings on Cognizin "…are intriguing and warrant further research into the efficacy of this substance as a potential supplement for modulating appetite." Researchers also noted the limitations of their study, including its small size and lack of a placebo control.5
Cognizin Dosage
Cognizin is most commonly found in capsule form in both complex and single-ingredient supplements
As a dietary supplement, Kyowa recommends caps that supply 250 mg to 500 mg of Cognizin per day
When used in foods and beverages, Kyowa recommends a maximum serving of 250 mg Cognizin, up to 2,000 mg per day
Supplements in Review Says
Cognizin® Citicoline, 250 mg – 500 mg daily
Cognizin is a leading brand of citicoline, which is one of our top nootropic ingredients. Citicoline multi-tasks for both mental performance and overall brain health; Cognizin is the most extensively researched brand of citicoline. In addition, Cognizin's patented enhancements might more effectively deliver citicoline's multiple brain-supportive bioactivities while improving stability, shelf life, and formulation flexibility.
Start with Cognizin in the dosage range of 250 mg to 500 mg daily. These Cognizin dosages have demonstrated brain health and mental performance benefits in human clinical studies, and have also been shown to be safe and well-tolerated.