Relora® is a research-backed blend of two traditional herbs that help alleviate the negative consequences of stress.


Relora is a branded combination of bark extracts from two medical Chinese trees known for their stress-relieving effects. This review describes how Relora differs from basic magnolia and phellodendron supplements:
Patented combination. Unlike typical single-ingredient magnolia or phellodendron products, Relora combines the two herbs together in a synergistic blend that uses patented extracts.
Clinical Research. Relora has been the subject of several placebo-controlled human studies that provide evidence for its advertised benefits.
<
Overview
Relora is a branded anti-stress supplement that combines extracts from the barks of magnolia (Magnolia officinalis) and phellodendron (Phellodendron amurense), two Chinese trees traditionally used to relieve stress.
Relora stands out from standard magnolia and phellodendron supplements due to the fact that it combines the two herbs in a synergistic blend and is backed by clinical research. So far, human trials have found that Relora:
Reduces stress and anxiety
Improves mood & sleep
Helps manage weight by curbing stress-related eating
Relora is proposed to work mainly through reducing the levels of cortisol – the body's main stress hormone. Elevated cortisol can increase feelings of stress and anxiety, lead to sleep disturbances, and even weight gain by causing strong cravings for high-fat, high-sugar "comfort foods."
In addition, Relora's main active ingredients – honokiol from magnolia and berberine from phellodendron – are believed to bind to brain receptors involved in regulating mood, appetite, and anxiety, such as the serotonin and GABA receptors.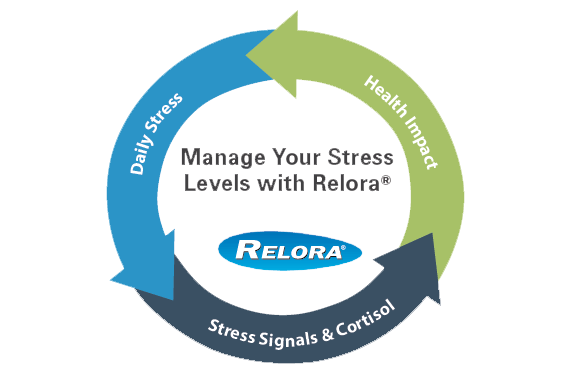 Relora was originally manufactured by American company Next Pharmaceuticals, which was later bought by InterHealth, which in turn was acquired by Swiss biotech giant Lonza, the makers of
Carnipure
.
<
Relora Patents
<
Relora Magnolia Extract
Relora's magnolia extract portion is patented for helping with insomnia, restlessness, and weight gain – particularly due to stress and poor sleep (US Patent 6582735). According to this patent, Relora works through helping maintain healthy levels of cortisol. On the other hand, the patent for Relora's phellodendron (Phellodendron amurense) extract component is still pending.
More on the anti-stress effects of magnolia, Relora's major ingredient.
<
Relora Nutritional Supplement Uses
<
Stress Supplements
As a standalone supplement, Relora is most commonly sold as an anti-stress product that can help alleviate stress symptoms such as nervousness, irritability, and poor sleep. In addition, it is also sometimes combined with other stress and relaxation-promoting herbs & nutrients such as ashwagandha, theanine, and magnesium.
<
Fat Loss Supplements
Relora may also be included in in fat burners and other weight loss supplements because it can help curb appetite, especially in the context of stress eating. In this context, Relora is believed to work through not only reducing stress but also regulating receptors of serotonin and GABA – neurotransmitters that control satiety and relaxation.
<
Nootropic Supplements
Because chronic stress can have debilitating effects on brain function such as forgetfulness & poor concentration, Relora also has the potential to be used as an ingredient in nootropic supplements.
<
Sleep Aids
Sleeplessness is one of the major negative consequences of chronic stress & anxiety. As such, Rolera can potentially be utilized in natural sleep aids, especially in combination with other sleep-promoting herbs such as valerian.
<
Multivitamin Supplements
Relora is sometimes included in multivitamin products, especially ones designed to improve energy & recovery. In this context, Relora is used to improve sleep, curb food cravings, and optimize levels of dehydroepiandrosterone (DHEA), a hormone proposed to have many health benefits such as increased sex drive and muscle mass.
<
Relora Brand Advantages
Relora's advantages over standard magnolia and phellodendron supplements include:
Research evidence: Relora's benefits are backed by several randomized, controlled trials (RCTs) – the gold standard of human research
Convenience: Magnolia and phellodendron extracts are rarely sold together, making Relora a more convenient way of supplementing with these herbs
<
Relora Research
<
Human Research
Human studies of Relora supplementation report reductions in stress and anxiety, and improvement of sleep and mood.
Relora appears to reduce stress and improve mood
This randomized placebo-controlled, double-blind study tested the effects of Relora on mood and stress in moderately-stressed adults. A total of 56 participants screened for moderate stress were given placebo or Relora daily for 4 weeks. The relora group had 18% lower levels of cortisol – the main stress hormone – and scored better on various measures of mood, including stress, tension, depression, anger, fatigue, and vigor.
The researchers concluded that "…daily supplementation with…(Relora®) reduces cortisol exposure and perceived daily stress, while improving a variety of mood state parameters, including lower fatigue and higher vigor." 1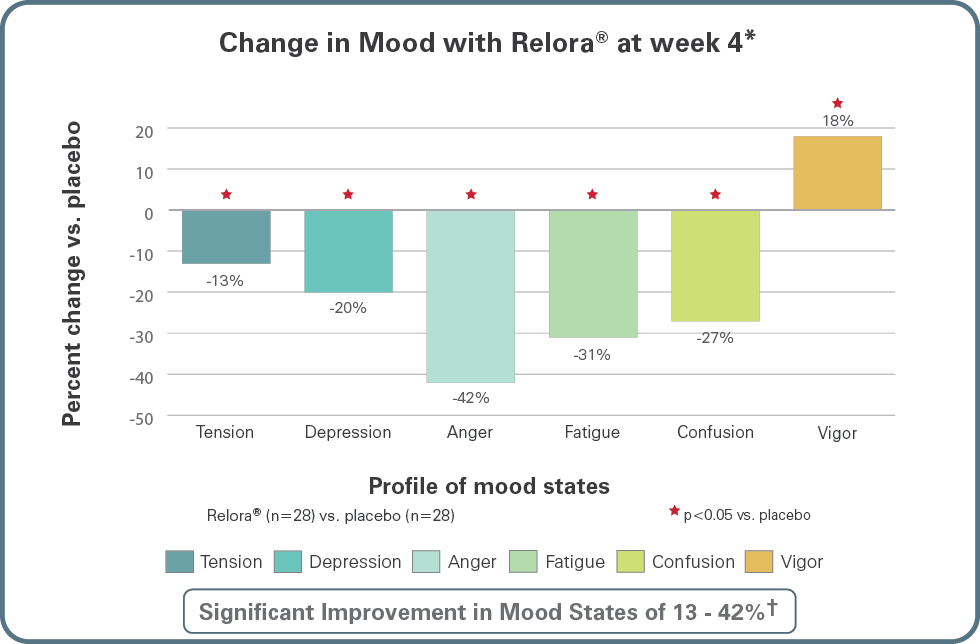 Relora (750 mg) may alleviate mild anxiety in overweight women
The effects of Relora on anxiety, stress, and sleep in women were explored in this randomized, double-blind, placebo-controlled trial. A total of 40 overweight, premenopausal (aged 20 – 50) women were given placebo or Relora (250 mg) capsules 3 times a day for 6 weeks. The Relora group reported reductions in anxiety as measured by the Spielberger STATE anxiety questionnaire, but did not see a reduction in cortisol.
The researchers concluded that "…Relora may offer some relief for  women experiencing mild transitory anxiety."2
Relora (750 mg) may help curb stress eating in overweight women
In this randomized, double-blind, placebo-controlled study, 28 overweight women (aged 20 – 50) who stress eat were given placebo or Relora (250 mg) capsules 3 times daily for 6 weeks. On average, body weight in the Relora group remained the same, while the placebo group gained 1.5 kg. In addition, the Relora group had lower cortisol levels at bedtime.
The researchers concluded that "…obese subjects who eat in response to stress may benefit from taking a dietary supplement ingredient containing proprietary extracts of M officinalis and P amurense." 3
Relora-containing multivitamin (200 mg) appears to improve sleep in athletes
This randomized, placebo-controlled study looked at the effects of a single dose of a multivitamin plus Relora on sleep in athletes. A total of 66 recreational cyclists were given placebo (P), a multivitamin (MV), or a multivitamin with 200 mg Relora (MVE) the night before an endurance cycling event. Athletes taking MVE fell asleep an average of 28 minutes faster than placebo; in addition, those who didnt take MVE reported lower sleep quality than normal.
The researchers concluded that "Athletes with an early next day event may experience improved sleep quality and quantity with no perceived effects on readiness with an acute supplementation of the MVE." 4
Relora Dosage
l>
Standalone Relora supplements typically come in 250 mg capsules
Multi-ingredient products typically contain 150 – 200 mg of Relora, although some can have as much as 500 mg
Most human studies use 250 mg capsule doses taken 3 times daily
Supplements in Review Recommendation
l>
Relora®, 250 mg 3 times a day.

Relora offers a unique, research-backed blend of anti-stress herbal extracts. Relora's research-supported blend of magnolia and phellodendron bark extract offers a synergistic advantage over unbranded, single-ingredient products.
Most studies of Relora used 250 mg x3 daily doses. Although the dosage will change depending on your particular product, 250 mg taken three times daily is the recommended, research-backed dose.