Ferrochel® is the premier supplement for enhancing iron absorption and minimizing associated side effects.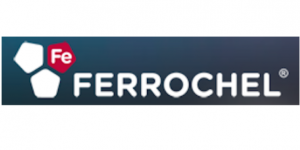 Ferrochel is an iron supplement designed to improve the absorption of iron while also decreasing the intensity of adverse side effects commonly associated with consuming iron. It offers various advantages over standard iron supplements:
Patented. The increased bioavailability and diminished gastric upset characteristic of Ferrochel stems from a proprietary binding process.
Researched. There is ample clinical research backing Ferrochel's capacity to boost iron absorption and counter iron deficiency.
Safe. Ferrochel is Generally Recognized As Safe by the U.S. Food and Drug Administration (FDA) and holds a myriad of other safety and kosher certifications.
Overview
Ferrochel (ferrous bis-glycinate chelate) is a patented, branded iron supplement manufactured by U.S.-based company Albion Advanced Nutrition. Iron is an essential mineral that the human body relies on for basic functions as well as for proper cognitive development, cardiovascular health, and immunity. Yet iron deficiency continues to be a widespread issue and is well known to be the most common nutritional deficiency in the U.S.
Unlike generic iron supplements, Ferrochel is easy to absorb and rarely triggers adverse side effects because it has a uniquely chelated structure that allows its iron content to pass through the stomach and small intestine completely intact. In addition to this fundamental difference, people often prefer Ferrochel to standard iron and other inorganic iron supplements for a variety of its inherent effects:
Maintaining high tolerability, i.e., minimal gastric upset
Being absorbed in the presence of dietary substances known to inhibit regular iron
Supporting overall health
Sustaining a neutral taste
Furthermore, Ferrochel limits its integration into the body according to the amount of iron the body needs; a person who is iron deficient will take in 90% of the iron from Ferrochel, whereas someone who is hardly iron sufficient will take in a much lower percentage of the iron. In that vein, Ferrochel is not necessarily the best option for people who have a chronic case of iron deficiency anemia and need to absorb 100% of iron from supplements, regardless of adverse side effects.
How Ferrochel Works
Typical iron supplements hold a positive ionic charge that not only restricts its own bioavailability in the gastrointestinal tract, but also deactivates the absorption of other nutrients such as vitamin E and calcium. In contrast, Ferrochel does not carry an electrical charge and so does not form unabsorbable compounds with other nutrients inside the body. In other words, Ferrochel is already bound to an amino acid, or chelated, and thus provides safer and more effective absorption.
Due to its stable chelated structure, Ferrochel is safe for use by pregnant and nursing mothers, as well as children and young adults.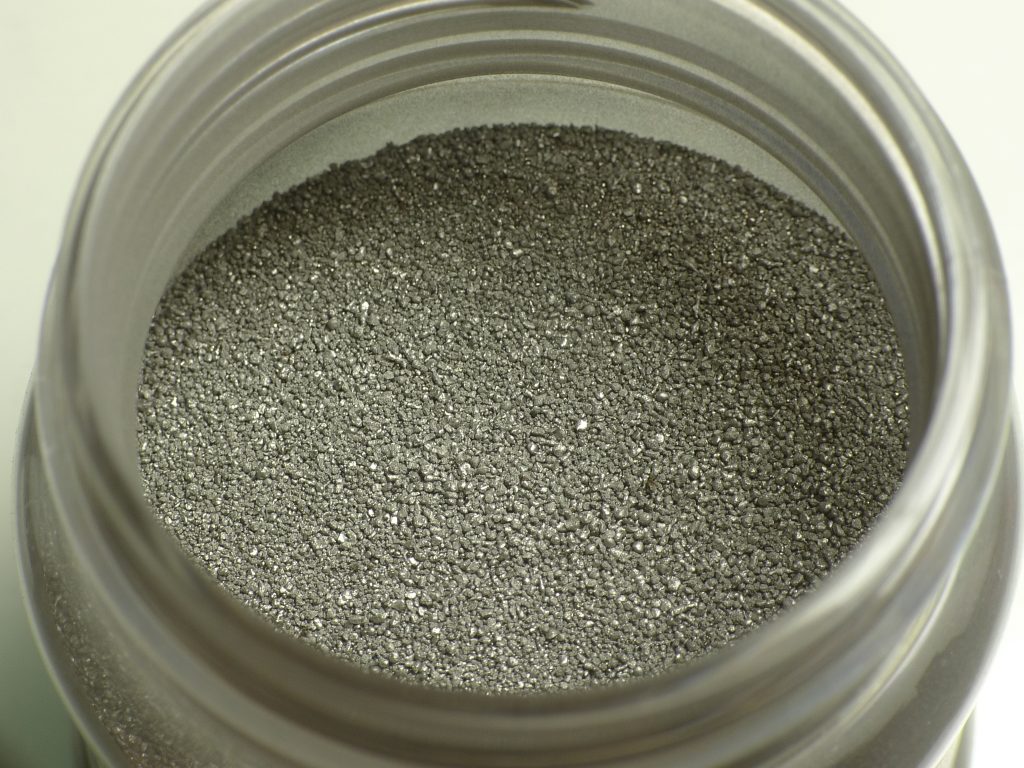 Ferrochel Patents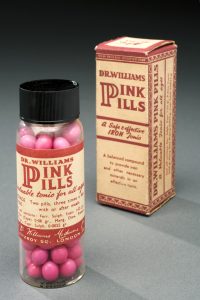 Mineral chelation
Ferrochel consists of the mineral iron bound to the nonessential amino acid glycine. Many minerals, including iron, are naturally ionized and interact with other charged molecules upon entering the body, which ultimately reduces their absorption. This patent (U.S. Patent 13189893) describes Albion's technique for combining a mineral to an amino acid before its ingestion so as to stabilize it and increase its solubility, i.e., absorption by the body. This process of chelation is the essence of Ferrochel's ability to enhance iron bioavailability.
Prenatal multivitamin
Not only is Ferrochel a viable iron supplement for people with iron deficiency, but it is effective for reducing iron deficiency in pregnant or lactating females, according to U.S. Patent 7994217. This patent details a method for combining a highly bioavailable iron-amino acid chelate such as Ferrochel with other vitamins and minerals (especially vitamin A and calcium) to form a singular multivitamin.
Buffered upper GI absorption promoter
This patent (U.S. Patent 20130209577) covers the integration of Ferrochel with malic acid and another weak acid or base buffer to lower the pH of the small intestine, thereby improving absorption or bioavailability of Ferrochel.
Food fortification
U.S. Patent 7371422B2 explains a process for fortifying cereal grain kernels and rice with minerals including Ferrochel. A similar patent U.S. Patent 6207204B1 discusses a particular technique for enriching cereal grain kernels with minerals by coating the cereal with mineral chelates such as Ferrochel, which removes the need to pulverize individual kernels before fortification. This second patent additionally claims that coating the cereal with Ferrochel increases the stability, palatability, and bioavailability of iron supplements in the body.
Did you know? The Joint Food and Agriculture Organization of the United Nations (FAO) and World Health Organization (WHO) Expert Committee on Food Additives (JECFA) accepted Ferrochel as a safe food additive in 2003.
Ferrochel Nutritional Supplement Uses
Ferrochel is first and foremost a supplement that boosts the absorption of iron.
Iron Supplements
Ferrochel is the ideal iron supplement for most cases of iron insufficiency and mild deficiency. It maintains a non-ionized structure that not only enhances its absorption compared with typical iron supplements, but also reduces the occurrence of side effects commonly caused by ingesting iron. Notably, its stable structure makes it safe for use as a part of a multivitamin by children as well as pregnant and breastfeeding women.
Ferrochel is thus incorporated into a variety of iron supplements for purposes ranging from daily iron consumption by adults to prenatal and gestational nutrition. Nutritionist and food scientists have also fortified everyday grains and cereals with Ferrochel.
Furthermore, clinical research has shown it capable of counteracting mild iron deficiency anemia just as well as standard treatments but with the added benefit of fewer side effects and better tolerability.
Ferrochel Advantages
Ferrochel offers a wide range of health and safety advantages over other iron supplements:
Clinical backing: Hundreds of clinical studies have shown the positive health benefits of supplementing iron with Ferrochel, especially in cases of mild iron deficiency.
Naturally improved efficacy: Ferrochel provides increased bioavailability because of its non-ionized, chelated form.
Safe: Its chelated structure makes it safer than typical iron salts supplements.  Regulated absorption based on the body's iron requirements.
Minimal side effects: Ferrochel lowers the occurrence of common adverse side effects associated with typical iron supplements, including constipation, gastric distress, dark stools, and diarrhea.
Certified: It is certified kosher, vegetarian-friendly, hypoallergenic, free of genetically modified organisms (GMOs), free of bovine spongiform encephalopathy (BSE), and recognized as safe by the U.S. FDA.1
Ferrochel Research
Human Research
Numerous clinical trials assessing ferrochel have demonstrated its capacity to increase the effectiveness of iron absorption. A selection of these studies are detailed here:
Ferrochel (28 mg) may replenish iron stores with fewer side effects than a standard iron supplement
In this randomized investigation, 24 patients with mild iron deficiency anemia and another chronic illness took either 28 mg of Ferrochel every day for 20 days and then 14 mg per day for the following 40 days or 105 mg of the standard iron supplement ferrous sulfate every day for 60 days. By the end of treatment, patients in both groups had significantly higher levels of hemoglobin (a protein complex containing iron) and blood iron stores in the form of ferritin compared with baseline. There were 2 cases of adverse events in the Ferrochel group and 4 in the ferrous sulfate group.
The researchers concluded that "ferrous bisglycinate chelate has similar efficacy and likely lower GI toxicity than ferrous sulphate."2
Ferrochel (5 mg/kg) may counter iron deficiency anemia in infants
This study compared the effect of taking either 5 mg of Ferrochel per kg of body weight or ferrous sulfate every day for 28 days in children with iron deficiency anemia who were between 6 and 36 months old. Though both groups of children experienced considerable increases in hemoglobin , only the Ferrochel group had significant increases in ferritin. The bioavailability of iron for the standard supplement was 26.7% compared with the 90.9% for Ferrochel.
The researchers concluded that "ferrous bis-glycinate chelate is the iron of choice for the treatment of infants with iron-deficiency anemia because of its high bioavailability and good regulation."3
Ferrochel-enriched cookies (3.8 mg) may increase iron availability in children with anemia
In this randomized investigation, 138 children with anemia between the ages of 7 and 11 years took either 40 mg of a standard iron supplement once a week or 3.8 mg of Ferrochel-enriched cookies 3 times a week for a period of 8 weeks. Children in both groups had significant increases in hemoglobin and ferritin levels.
The researchers concluded that "the results confirm the effectiveness of the iron supplementation interventions and corroborate the use of iron salts or ferrous bisglycinate chelate on a weekly basis to overcome iron deficiency and anemia."4
Ferrochel (15 mg) may counter iron-deficiency in pregnant women
This study evaluated the effectiveness of supplementation with either 40 mg of ferrous sulfate or 15 mg of Ferrochel every day for 13 weeks in 74 iron-deficient pregnant women. At the end of the trial, only 30.8% of the women in the Ferrochel still had some iron depletion compared with 54.5% of the women in the ferrous sulfate group. A number of the women in the ferrous sulfate group stopped taking the supplement due to its taste.
The researchers concluded that "daily supplementation with Ferrochel was significantly more effective, in spite of the lower dose, than supplementation with ferrous sulfate."5
Ferrochel (30 mg) may improve medium-term iron absorption in children better than standard iron supplements do
This study examined the effect of supplementing children with iron insufficiency but not anemia with either a standard iron supplement (ferrous sulfate) or Ferrochel. The 200 children took 30 mg of either the standard iron supplement or Ferrochel every day for 6 months. Iron concentration increased effectively for both groups at the 1 week mark, but significantly more so in the Ferrochel group than the standard iron group after 6 months.
The researchers concluded that "iron bis-glycinate chelate for 90 days showed positive effects on increasing ferritin concentration in schoolchildren with low iron stores."6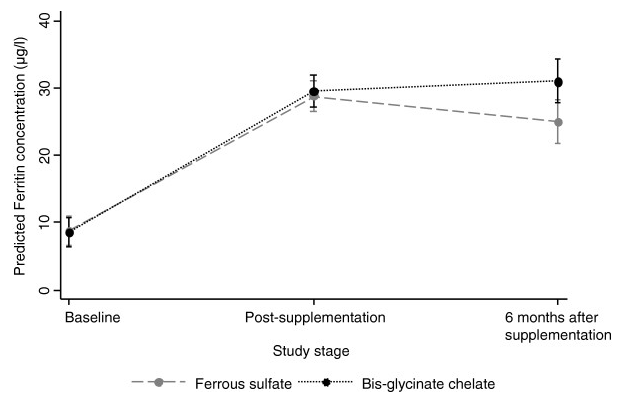 Ferrochel-enriched rolls (2 mg) may counter iron deficiency in young children
This study examined the effect of consuming Ferrochel-enriched sweet rolls on iron-deficient children. In addition to their regular diet, the 89 preschool students supplemented with sweet rolls fortified with 2 mg of Ferrochel every day for 6 months. This protocol led to a significant decrease in iron deficiency anemia, from 62% to 22%. There were average increases in hemoglobin by 1.42 g/dL and in ferritin by 8.86 mcg/L.
The researchers concluded that "the use of sweet rolls fortified with 2 mg of iron from the bis-glycinate chelate is highly effective for the control of iron deficiency and iron deficiency anemia in young children."7
Ferrochel Dosage
Successful clinical trials have included between 15 and 30 mg of Ferrochel per day, or between 2 and 3.8 mg of Ferrochel in fortified foods.
Ferrochel is most commonly available in daily doses ranging from 18 – 27 mg.
Multi-ingredient formulas typically include 27 – 50 mg of Ferrochel.
Supplements in Review Recommendation
Ferrochel presents a clinically proven method for improving iron absorption. We recommend Ferrochel for iron supplementation. A myriad of clinical trials have demonstrated the efficacy of Ferrochel, with its chief advantages over other iron supplements being its high bioavailability and excellent tolerability. It may be the best option for people with iron insufficiency or mild iron deficiency.
Start with a daily serving of 27 mg capsules. As a highly safe and stable substance, Ferrochel is available for children and adults — including pregnant women — seeking iron supplementation. It is available as a pill or capsule and within fortified food.