AlphaSize® may be the safest form of alpha-GPC and have the most clinical backing for its cognition and performance-boosting effects.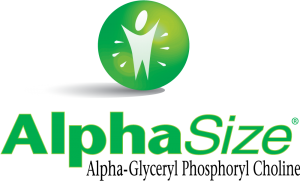 AlphaSize is an alpha-GPC supplement that is capable of elevating acetylcholine and growth hormone levels in the body. By increasing the availability of these compounds, the branded formulation aims to improve cognition, especially memory, as well as boost physical power output. There are several advantages of AlphaSize compared with other alpha-GPC supplements:
Clinically researched. A number of scientific articles have reported a myriad of positive effects after taking AlphaSize for mental and physical health.
Safe certified. AlphaSize upholds a status of "safe" from the U.S. Food and Drug Administration (FDA) and kosher certification from EarthKosher.
Specialty ingredients. The proprietary AlphaSize formulations are manufactured in-house and available in both solid and liquid forms.
Overview
AlphaSize is a branded alpha-glycerophosphocholine (Alpha-GPC) developed and manufactured by Chemi Nutra. The compound is naturally present in the brain and serves as a precursor to the neurotransmitter acetylcholine as well as supports the structure of cell membranes.
Interest in alpha-GPC as a supplement primarily stems from its ability to provide choline to the brain with a considerably higher bioavailability than other choline donors such as phosphatidylcholine. Above all, this level of cholinergic activity has been associated with potent cognitive-boosting properties, especially regarding memory and mental sharpness.
Athletes have also favored alpha-GPC for its potential capacity to enhance power output and bolster the production of human growth hormone — akin to the upshots of the amino acid arginine.
Currently, Chemi Nutra has developed three formulations of solid and liquid AlphaSize that consist of a mixture of mostly alpha-GPC and the sugar alcohol mannitol.
Did you know?
Although small quantities of alpha-GPC are available in everyday foods, it is generally offered as a synthetic compound created from
egg
or purified 
lecithin
.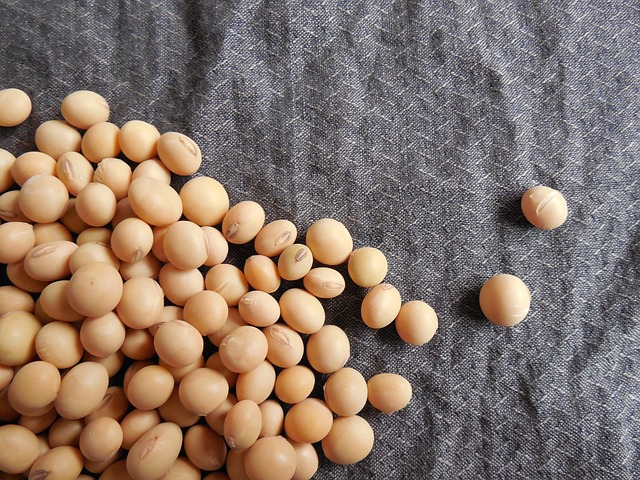 How does AlphaSize Work?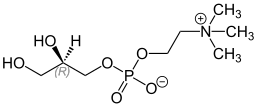 Upon entering the body, AlphaSize releases choline into the bloodstream and then across the blood-brain barrier and into the brain, where it is quickly converted into acetylcholine — the most widely present neurotransmitter in the body.1 By boosting levels of acetylcholine, AlphaSize is capable of intensifying all of the brain health and cognitive functions directed by the neurotransmitter.
AlphaSize is also considered to be a growth hormone secretagogue; it elevates growth hormone levels by simultaneously potentiating the effects of growth hormone releasing hormone (GHRH) and suppressing the growth hormone inhibiting hormone referred to as somatostatin.
Unlike other choline-containing compounds, the alpha-GPC of AlphaSize makes its choline available rapidly — within a few minutes — imparting a fast and noticeable impact on cognition and memory.
AlphaSize Patents
Chemi Nutra has filed and is awaiting approval for multiple patents involving AlphaSize.
Body composition
The parent company has filed a methods and compositions patent for AlphaSize and its effects on overall body composition.
Caffeine replacement
There is currently a pending application under US Patent 20160206637A1 for the use of AlphaSize as a replacement for caffeine and its physiological benefits when offered with any foods and beverages. The claim is that AlphaSize presents superior cognitive, psychological, and physiological effects than caffeine, without caffeine's detrimental mental and physical effects.
AlphaSize Nutritional Supplement Uses
AlphaSize has a wide range of uses in supplementation geared toward enhancing both the body and the mind.
Nootropic Supplements
AlphaSize is most commonly applied as a nootropic to bolster cognition. As a precursor to acetylcholine, it has the potential to support all of the brain functions linked with the essential neurotransmitter. Among its various nootropic benefits include:
Improving memory, concentration, reaction time, and learning
Promoting mental sharpness
Increasing mental endurance
Mitigating cognitive decline
Of note, research has shown alpha-GPC capable of counteracting mental deterioration and memory loss due to old age or brain injury.
Growth Hormone Supplements
Through a natural metabolic process, AlphaSize facilitates the production and maintenance of human growth hormone, and thus contributes to its positive effects on body composition, age, and overall well-being. Among these effects include augmenting muscle mass, metabolizing fat, increasing bone density, and boosting immunity.
Moreover, AlphaSize becomes increasingly more critical for people as they age since the amount of growth hormone produced within the body decreases over time.
Pre-Workout Supplements
Research studies have demonstrated the potential role of AlphaSize in enhancing physical performance similar to other pre-workout supplements. Choline is one of the chief limiting factors of cell-to-cell communication during continuous physical activity or stress. By directly providing choline, AlphaSize can help optimize communication among muscle cells and ultimately boost muscular power output during exercise, especially peak force and stamina.
AlphaSize Brand Advantages
In comparison to other brands of alpha-GPC supplements, AlphaSize has the advantages of:
Clinical support: Several different published studies have investigated AlphaSize and concluded that it may not only increase levels of acetylcholine and growth hormone, but thereafter enhance cognitive recovery after injury and elevate peak exercise capacity as well.
Certified safety: EarthKosher granted AlphaSize Kosher certification for use in dietary supplements, sports nutrition, and beverages on November 1, 2010. In addition, the U.S. FDA has affirmed AlphaSize's Generally Recognized as Safe (GRAS) status for use in conventional foods and drinks. The agency assigned the supplement GRAS number 419 on January 9, 2013.
Stability: AlphaSize is stable and highly functional.
Enduring impact: Unlike some generic alpha-GPC supplements that impart temporary effects followed by a crash, AlphaSize provides long-lasting benefits.
Specialty ingredient: Chemi Nutra has three proprietary alpha-GPC specialty ingredients: two solid forms — AlphaSize 50P A-GPC and AlphaSize 50WSP A-GPC — and a newer, high-concentration liquid, AlphaSize 60F A-GPC.
No added taste: AlphaSize contributes no taste or odor to supplements.
AlphaSize Research
Human Research
A few clinical trials have demonstrated the positive effect of AlphaSize on mental health, particularly in mitigating symptoms of cognitive decline such as memory loss and reduced concentration. Research has also shown some advantages of taking AlphaSize for increasing power output and growth hormone levels.
AlphaSize (600 mg) may increases growth hormone levels and peak exercise capacity
In this randomized, placebo-controlled investigation, 7 males took either 600 mg of AlphaSize or a placebo 90 minutes before completing a resistance-training workout routine. Compared to the placebo, the AlphaSize group had statistically significant increases in growth hormone levels and maximal bench press force, as well as decreases in post-exercise respiratory rate.
The researchers concluded that "a single 600 mg dose of A-GPC (as AlphaSize™), when administered 90 minutes prior to resistance exercise, increases post-exercise serum GH and peak bench press force."2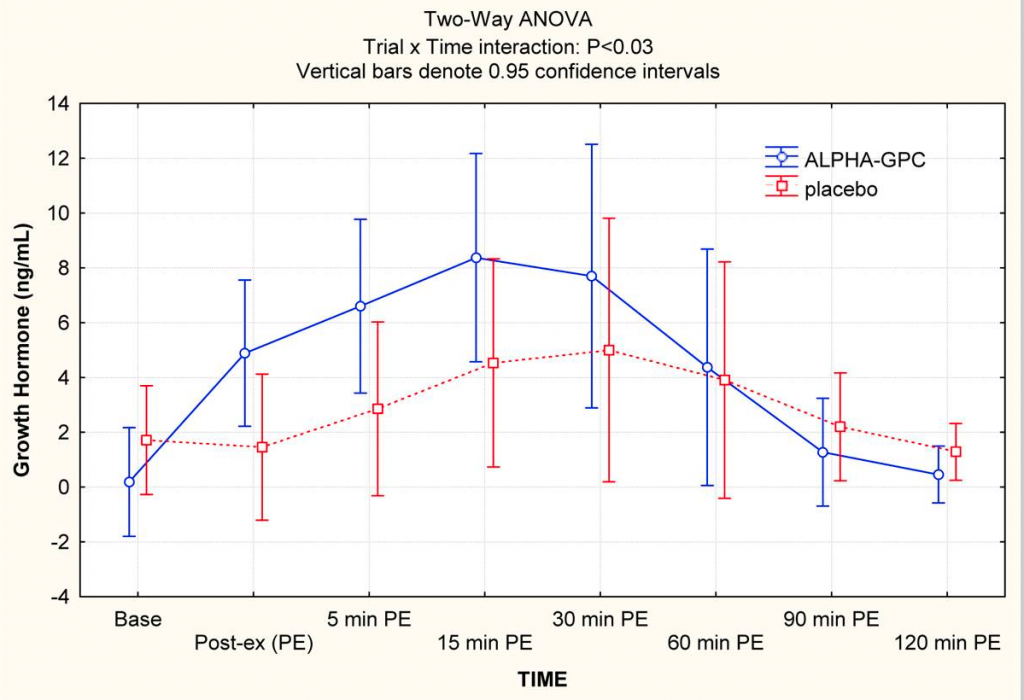 AlphaSize (600 mg) may enhance lower body speed and strength
In this double-blind, placebo-controlled investigation, 13 males took either 600 mg of AlphaSize or a placebo every day for 6 days and then performed a series of lower body and upper body exercises. The AlphaSize cohort demonstrated a significantly greater increase in lower body force compared to the placebo. Upper body force also improved more for the AlphaSize group than the placebo group, though not to a degree of statistical difference.
The researchers concluded that "A-GPC is effective at increasing lower body force production after 6 days of supplementation. Sport performance coaches can consider adding A-GPC to the diet of speed and power athletes to potentially enhance muscle performance."3
AlphaSize (1000 mg) may improve mental recovery after injury to the brain
This study examined the potential therapeutic benefit of taking 1000 mg of AlphaSize per day for 28 days and 400 mg for 5 additional months in 2044 patients recovering from damage in the brain. At the end of the trial, the participants' scores on various standardized mental state exams and cognition rating scales improved by a statistically significant degree. Few adverse side effects arose.
The researchers concluded that "the trial confirms the therapeutic role of alpha-GPC on the cognitive recovery of patients."4
AlphaSize Dosage
Successful clinical trials have used 600-1000 mg doses
AlphaSize is commonly available as a standalone supplement with daily serving sizes ranging from 300-600 mg
Alpha-GPC supplements contain approximately 40% choline by weight
Supplements in Review Recommendation
AlphaSize is a clinically supported alpha-GPC supplement. AlphaSize may be the premier alpha-GPC supplement due to its scientific backing, array of specialty ingredients, and certified safety. It seems to offer comprehensive enhancements to the mind and body through both the acetylcholine and growth hormone pathways more effectively than its competitors.
Start with a 600 mg dose of AlphaSize. The majority of clinical trials have incorporated daily doses of AlphaSize ranging from 600-1200 mg for both physical and cognitive benefits. We recommend starting with the lower end and intensifying the dose as needed.