GlycoCarn® is the most highly regarded and only patented and safety-certified version of glycine propionyl L-carnitine.


GlycoCarn refers to a patented fusion of the amino acids glycine and propionyl L-carnitine. This united supplement has proved capable of increasing the stability and absorption of carnitine in the body, and may amplify their effects on blood circulation as well as muscle strength and recovery. Its chief advantages over similar supplements include:
Patented. The preparation of GlycoCarn is protected by a U.S. patent.
Researched. More than a decade of clinical research has confirmed the exercise and cardiovascular health benefits of the supplement.
Certified. GlycoCarn is the only USP-grade glycine propionyl L-carnitine on the market.
Overview
GlycoCarn is a patented, branded version of glycine propionyl L-carnitine (GPLC) that was developed and manufactured by Sigma-tau HealthScience. It is a water soluble, white powder that consists of 66.1% propionyl-L-carnitine, 22.8% glycine, and 11.1% hydrochloric acid.
Unlike standard L-carnitine, GycoCarn is a fusion of the amino acids glycine and L-carnitine designed to enhance the absorption and biosynthesis of carnitine in the body. In addition to this primary function, scientific studies have demonstrated that GlycoCarn may also offer many of the potential benefits of both standalone supplements:
Antioxidation
Stimulating blood flow
Increasing peak power
Reducing muscle fatigue
Stabilizing cardiovascular health
Supporting vitality and libido
In light of these health-promoting effects, athletes and fitness enthusiasts have primarily been supplementing with GlycoCarn to improve their workout performance and post-workout recovery. Other users have also been taking the supplement to boost testosterone levels, help burn fat, and provide energy, though these secondary benefits have not been as thoroughly researched.
The GPLC of GlycoCarn is just one of many variants of carnitine supplements. Carnitine is also widely available in red meats, as well as in the form of
acetyl-L-carnitine
,
L-carnitine L-tartrate
, and L-carnitine fumarate.
How Does GlycoCarn Work?
The underlying mechanism of GlycoCarn's capacity to enhance carnitine absorption is simply the binding of glycine — or another amino acid from a select group — to a salt of L-carnitine. Increasing the absorption of carnitine and glycine, in turn, intensifies their impact on the body.
In addition, supplying glycine can further accentuate carnitine's benefits since it helps elevate nitric oxide (NO) levels and thus blood circulation.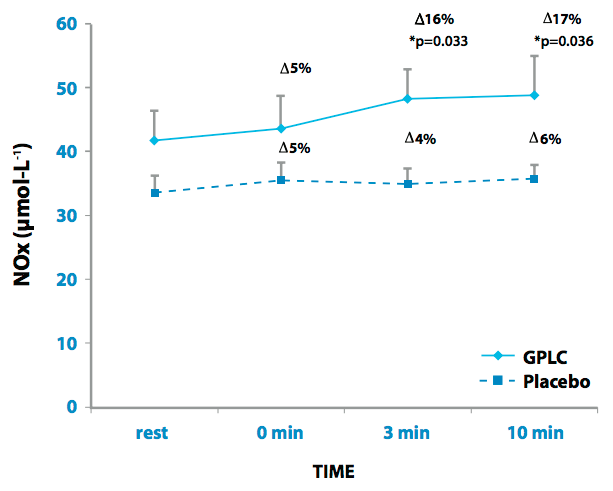 GlycoCarn Patents
Carnitine stabilization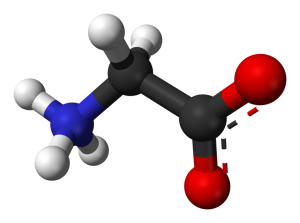 The Sigma-tau HealthScience GlycoCarn active patent, US Patent 6703042, covers the production of a version of L-carnitine that is molecularly bound to one of a collection of amino acids, including glycine, leucine, isoleucine, glutamine, and alanine.
A longstanding complication with manufacturing, processing, and storing L-carnitine supplements has been an instability caused by its inherent tendency to absorb moisture from the air. Uniting certain amino acids to L-carnitine not only offers a means of stabilizing the supplement, but also imbues it with additional nutritional and therapeutic effects, depending on the amino acid used.
To be specific, the patent claims that GlycoCarn promotes health benefits such as:
Sparing muscle proteins, especially branched amino acids in skeletal muscle
Stimulating protein synthesis in skeletal muscle and the liver
Providing amino groups for the synthesis of alanine and glutamine, both of which play a role in the biosynthesis of glucose
Minimizing lactic acid production
Supporting endurance and optimal performance during aerobic sport activities
GlycoCarn Nutritional Supplement Uses
GlycoCarn advocates have been applying its health benefits to a wide range of categories:
Pre-Workout Supplements
GlycoCarn supplementation leads to an increase in NO retention, which assists the body in producing more energy (ATP) in muscles, and ultimately heightens muscle power and endurance. Pre-workout supplementation seems to be the most popular application of GlycoCarn.
Post-Workout Supplements
The antioxidant properties of GlycoCarn enable it to minimize damage to muscles and possibly even to joints after intense physical exercise. GlycoCarn also aids post-workout muscle recovery by limiting the production of lactate after exercise, which otherwise causes muscle soreness and dips in stamina.
Energy Supplements
A fundamental function of carnitine is to transport fatty acids into the mitochondria of cells to be converted into energy. By increasing the absorption of carnitine inside the body, GlycoCarn supports basic energy production. Furthermore, elevating NO levels reinforces vasodilation — improving the delivery of nutrients and enzymes and accelerating the production of ATP.
Fat Loss Supplements
Through increasing carnitine availability, GlycoCarn not only expedites energy production, but also optimizes fat metabolism. The supplement amplifies the mobilization of fatty acids to be burned by the body rather than stored in it.
Cardiovascular Health Supplements
A secondary effect of GlycoCarn's NO-boosting ability is to improve blood circulation all throughout the body. The enhanced vasodilatory action it offers can benefit overall cardiovascular health.
GlycoCarn Advantages
GlycoCarn provides a stable form of glycine propionyl L-carnitine that increases carnitine absorption. It has several major advantages over generic GPLC ingredients:
Clinically researched: Since GlycoCarn received its patent, multiple groups have confirmed its potential to enhance peak physical performance, raise the threshold for muscle fatigue, and improve blood circulation in randomized, placebo-controlled trials.
Patented: Sigma-tau HealthScience holds an exclusive U.S. patent for GlycoCarn.
Safety and quality certified: The United States Pharmacopeia (USP) has granted GlycoCarn a certificate verifying that its ingredients and manufacturing process consistently meet quality standards. Sigma-tau is thus allowed to include the USP-Verified Dietary Supplement Mark on its GlycoCarn labels.
Highly stable: The molecular stability of GlycoCarn guarantees its freshness throughout manufacturing and its potency long after.
GlycoCarn Research
Human Research
Numerous clinical trials assessing GlycoCarn have shown its potential to bolster a wide range of health-related aspects, with a particular emphasis on increasing blood flow and muscle work capacity. A selection of these studies are detailed below.
GlycoCarn (4.5 g) may improve physical performance and post-workout recovery
In this double-blind, randomized, placebo-controlled investigation, 15 males took 4.5 g of GlycoCarn (GPLC) every day for 4 weeks and then the same amount of a placebo for the same duration following a 2-week washout period. Most of the members GlycoCarn group (11/15) ended up with a statistically significant increase in nitric oxide (NO) levels compared with the placebo group.
The researchers concluded that "short-term oral GPLC supplementation can increase NO in resistance trained men … such a change may be associated with improved physical performance during training and optimal post exercise recovery."1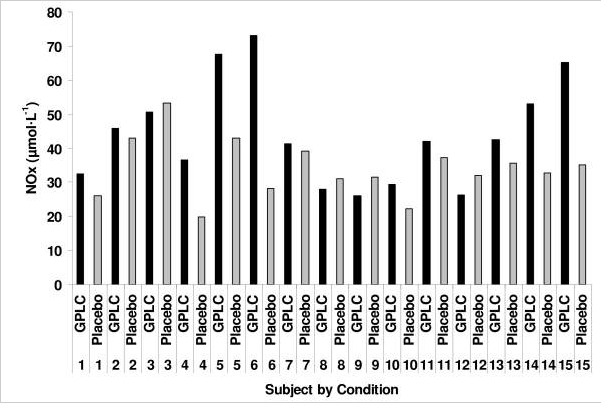 GlycoCarn (3 g) may promote blood circulation and antioxidation during exericse
In this double-blind, randomized, placebo-controlled investigation, 30 participants took 1 g of GlycoCarn, 3 g of GlycoCarn, or a placebo every day for 8 weeks. They also performed supervised aerobic exercise during the supplementation period. The higher dose GlycoCarn group experienced statistically significant increases in levels of nitric oxide and decreases in levels of malonyldialdehyde, a marker for oxidative stress. The lower dose GlycoCarn had increases in nitric oxide levels. The placebo group demonstrated no changes.
The researchers concluded that "GPLC supplementation combined with eight weeks of aerobic exercise decreases lipid peroxidation and elevates nitric oxide, but does not further improve blood lipid profiles in normolipidemic subjects."2
GlycoCarn (4.5 g) may improve sprinting power and post-workout recovery
In this double-blind, randomized, placebo-controlled investigation, 24 resistance-trained males took either a placebo or 4.5 g of GlycoCarn 90 minutes before participating in a workout protocol. After 1 week of rest, they performed the same exercise routine and ingested the other option 90 minutes after completing the exercise routine. Those who took GlycoCarn  had a 2.6-15% greater increase in peak and average sprinting power compared with those who took the placebo. The GlycoCarn group also had statistically significant decreases in lactic acid levels compared with the placebo group.
The researchers concluded that "short-term oral supplementation of GPLC can enhance peak power production in resistance trained males with significantly less LAC accumulation."3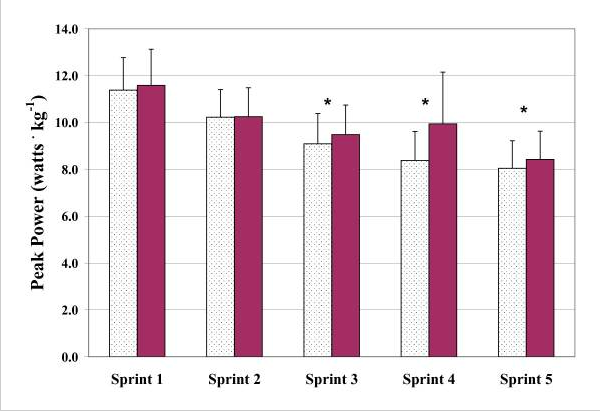 GlycoCarn (1.5 g) may increase sprinting power and decrease lactic acid buildup
In this double-blind, randomized, placebo-controlled investigation, 45 resistance-trained males took either 4.5 g of GlycoCarn or a placebo 90 minutes before completing a series of standardized exercises. Subsequently, the participants received 1.5 g, 3 g, or 4.5 g of GlycoCarn every day for 28 days. Once the 28 days were over, they completed another workout routine. Those who took 3 g or 4.5 g resulted with slightly lower peak and average sprinting power compared with baseline. On the other hand, the 1.5 g GlycoCarn grouped demonstrated increases in peak and average power, as well as a substantial decrease in lactic acid accumulation, compared with baseline.
The researchers concluded that "GPLC appears to be a useful dietary supplement to enhance anaerobic work capacity and potentially sport performance, but apparently the dosage must be determined specific to the intensity and duration of exercise."4
GlycoCarn (4.5 g) may boost oxygen supply to muscles and decrease oxidative stress during exercise
In this double-blind, randomized, placebo-controlled investigation, 19 resistance-trained males consumed a placebo, GlycoCarn, or one of three different dietary supplements before completing resistance training. Among the groups, only the one that took GlycoCarn had decreases in malonyldialdehyde and increases in skeletal muscle oxygen saturation (StO2). None of the treatments altered heart rate, perceived exertion, or nitric oxide levels.
The researchers concluded that "none of the products tested resulted in favorable changes in our chosen outcome measures, with the exception of GlycoCarn® in terms of higher StO2 at the start of exercise."5
GlycoCarn Dosage
Successful clinical studies have administered between 1.5 – 4.5 g of GlycoCarn per day.
GlycoCarn is most commonly available in 1 – 1.5 g serving sizes when sold as a standalone supplement.
Multi-ingredient formulas typically include a combination of 50% GlycoCarn along with varying percentages of additional glycine and propionyl L-carnitine.
Supplements in Review Recommendation
We recommend GlycoCarn to enhance carnitine absorption. GlycoCarn can benefit carnitine supplementation by maintaining its stability and increasing the efficacy of its absorption, according to clinical studies. Taking GlycoCarn with L-carnitine supplements may improve the numerous health effects and physical performance benefits associated with carnitine.
Stick to a daily dose of 1.5 g. Research has shown 1.5 g of GlycoCarn per day to be an effective amount for enhancing power during aerobic exercise. Although higher doses of up to 4.5 g have been linked to elevated oxygen supply and reduced oxidative stress, they contribute little to workout performance.