MitoQ is a patented, mitochondria-targeted form of CoQ10 used to protect cells against age-accelerating free radical damage.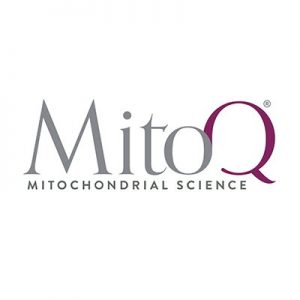 MitoQ is an advanced CoQ10 (Coenzyme Q10) form. CoQ10 is an energizing antioxidant that is needed by every cell in the body to protect against aging. It is used in supplements to protect cells and their mitochondria against oxidative stress, which may in turn support anti-aging, energy production and organ health. This MitoQ review discusses its potential benefits over regular CoQ10 dietary supplements.
Patented for Mitochondrial Support. It is a patented compound for delivering mitochondria targeted antioxidants into cells to diminish oxidative stress, recorded under US Patent No 6331532.
Clinically Researched. Strong human research backs both MitoQ and CoQ10's safety and effectiveness.
Absorption Enhanced. Plain CoQ10 supplements can be hard to absorb. This form is enhanced for greater absorption and bioavailability.
Overview
MitoQ is a branded, patented mitochondria-targeted antioxidant developed by MitoQ Limited – a New Zealand company owned by Antipodean Pharmaceuticals Inc; specializing in product research and development of pharmaceutical products– over 15 years ago.
MitoQ is mitoquinone mesylate, a derivative of CoQ10. This innovative anti-aging oxidant protects against oxidative stress to reduce free radical damage. This is important as free radical damage occurs when an oxygen molecule splits to form single atoms with unpaired electrons. These free radicals damage healthy cells by stealing their electrons, which may accelerate the aging process in both the body and mind.
MitoQ uses proprietary antioxidant technology which delivers CoQ10 with an added positive charge, bound to a fat-soluble compound to improve absorption.
The manufacturers claim it is hundreds of times stronger than ordinary CoQ10, although no substantiation for this claim is provided, so truth is uncertain.

MitoQ's Enhanced CoQ10 Technology
MitoQ is bound with a fat-soluble compound. This enables it to efficiently cross over cell membranes. Once inside the cell, it also crosses mitochondria membranes far more easily than standard CoQ10 supplements. As a result, this enhanced form achieves higher cellular CoQ10 concentrations, especially within the powerhouse mitochondria.
Did you know? Within the cell, MitoQ also converts into ubiquinol. Ubiquinol is the active antioxidant form of CoQ10 that is associated with its most noteworthy wellness benefits.
MitoQ's targeted antioxidant support for mitochondria is important because mitochondria's ATP energy-generating processes create a lot of free radicals and oxidative stress as a byproduct. The subsequent mitochondrial and cell membrane damage is linked with diminished energy levels and multiple health concerns associated with cell energy dysfunction.
MitoQ may be an important branded ingredient because its mitochondrial absorption advantages potentially amplify CoQ10's positive impact on health.
CoQ10 is notably associated with nutritional support for:
 MitoQ's manufacturer recommends it for many different heath benefits, but seems to mostly emphasize its uses for anti-aging, youthful skin and energy production.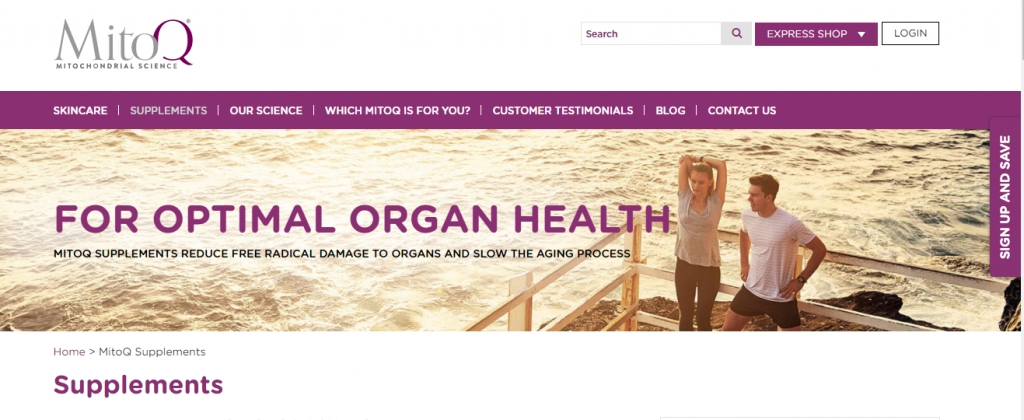 MitoQ for CoQ10 Absorption Problems
CoQ10 is a remarkable nutrient, but it is also notorious for being hard to absorb. In fact, as adults grow older, CoQ10 gets harder and harder for the body to absorb and utilize — potentially limiting its anti-aging benefits just when consumers need them most.
MitoQ appears to help with CoQ10 absorption challenges, helping to raise CoQ10 blood levels more efficiently. Quality branded CoQ10 forms will almost always include some type of absorption-enhancing technology.
CoQ10 is also sometimes paired with another branded form of black pepper extract called BioPerine® that is clinically shown to boost CoQ10 absorption.
MitoQ Patents
It has an original patent (U.S Patent No. 6331532) for targeted antioxidant delivery into cells' mitochondria powerhouses.
The patented compound features a lipophilic cation coupled to an antioxidant moiety. In other words, it binds CoQ10 with a fat, which helps CoQ10 cross fatty cell membranes. The patent also covers cellular and mitochondrial oxidative stress reduction.
Additional patents include:
US patent No 20080176929: Introducing biologically active compounds into mitochondria to promote healthy cell function.
MitoQ Nutritional Supplement Uses
Various supplement categories use this patented CoQ10 form, especially the following:
Anti-Aging Supplements
Mitochondria provide the energy that all cells require. Mitochondria work at optimal level during our younger years. As we age, our mitochondria begin to decrease. Once we reach our thirties, our mitochondria tend to decrease at a rate of around 10% per decade. As a result, cell energy production declines. High-energy body systems and organs may not function as well as they used to.
We look visibly older as we age as our skin cells receive less energy and accrue more free radical damage. Collagen and elastin, which keep skin firm, start to degrade. Furthermore, we begin to suffer from health issues as cell function and cell energy decline. Among these energy-related concerns are diminished cognitive function and heart health issues.
MitoQ offers elevated levels of CoQ10 to give mitochondria the antioxidants they require to function correctly. This enables our cells to avoid damage from free radicals – molecules with an unpaired electron (otherwise known as oxidative damage) – to slow the aging process.
This branded ingredient is a key contributor to anti-aging supplements. However, for skin support (firming, softening and brightening), it is used alongside hyaluronic acid, vitamin B complex and zinc for additional skin support, including promoting hydration, the production of collagen and elastin, and healthy cell growth.
Energy Supplements
Its mitochondria support is useful in energy supplements. Mitochondria convert the food we consume into ATP – adenosine triphosphate – the fuel that powers our cells. When mitochondria are healthy, they produce ATP, which gives our cells the energy we require and keeps our bodily reactions healthy. As we grow older, free radical damage occurs, decreasing cellular energy.
MitoQ is an innovative antioxidant which targets mitochondria to prevent free radical damage and produce more ATP for healthier cells and bodily functioning.
Other General Health Supplements
Its mitochondrial support may be especially helpful for high-energy organs, such as the brain, liver and heart. It supports healthy heart functioning in combination with L-Carnitine to aid the body in converting fuel to energy.
MitoQ Brand Advantages
This unique CoQ10 form may offer many brand advantages for both consumers and supplement manufacturers:
Greater effectiveness: Provides anti-oxidant supports hundreds of times more effective than any other CoQ supplement, meaning greater effectiveness.
Mitochondrial support: Made with patented technology that binds CoQ10 with lipids, enabling it to cross cell membranes and "absorb" into the powerhouse mitochondria more easily
Contributes to anti-aging effects: By supporting mitochondria, MitoQ protects your cells from free radical damage which accelerates the signs of aging. This means more energy, a younger looking complexion.
Affordability: Helps optimize CoQ10 cost-effectiveness by presenting it as an easy-to-absorb form
Convenience: Shown in research to be a safe supplement to consume for supporting overall optimal health.
Decades or research: Well-researched to demonstrate its effects on the body and improved health. Furthermore, 180 international research journals have published MitoQ research.
Benefits several aspects of health: Helps to protect the liver, heart, digestive system, skin, brain, and overall health. Oxidative stress has a negative effect on several areas of the body.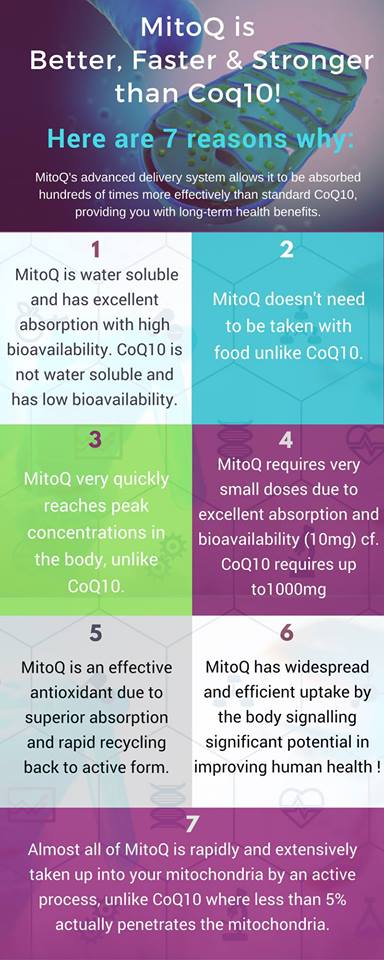 MitoQ Research
Animal Research
Mitochondria-targeted antioxidant (MitoQ) ameliorates age-related arterial endothelial dysfunction in mice
In this study, researchers observed MitoQ's efficacy for ameliorating vascular endothelial dysfunction in old mice.
Researchers found that "results suggest that mitochondria-derived oxidative stress is an important mechanism underlying the development of endothelial dysfunction with primary aging." Furthermore, "Mitochondria-targeted antioxidants such as MitoQ represent a promising, novel strategy for preserving vascular endothelial function with advancing age and preventing age-related [heart problems]."1
Human Research
The mitochondria-targeted antioxidant MitoQ reduces aspects of mitochondrial fission in the 6-OHDA cell model of Parkinson's
In this clinical study, researchers investigated MitoQ's effect on an in vivo neurological function model.
Researchers concluded that "these findings… suggest the potential of mitochondria-targeted therapeutics in [health problems] that involve mitochondrial fragmentation due to oxidative stress." Patients with certain neurological concerns may benefit from enhanced CoQ10 supplements.2
The mitochondria-targeted antioxidant, MitoQ extends lifespan and improves healthspan of a Transgenic C. Elegans models of Alzheimer disease
In this study, researchers investigated MitoQ's in vivo ability to protect against Aβ-induced toxicity and oxidative stress. The study used a Caenorhabditis elegans model overexpressing human Aβ.
Researchers found that "MitoQ extends lifespan, delays Aβ-induced paralysis, ameliorates depletion of the mitochondrial lipid cardiolipin and protects complex IV and I of the ETC."3
MitoQ Dosage
The manufacturer recommends people take 10 mg (5mg, twice daily), usually in capsules. However, research has demonstrated it is safe at 80 mg dosage, as well.
It may also appear in anti aging skin cream products that do not have conventional dosages
MitoQ Side Effects
Clinical research has presented no noteworthy side effects. It is safe and well-tolerated.
Supplements in Review Recommendation
MitoQ 10 mg as an alternate form of CoQ10, 10 mg
This enhanced CoQ10 form delivers all of CoQ10's benefits for protecting and energizing cells. MitoQ may have advantages over plain CoQ10 supplements because it targets mitochondria and is easier for the body to absorb.
CoQ10 helps health in many ways. However, it is hard to absorb. MitoQ makes sense as a CoQ10 upgrade that delivers enhanced overall health benefits.