Human Research
ze: 18pt;">
VESIsorb® is a patented, research-backed technology for increasing the absorption of supplements.


VESIsorb is an absorption enhancer for supplement ingredients. It was designed to improve the bioavailability of ingredients with poor absorption and water solubility, such as curcumin and CoQ10. This VESIsorb review details its advantages over generic supplements:
Patented. VESIsorb technology and its use for enhancing ingredient absorption are protected by more than 40 patents worldwide.
Clinically researched. VESIsorb's effectiveness is backed by several clinical studies demonstrating 4x and 6x increased bioavalability for various ingredients.
Natural. VESIsorb technology is based on the body's natural method of digesting fats by forming a shell around fat-soluble ingredients, making it both safe and highly effective.
<
Overview

VESIsorb is a patented technology used to improve the absorption of ingredients in supplements, cosmetics, and other natural health products. This innovative technology is based on microscopic droplets that mimic the natural absorption of fat by the human body.
Since the effectiveness of dietary supplements relies on their bioavailability (how well they are absorbed into the blood), VESIsorb is an important innovation for ingredients with poor absorption and water solubility, such as curcumin.
VESIsorb was developed by Swiss biotech company Vesifact. It is used to improve the absorption of many popular supplement ingredients, including omega-3 fatty acids,  CoQ10, ubiquinol, curcumin, pterostilbene, resveratrol, krill oil, and vitamins A, D, K2, and E.
VESIsorb's effectiveness as an absorption enhancer is backed by several studies. One of these studies reported six times greater absorption of popular supplement ingredient CoQ10 compared to generic formulations. As such, products with VESIsorb offer a great option for supplement users concerned about absorption issues.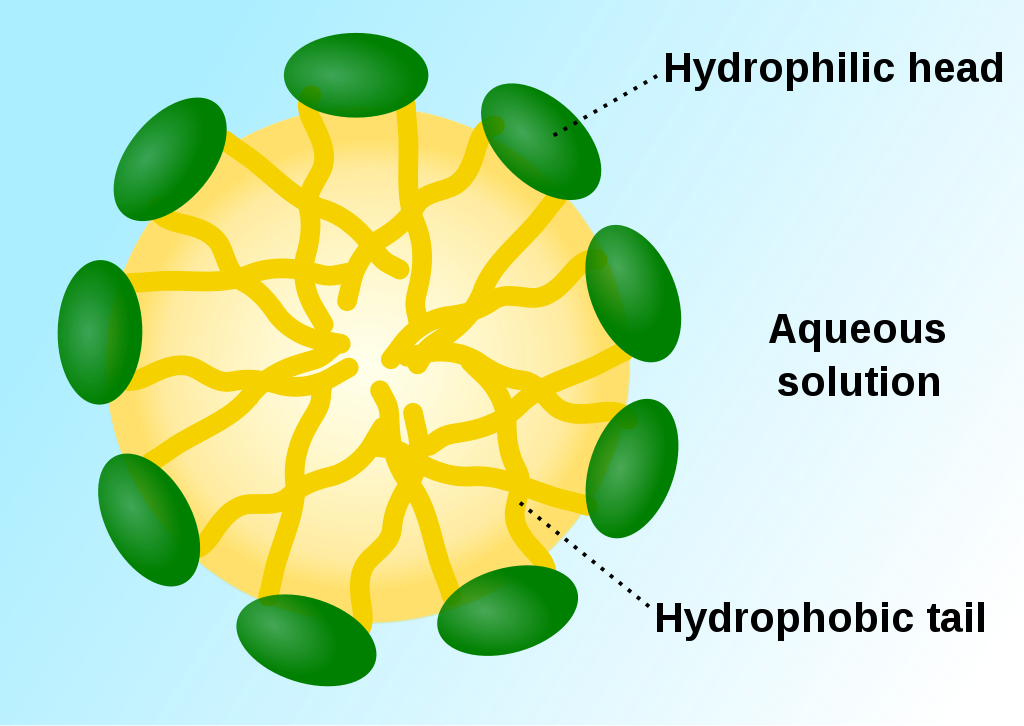 How Does VESIsorb work?

p>
VESIsorb is best described as a colloidal droplet delivery system which mimics the natural digestion and absorption of fat by the human body. A colloidal system is one where a microscopic insoluble substance is suspended in another substance, typically water.
This kind of system allows for water-insoluble compounds to travel through the digestive tract and be effectively absorbed. This is important because many supplement ingredients are not water-soluble, which greatly reduces their absorption, making them far less effective.
When we digest fat, it forms colloidal structures called micelles in the water-based digestive tract. These micelles carry the fatty acids in their core and can then be effectively absorbed by cells in the small intestine. Similarly, VESIsorb forms a protective shell around bioactive ingredients, allowing them to be effectively absorbed. VESIsorb works in three steps:
VESIsorb colloidal droplets assemble around the bioactive ingredient when mixed with water. These microscopic (100 nanometer) droplets consist off a hydrophilic (attracted to water) outside layer, and the bioactive oil layer on the inside.
VESIsorb droplets diffuse across the so-called "unstirred water layer" – a layer of water in the intestines.
The droplets are absorbed by the enterocyte cells lining the small intestine, allowing the active ingredient to reach the blood and provide its health benefits.
Did you know?
BioPerine
is another popular ingredient used to enhance the bioavailability and absorption of supplements.
VESIsorb Patents

p>VESIsorb is protected by over 40 active and pending patents worldwide. The most notable of these cover:
The use of VESIsorb in oral dietary supplements, and particularly those including CoQ10, ubiquinol, concentrated omega-3 fatty acids, vitamin D-3, resveratrol, curcumin, tocotrienols, citrus polymethoxylated flavones (PMFs), and eriocitrin (U.S. patent 8,158,134)
The use of VESIsorb in topical cosmetic preparations (U.S. patent 5,997,888)
VESIsorb Nutritional Supplement Uses

p>VESIsorb is utilized in not just supplements but also functional foods and beverages and cosmetic products as a way to greatly enhance the absorption and bioavailability of the active ingredients. It is estimated that 200 million people have used a formula containing VESIsorb since 2007.
VESIsorb is typically used to enhance the effectiveness of:

/td>
Fat-soluble vitamins
 Vitamins K2, D, E, A
Fatty Acids
 omega-3 fatty acids (fish oil, krill oil), phospholipids
Herbal Compounds
 Curcumin, resveratrol, pterostilbene, diindolylmethane, polymethoxylated flavones, phytocannabinoids (THC, CBD)
 Other fat-soluble ingredients
 CoQ10, ubiquinol
Out of these ingredient categories, VESIsorb is most commonly used for the following supplement categories:
CoQ
CoQ10 Supplements

10 is antioxidant molecule present throughout the human body that helps produce energy in the form of ATP. Levels of CoQ10 decline as we age, fueling the popular belief that supplementing it may fight fatigue and even counter the effects of aging. However, CoQ10 supplements are notorious for poor bioavailability and absorption.

VESIsorb has been demonstrated to enhance the bioavailability of generic CoQ10 formulations by 622%, leading some supplement manufacturers to pair it with CoQ10 and Ubiquinol, a special, branded form of CoQ10.
Ome
Omega-3 Fatty Acid Supplements

ga-3 fatty acids (EPA & DHA) are among the most popular dietary supplements on the market due to their research-backed effectiveness and wide range of health benefits. These essential fatty acids (EFAs) are typically taken in the form of fish, krill, or calamari oil. However, Omega-3s can suffer from low bioavailability and absorption because they are fat-soluble. VESIsorb has been demonstrated to enhance EFA absorption; for example, one study reported a 487% increase in EPA bioavailability when combined with VESIsorb.
VES
VESIsorb Advantages

a supplement bioavailability enhancer, VESIsorb has several attractive features:
Greater effectiveness: Vesisorb improves the absorption of a supplement's active ingredients, making it more potent.
Flexibility: VESIsorb allows supplements to include smaller dosages and have more ingredients.
Clinical research: VESIsorb's effectiveness is backed by multiple studies showing greatly enhanced bioavailability and absorption over generic supplement formulations.
Safe & natural: VESIsorb utilizes a delivery system based on the body's natural absorption of fat. As such, this system is completely safe.
Convenience: VESIsorb can reduce the size of supplement servings, which can translate into taking fewer capsules, tablets and pills.
VES
VESIsorb Research

man Research

VESIsorb greatly enhances the bioavailability of generic CoQ10 (622%)

This double-blind, controlled study compared the absorption and bioavailability of a VESIsorb-containing CoQ10 product (CoQsource) with other generic, commercially-available CoQ10 formulations. Twenty people took a single 120 mg dose of each of the four CoQ10 preparations and had their blood CoQ10 levels examined. The VESIsorb formula resulted in the highest CoQ10 levels, and had 622% greater bioavailability (absorption) than standard oil-based CoQ10, and 499% and 285% greater than the two solubilizate formulations.
The researchers concluded that "…the data presented suggests that colloidal-Q10 improves the enteral absorption and the bioavailability of CoQ10 in humans." 1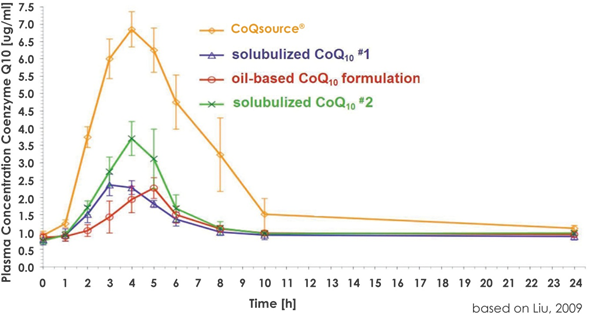 In addition to the above study, several unpublished studies report that VESIsorb:
Increased the absorption of Citrus Polymethoxylated Flavones (PMF) by as much as 800%
Inreased Ubiquinol absorption by 485%
Increased the absorption of the essential fatty acid EPA by 487%
Did you know?
VESIsorb has the potential to greatly
improve the effectiveness
of CBD – a non-psychoactive component of cannabis with a wide range of health benefits.
CBD
is currently the centerpiece of the rapidly growing legal cannabis industry.
Supplements in Review Recommendation
li>
VESIsorb® as part of a supplement.
VESIsorb is an innovative way to enhance the effectiveness of hard-to-absorb ingredients. If you are taking supplements notorious for low absorption – such as curcumin and CoQ10 – we recommend looking for a product with VESIsorb. VESIsorb technology is clinically proven to significantly enhance absorption.
VESIsorb does not come with a dosage. VESIsorb dosage is not listed on supplements.